United Kingdom  Verdi, Macbeth: Soloists and Orchestra of Scottish Opera / Derek Clark (conductor), King's Theatre, Edinburgh, 8.4.2014 (SRT)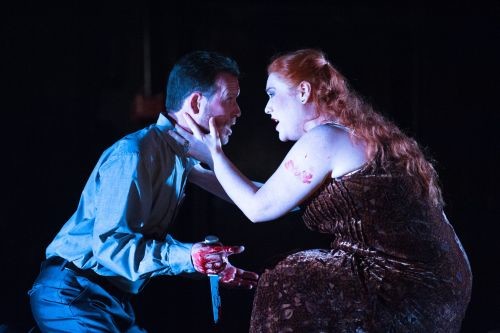 Cast
Macbeth – David Stephenson
Lady Macbeth – Elisabeth Meister
Banquo/Doctor – Thomas Faulkner
Macduff – Anthony Flaum
First Witch – Katie Bird
Second Witch/Lady in Waiting – Martha Jones
Third Witch – Sioned Gwen Davies
Production:
Dominic Hill (conductor)
Tom Piper (designer)
Warren Letton (lighting)
This was Macbeth on a bit of a budget.  Originally designed as a touring show for 2005, Dominic Hill's grimy production places the action in one room of what looks like a damaged bomb shelter with furniture and costumes reminiscent of the Balkan conflict of the 1990s.  There was no chorus, some doubling of parts, and only a chamber orchestra.  This brought some inevitable losses for someone who knows the work.  For all their commitment, seven singers can't make the scalp prickle for the thunderous chorus at the end of Act 1, and the orchestra, squeezed into the ungainly pit of the King's, sounded muted and distant, especially the brass and winds who were hidden too far under the stage at the back.
However, there were gains as well as losses.  I rather liked having three individual witches rather than three choruses.  They were characterfully sung and, as booze-swilling, fag-smoking harpies, they came across rather convincingly.  Furthermore, the single set reinforces the claustrophobia of the drama, particularly in the sequence in Act 1 where the Macbeths plot the murder, and there is a fitting sense of evil closing in as the story progresses.  Importantly, it never felt cheesy or compromised and I am sure that someone who was new to the opera wouldn't have felt in the least short-changed.
The performances rose to the occasion, too.  David Stephenson's slightly gravelly voice actually fitted the character very well.  His was a damaged, vulnerable Macbeth, evoking lots of sympathy in the duet of Act 1 and, especially, in his great aria of sympathy at the start of the final scene, where he summoned up all his reserves of lyricism to remind us that this was once a good man.  Elisabeth Meister, an alumna of the Royal Opera's Young Artists' Scheme, made a great fist of the ungrateful part of La Lady, too.  She could crest the top notes of the tessitura very convincingly, and her opening aria and cabaletta were very impressive (and if the size of the theatre probably helped her then that's no bad thing).  I worried that she might be tiring in the middle acts, but she rallied for an excellent rendition of the sleepwalking scene where she cooled the pallor of her voice very effectively and, while the final top notes may not have been floated, they were certainly secure.  Thomas Faulkner made for a noble, dignified Banquo, full of beauty as well as power, and his second act aria was a real highlight.  Only Anthony Flaum's Macduff was a little unfocused, with little security in his big moments.  Derek Clark conducted the miniature orchestra in a reading that kept things moving and observed some minor cuts to keep up the dramatic pace.
Simon Thompson