United Kingdom Verdi, La traviata: Soloists, Royal Opera House Chorus and Orchestra / Dan Ettinger (conductor). Royal Opera House, Covent Garden, London. 19.4.2014. (JPr)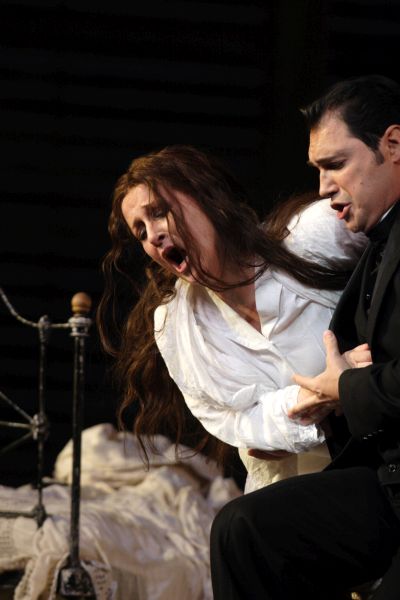 Cast:
Violetta Valéry: Diana Damrau
Alfredo Germont: Francesco Demuro
Giorgio Germont: Dmitri Hvorostovsky
Baron Douphol: Michel de Souza
Doctor Grenvil: Jihoon Kim
Flora Bervoix: Nadezhda Karyazina
Marquis D'Obigny: Jeremy White
Gastone de Letorières: Luis Gomes
Annina: Sarah Pring
Giuseppe: Neil Gillespie
Messenger: John Bernays
Production
Director: Richard Eyre
Revival Director: Daniel Dooner
Set designs: Bob Crowley
Lighting design: Jean Kalman
Director of movement: Jane Gibson
La traviata is the near-perfect opera vehicle for three singing 'stars' and if given them audiences will come time and again to hear it – even in an aging production. This is just not me writing this but is something the Royal Opera itself readily admits.
The best La traviatas – not this one unfortunately – can seem to be over too quickly. Verdi wrote his best operas in two periods of his life – the middle years that produced Rigoletto, Il trovatore and La traviata, and the last years that produced Aida, Otello and Falstaff. He was at the height of his powers when he composed La traviata for Teatro La Fenice, Venice, in 1853 and the dramatic structure of the opera is almost perfect with few of the longueurs of some of his subsequent works. Act I of course, recounts the consumptive courtesan, Violetta's attraction for the penniless aristocrat Alfredo Germont, Act II shows us the confrontation between Violetta and Alfredo's father who demands she give up the scandalous liaison with his son, followed by Alfredo denouncing Violetta at Flora's party – that is initially held up by some gypsies and bullfighting nonsense – and the last act shows their reconciliation before Violetta's rather overwrought death from TB.
The current staging by Richard Eyre is now celebrating its twentieth anniversary and it is mine too as I was there in 1994 when it was first put on and Georg Solti conducted Angela Gheorghiu, Frank Lopardo and Leo Nucci in the leading roles. I have returned a few times since, most recently in 2009 when Renée Fleming, Joseph Calleja and Thomas Hampson were that revival's stellar vocal attractions and 2010 when the cast included Angela Gheorghiu, James Valenti and Željko Lučić as Violetta, Alfredo and Germont.
Bob Crowley's monumental sets and sumptuous costumes help to provide an uncontroversial, straightforward, atmospheric framing for the unfolding drama. Everything is solid and three-dimensional – and possibly rather unwieldy – meaning it is a long evening requiring two prolonged intervals. Violetta's opulent salon with ice sculpture centre-piece and gold glitter in Act I has always seemed a bit overpopulated with all her party-guests on stage but Violetta's country house in which her paintings are propped up against the wall ready to be sold clearly illustrates her financial plight – although it looked as if it has had a few new coats of paint recently. Later, her sparsely furnished bedroom in Act III with huge dilapidated mirror (in which Violetta cannot bear to see herself whilst seeing visions of recent events) 'mirrors' her decline perfectly. Only Act II Scene 2 with the guests partying around a huge green baize gambling table complete with huge overhead light and a semi-circular representation of a 'bullring' for the gypsy entertainers, seems out-of-place. This rather diminishes the dramatically tense Violetta/Alfredo confrontation even if it is a spectacular setting for the show-stopping – in more ways than one – mock matadors, mock bulls and mock gypsies.
German soprano, Diana Damrau, was recently announced as the 2014 Female Singer of the Year at the International Opera Awards. This was her role debut at Covent Garden having sung – amongst other things – Queen of the Night (Die Zauberflöte), Zerbinetta (Ariadne auf Naxos), Gretel (Hänsel und Gretel) and Adina (L'elisir d'amore). She is now leaving behind some of her earlier bel canto parts for a number of new roles like Violetta Valéry that are rather more substantial but that will still showcase her enviable coloratura. Hers is not now the brightest sound and for me – I am always on the lookout for Wagner singers – I wonder because of the roundness and darker colours she has at her disposal if eventually there can be something in that repertoire for her.
 Everything was set for a wonderful evening but what went wrong was difficult to entirely explain. Certainly the experienced Israeli conductor, Dan Ettinger, from the first bars was more spiritual than passionate and treated Verdi's music with too much reverence as if it was by Wagner (sorry I'm mentioning him again). The orchestra played too cleanly, there was no angst, and never did I think they were ever being let off the leash to bring the opera to real emotional life. The only tension was with the soloists who sometimes seemed to want a tempo that they were not getting from their conductor. There are eleven performances in this run which includes a change of cast with a real-life husband and wife duo (Ailyn Pérez and Stephen Costello) playing Violetta and Alfredo and I wonder how many rehearsals revival director Daniel Dooner was given – or how much what we saw relied on Damrau, Francesco Demuro and Dmitri Hvorostovsky knowing what they were doing because they had sung their roles many time before. In the programme Kaspar Holten, director of opera, writes: 'I know that each artist performing in this revival will strive to bring something new to each character they portray and to every note of the score.' Truthfully it was like a grand opera gala where singers come together at the last moment for isolated scenes from unfamiliar stagings. As a whole evening it just did not work dramatically for me but I am sure it will get better. I have much less reservation about the singing that was of a very high standard if never approaching the very memorable 2009 performances under Antonio Pappano
 No singer can exactly portray Marie Duplessis, the inspiration for Violetta who was only 23 when she died, having started her 'career' as a courtesan when she was 14. Diana Damrau made her Violetta suitably impetuous and headstrong and her Act I 'Ah fors'è lui' and 'Sempra libera degg'io' were triumphs of secure technique over a lack of total vocal abandon. Ms Damrau can shade her voice delicately from the most exquisite pianissimo to declamatory loudness without any obvious changes of gear and at the end of the opera her 'farewell' ('Addio, del passato') and 'Prendi: quest'è l'immagine' when she relinquishes her love for Alfredo to the girl he will eventually marry, were truly affecting making up a little for some of the emotional vacuity earlier on. Richard Eyre has Violetta bathed in  light as she imagines she is getting better and then she has to run around the stage in order to collapse in time with Verdi's music into Alfredo's arms – and this unfortunately is still more bathos than pathos.
 Her Alfredo was the Sicilian tenor, Francesco Demuro, whose voice was bright and radiant – unlike Ms Damrau's. However, although La traviata may not be a proper verismo opera it does have some moments when a more dramatic sound is useful – especially in Act II with 'De' miei bollenti spiriti' and 'O mio rimorso!' – and here Mr Demuro occasionally sounded strained. Nevertheless his 'Parigi, o cara' with Violetta – though accompanied at an extremely leisurely pace by Ettinger – was excellent. Demuro is tall and good-looking but there was little of the sexual chemistry to their encounters that a great Violetta and Alfredo pairing might display.
 Can Germont père be anything other than a rather one-dimensional character, I doubt it? Sometimes you see more depth and motivation but usually – as here – it might just as well be a concert performance when the baritone sings 'Di Provenza il mar, il suol' and he stands stock still. Dmitri Hvorostovsky returns once again to this production and is as wonderful to listen to as ever and the audience can luxuriate in the refulgence of his dark timbre. I suppose his seeming sang-froid had its benefits in the one surprising outburst of genuine anger he portrayed when he snatches Violetta's letter from his son's hand and brutally pushes him to the ground towards the end of their first encounter in Act II.
 Someone to look out for in the future is Jette Parker Young Artist, Nadezhda Karyazina, who sang Flora. Eye-catchingly tall, she sounds a very high-lying mezzo-soprano and she made more of this small role than even Verdi probably intended. More Jette Parker singers such as Michel de Souza (Baron Douphol) and Jihoon Kim (Doctor Grenvil) or Royal Opera veterans, for instance, Jeremy White (Marquis d'Obigny) and Sarah Pring (Annina) provided solidly sung vignettes amongst the smaller roles. Everyone seemed on top form – including the always dependable chorus – but still the overall performance lacked a compelling frisson that could have elevated it from being simply a very good one to something memorable.
 Nevertheless decide for yourself as BP, who have supported live relays of opera and ballet since 2000, and the Royal Opera House are to be congratulated on their continuing initiatives to bring the experience of these art forms to as many people as possible and this La traviata – though with the alternate cast and conducted by Paul Wynne Griffiths – will be relayed live on Tuesday 20 May. For further details of the forthcoming BP Big Screen relays, please visit the website at www.roh.org.uk/bpbigscreens.
Jim Pritchard
For more information about future events with The Royal Opera at Covent Garden visit http://www.roh.org.uk/.