Argentina Rossini, Il Barbiere di Siviglia: Soloists,Chorus and Orchestra of Teatro Colón. Conductor:Miguel Ángel Gómez Martínez, Teatro Colón, Buenos Aires. 6.5.2014. (JSJ)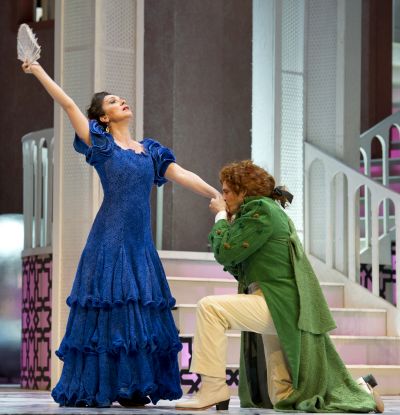 Cast:
Figaro: Mario Cassi / Omar Carrión
Don Bartolo: Carlo Lepore / Luis Gaeta
Rosina: Marina Comparato / Eliana Bayón
Count Almaviva: Francisco Gatell / Iván Maier
Fiorello: Fernando Grassi / Sebastián Sorarrain
Don Basilio: Marco Spotti / Lucas Debevec Mayer
Berta: Patricia González / María Luján Mirabelli
Notary: Daniel Wendler
Sargent: Cristian De Marco
Production:
Director: Mauricio Wainrot
Sets/costumes: Graciela Galán
Chorus: Miguel Martínez
A sung and danced Barber of Seville – or at least partially danced – is indeed a novelty, but not perhaps to be entirely unexpected from the eminent Argentine choreographer Mauricio Wainrot, with a lifetime of involvement in the ballet finally making his opera production debut.
 Of course it is not the work itself that is danced and rather that the ballet items supplement the well-known storyline, with the dancers effectively fulfilling the roles of extras. Fortunately however, because ultimately it is distracting, these ballet sections starting in the overture don't run throughout and go up only to the end of "Largo al factotum" with only occasional reprises thereafter.
Overall the production is light and bright – scenery, costumes, and lighting – with a single set rotating to change from the exterior to interior of Bartolo's house. Apart from the ballet, there are no frills, although there is not also complete accuracy, such as the absence of ecclesiastical dress for Don Basilio and Don Alonso (aka Almaviva). But the action is as it should be – slick and with the right degree of humour, without being exaggerated.
The excellent cast was led by bass Carlo Lepore, and with memories of his 2012 Don Magnifico (La Cenerentola), his Bartolo was equally memorable, both vocally and visually. Mario Cassi, also a 2012 Colón veteran (I Due Figaro), was an engaging Figaro, and Francisco Gatell, an Argentine who has made his career in Europe, was a fine Almaviva. Marina Comparato making her Colón debut, made for a pleasing Rosina, and Marco Spotti also excelled as Basilio. In the smaller roles Fernando Grassi (Fiorello) and Patricia González (Berta) were also noteworthy, although the  Bartolo's sleep-prone servant Ambrogio was a bit excessive,
Miguel Ángel Gómez Martínez replaced the originally announced Frédéric Chaslin as conductor and elicited beauty and precision from the orchestra, albeit with at times moderate tempi. And the chorus also performed at its usual exemplary level.
Jonathan Spencer Jones