Germany Brigitte Fassbaender in  Conversation with Michael Cookson (April 2014) 
Last month I was delighted to have the opportunity to interview renowned mezzo-soprano, now stage director, Brigitte Fassbaender. I was still buzzing from reporting from a superb Gärtnerplatztheater production of Donizetti's Don Pasquale under her expert direction the previous evening at Munich's beautiful Cuvilliéstheater. I met the Berlin born musician accompanied by her P.A. and friend Jennifer Selby at the Hochschule für Musik und Theater in her adopted home city of Munich. Later that afternoon at the Hochschule Miss Fassbaender was adjudicating at a Richard Strauss French Horn competition. She seemed very sanguine at the prospect of having to sit through repeated student performances of the same works but laughed heartily saying "for weeks I won't be able to listen to the horn any more now" and made an amusing wailing sound impersonating the horn. Unpretentious and candid I don't think I have met anyone on the classical music stage as comfortable in their own skin. Upbeat and so easy to talk to Miss Fassbaender was not afraid to show her vulnerability and towards the end of the interview whilst talking about 'stars' in the profession she became visibly emotional. Having lived such a remarkable life if there isn't an autobiography about Brigitte Fassbaender there should be.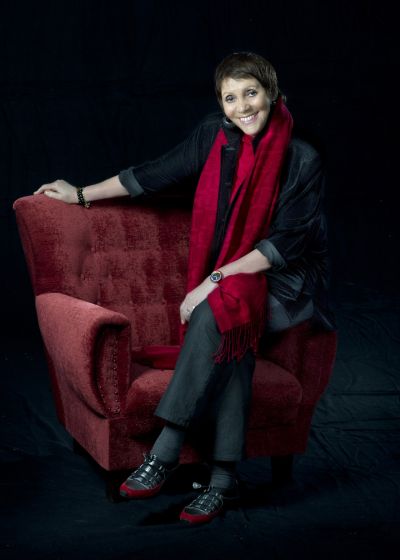 Michael Cookson: You have achieved so much in music. Could you have imagined a finer career than you have had?
Brigitte Fassbaender: Actually I fulfilled everything that I wanted to singing. I fulfilled my singing dreams as a mezzo-soprano. There were only two roles in the repertoire I longed to sing and those were Leonore in Fidelio and Tosca but hey I'm a mezzo I couldn't sing them. All my mezzo parts were wonderful and I loved them. I sang a lot on the opera stage and had a huge concert repertoire; actually I was absolutely content with what I had to do.
MC: And your signature roles Octavian (Der Rosenkavalier) and Orlofsky (Die Fledermaus).
BF: Well, the public identified me with these parts but for me I loved Charlotte (Werther) and Dorabella (Così fan tutte), Sesto (La clemenza di Tito), Carmen too and Eboli (Don Carlos). I sang all these. But yes I have sung Octavian all over the world that's true and the public liked it.
MC: Did anything disastrous ever happen to you on stage?
BF: [Chuckling throughout] There are often things that happen in singer's lives that are unfortunate. I've never before told this story but you provoke me now with this question. Once I was singing here in Munich at the Bayerische Staatsoper singing Waltraute in Götterdämmerung. It was the premiere of the new Munich Ring Cycle and I felt very ill all the days before but I wanted so much to come through the performance of this première. So I took a lot of pills to press the cold down but they made me in a way totally crazy and dizzy so I missed my entrance to some phrases and I had a huge blackout. It was a total blackout and I thought the earth would explode or the curtain would fall down. It was a horrible moment but then the conductor Wolfgang Sawallisch helped me in. It was one of the most terrible moments of my career. I was out of rhythm, out of tune; out of words, I had a total blackout. I went back to my dressing room and I was in total shock. I couldn't speak for a while. I was whoa, out of it! Then I went home in tears. I never touched medication again. But I love to sing Waltraute. I sang it in Bayreuth, I sang it in Berlin and I sang it often but in this premiere I had the most horrible experience. But whoa, it happens.
MC: You managed to put that behind you?
BF: Yes absolutely. It was a real shock for a long time. I was very, very, angry with myself for ages about what happened on stage.
MC: Has there ever been a time when you have been disappointed with people that you have been performing with?
BF: Yes, because of ignorance, or routine. Especially singers that didn't look into their partner's eyes. On stage singers that would look over me. When on stage doing a love duet you need eye contact. You need physical contact. Then you have a stupid tenor who all the time looks over your head and thinks only of his beautiful singing. It makes you totally frustrated. It happens rather often on stage. Stage life is live from eye to eye. You have to look into your partner's eyes on stage, to enable you to change emotions. So often they are looking over your head looking somewhere over the rainbow maybe. They are mostly tenors who do this.
MC: What about problems on stage with conductors?
BF: My generation was rather full of respect for conductors, far more than the younger singers today. I think we did what the conductors wanted. We didn't rebel against them, we respected them. I was lucky that in my career I have worked with wonderful conductors. Absolutely a conductor has to be a dictator. He has to manage a huge orchestra and stage life. He has to be all over with his eyes; he has to watch everything and has to bring it all together in the evening of the performance. So a conductor must be very strong. Some of them are really difficult and sometimes unpleasant because they can be self-important. They don't like singers because they always think singers are not sufficiently musical, that they are idiots – which is not true. We have sometimes our own music in blood and one always has to bring it together for the conductor. It is a process, but in general I can only learn from good conductors, such as Carlos Kleiber. He was for me the one I adored most of all and the one I was most happy to work with. Kleiber was a fascinating personality and was one of the greatest conductors of musicians I have ever met. I also liked to work with Carlo Maria Giulini. He was really polite, a noble man and a wonderful person. Giulini was very good towards us singers even when we were not always on his level all the time. But I remember him as generous and noble, a gentleman and that he treated us singers with respect.
MC: What about Karajan you worked with him?
BF: [A short silence] Yes, yes I have sung with him. He was a good colleague. He was amusing. But you see I was not a member of his clique. Yes, he always had a clique. The same with other famous conductors and directors they always have a clique. Only working with certain people because they feel secure when working with members of their clique. But I was never a member of anything like that. Well thank God that Kleiber asked me to perform with him often, but I didn't feel as if I was part of a clique. There was a time when you met the same colleagues at the same productions because we were specialists in say Mozart or Richard Strauss. You would often meet the same singers all over the world.
MC: You must have worked with so many orchestras over your career? Which ones did you particularly enjoy working with?
BF: It has always been a great pleasure to work with the Berliner Philharmoniker. The Münchner Philharmoniker is a wonderful orchestra too, certainly when Celibidache was music director there. Also in Munich the Symphonieorchester des Bayerischen Rundfunks. Mariss Jansons is in charge there now. In my day it was Rafael Kubelík who was chief conductor and I loved to work with him. Kubelík was a brilliant conductor and a gentleman also. To know you were to perform with such a high class orchestra with such fine players was something that you would get all excited about. It was wonderful time.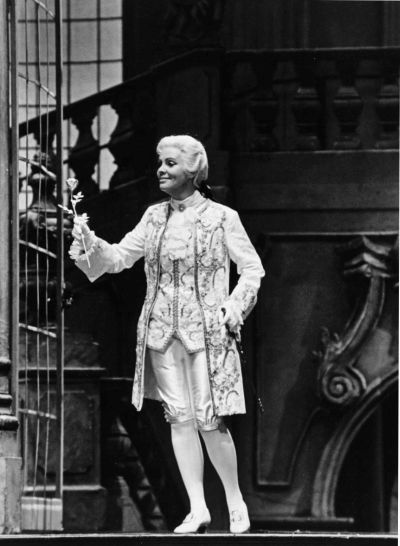 MC: Were you ever disappointed with your orchestra?
BF: All the orchestras I worked with were pretty good; I was lucky that way. But some orchestras were special. The standard the world over was high, at the Chicago opera, at the New York Met, at La Scala and Covent Garden; these were all great orchestras and the concert orchestras too. No, I was fortunate to work with orchestras of such a high standard and some were exceptional with great conductors too.
MC: Tell me about your father [Note: renownedbaritone Willi Domgraf-Fassbaender] and how he influenced your childhood.
BF: My father sang all around the house. He practised at home and sang at home before he was due to go out to the opera house. He was a famous teacher so talking about music and listening to music was something very common for me at home as a child. So I was infused with music and the world of the theatre from being a small child. My mother, as you might know, was an actress [Note: celebrated screen actress Sabine Peters] so music and theatre was absolutely all around me. There was nothing else that I wanted to do apart from becoming a singer. As a child I was always dressed up in some clothes or other with beards and wigs and using my father's make-up box he took to the opera. I was always creating and dressing up as some person that I wanted to be. There was never a time that I cannot remember being in some costume or other. Yes I started very early. It was not just the influence of my parents and their professions it was innate in me from around age three or four years old when I wanted to play at taking on another person's character.
MC: Did you play an instrument?
BF: No. It was wartime and there was no possibility to have piano in the home. It happened too late when a piano was available as I was too lazy at practising and too old to want to learn. I was just content to be singing all around the house, singing and acting. Ah, but I did play the accordion (laughs) and also tried the piano but it was not good. I was too lazy to practise, I just wanted to sing. When I went to the Nuremberg Conservatory in the piano lessons I just sang with my teacher as he was such an accomplished accompanist. He wanted to work lieder with me so we did that instead of him teaching me the piano. If I had been able to play the piano properly I could have saved myself a lot of money instead of hiring accompanists. If you can accompany yourself learning opera parts and lieder it's wonderful. I play the piano a bit but I'm not good at all really at playing the notes from scores.
MC: I was wondering what your routine before a performance was. Did you meditate, or do crosswords or something else?
BF: You know, I never really found out what was best for me on the day of the performance. I was always, always so very nervous. I was always full of fear and it went worse and worse. Because the more you feel that people are expecting from you the more anxious you become. It was an enormous pressure to have to endure. But you always have to fulfil all the promise and the expectations. They pay a lot of money to listen to you so you have an enormous responsibility to the audience and this causes pressure. Oh, I really felt it; yes. I always had intense butterflies in my stomach, I couldn't help it. Every performance, even when I had sung Octavian two hundred times I was still nervous before a performance and especially before concerts. But on the other hand I had to fulfil this challenge so it was always special in my life to do something that I feared so much. But I always had to overcome the fear and win the challenge. It never became routine with me, it was a constant challenge. You see I never found out what I should do on the day of the performance. I tried to go to the cinema but I was perspiring, only thinking of the hour the concert was to begin. I tried to read books, tried walking around town, I tried to sleep which I could never do. I was always full of cold sweats, cold hands, cold feet, pain in the stomach, headaches and tension all over. Saying to myself I can't go on. I never found out what would be best to eat before a concert. The best was probably a bit of boiled rice or spaghetti with a light sauce. I never could eat a lot because with a full stomach you have no ability to breathe properly and so on and so on. In one way it was sheer horror for me but in another way it was also great. When you have the butterflies, the anxiety that I have with it was sheer horror. Then in the end when it's all over you feel relieved and then can experience a wonderful feeling.
MC: I'm still excited about your production of Don Pasquale last night at the Cuvilliés Theatre. It was so impressive which makes me wonder when you knew it was time to leave singing for theatre directing.
BF: Actually it was quite early when I had the idea to cease singing at a high level. I must not feel as if my standard of performance was going down. I didn't want to feel any lack of vitality. I loved my singing profession it was a passion for me, but I couldn't bear the thought of getting old or weak on stage. [MC: You didn't want any decline to show on stage?] Yes, when I first thought about stopping singing I was in my finest form and I didn't want any decline to happen and also I had the alternative of directing. I started directing whilst I was still singing and I was also for some years able to switch sides from singing to directing and vice versa. I never directed when I sang a part in the production. For example I never directed Elektra singing Klytemnestra. I never directed Cosi fan tutti singing Dorabella; that never happened. But I always had to switch. I directed, and then I started singing again and then came the next production so I always had to change sides. It was a very exhausting thing to do.
MC: You must have seen many hundreds of productions with directors at work. Were you always watching and learning?
BF: Yes, yes I always was. It was a process of interest and curiosity together with much learning. I didn't start directing because I thought I could do it better, not at all. It was just such fascinating work. To be responsible for the whole production and not be just a little cog in the wheel. I loved the whole process of having to work with a designer and with the conductor. The conductors say they don't but they only ever come to the last rehearsal and they hate the models and they think everything is too modern and so on. Conductors don't really care anything about the production process. But the exchange with the designer and the dramaturgie to create the whole production is very interesting and very creative. [MC: Rewarding too?] Oh yes, it's so fulfilling. And so I was able to stop singing without missing it. I never went to director school like you can do today. Importantly I was learning by doing. It has nothing to do with just being on the stage. I was on the stage singing for thirty three years but it doesn't mean that one learns about directing. That happens while you are doing it to manage the whole operation while you are doing the production. You start to learn about the lighting process and the costumes and so many aspects of the production
MC: Then of course there is the amount of finance allocated to the production, the budget.
BF: With my Gärtnerplatztheater production of Don Pasquale the budget was cut. What we wanted to spend was more expensive than the company wanted. Typically these are matters we have to work with.
MC: In view of a disappointing production I saw of Salome at the Bayerische Staatsoper a few nights ago. It had me wondering why your Don Pasquale was not staged at the Nationaltheater rather than the very small Cuvilliés Theatre.
BF: Yes, you are talking about relative levels of performance. But comic operas are often performed in smaller houses, with a more intimate setting, which is better for comedy. And the Cuvilliés Theatre is a most beautiful theatre, one of the most famous Rococo theatres in the world. As you might know Mozart was in there to première his Idomeneo.
MC: I noticed that with the design of the Cuvilliés Theatre the orchestra has to go in and out of the pit with the audience.
BF: Yes they have to creep in like mice and walk out with the audience. (laughs) But that is only since they refurbished the Cuvilliés that they have to do this. I started here in Munich with the Bayerische Staatsoper in 1961. Then the Cuvilliés Theatre was part of the Nationaltheater and I often sang in there. I remember a rococconumber of Mozart productions: Cosi Fan Tutti, Magic Flute, Tito all the chamber operas and all the comedies; everything happened in the Cuvilliés Theatre back then. You know much of the Rococo figures and decorations were dismantled during the last war and stored away for safekeeping. Then they were all refitted some time after the end of the war. So what you see is all original. It is a really wonderful house but a rather difficult acoustic, a very dry acoustic and the singers are not happy with it, and the orchestra has real presence and sounds very loud,
MC: What are your ambitions for the future?
BF: Well, I would love to direct in England. You know, one of my dreams is to direct at Glyndebourne. I sang there once in Strauss's Capriccio. Glyndebourne is close to my heart because my father opened there in 1934. He was the first Guglielmo in Cosi fan tutti and Figaro at Glyndebourne with the artistic directors Carl Ebert and Fritz Busch. Father stayed in John Christie's house and he was very close to the Christie family. It was a wonderful time there for him at the old Glyndebourne. Once I have visited the new building to see Don Giovanni.
MC: Which opera productions have you found the most challenging to direct?
BF: I have done the Berlioz' Les Troyens. There are two operas in five acts really and we put them both together. It took about five hours but Les Troyens (laughs) can last seven hours if one tries hard enough with long intervals
MC: Was it the sheer scale of it that was so challenging?
BF: Yes, particularly because of its great colourful scenes. It is such a wonderful heavy work. But I also tried in this opera to find something humerous (laughs). Yes, to find something funny in Les Troyens. Humour belongs in every opera otherwise it becomes unbearable. (laughs) I love comedy. For me comedy and seriousness are so very close together, yes always. Tragedy and comedy are all part of drama.
MC: Did you have to audition the cast that performed Don Pasquale at the Cuvillies Theatre? What would typically happen?
BF: Well no. What happens is that all the singers belong to the ensemble of the Gärtnerplatztheater here in Munich. They are all contracted singers from Gartnerplatz. I have no influence over that or guest singers either. I work with what the intendant of the theatre presents me with. I understand that the cast of the opera is chosen for me always. But it is always a very interesting process and they are good casts
MC: As a director do you ever feel that you can't work with a particular singer?
BF: Occasionally. One or two singers I didn't have a good understanding with because they were so old fashioned in their approach. They were not open to new ideas or new aspects or things like that. Not being able to understand that acting is so crucial for opera singers today. In my day they just wanted to stand and sing and with people like that today I can't work. It is rare but actually in nearly seventy productions there was just one Russian baritone and one German baritone that were difficult. I would say that the eventual result was OK, but the working process was hard with those types of singer. It is also very hard to work with stars. But one of my best productions was Ariadne in Frankfurt, and there was Camilla Nylund a famous Finnish soprano and she was wonderful. I feared that she might be starry and not willing to take something from me. She is exceptional and sings heavy roles all over the world and as Ariadne she was great. We had a wonderful understanding. She did everything even if it felt a little strange for her after singing Ariadne probably fifty times in other productions. She was totally open and she took everything so well and I would certainly be so happy to work with Camilla Nylund again. But it can be difficult with the star singers who are jetting round the world. Because they are only arriving shortly before the production starts and don't have the time to rehearse for three or four weeks which is seriously required for a new production. Someone like Anja Harteros. But today it is all too common, but I hate it. I think it is not taking your profession seriously. So in smaller houses you have your five weeks rehearsal time, everybody is there and you work hard at what is ensemble theatre and in the end you have a very good result from working together and forming a close ensemble. Whilst the star singer does what they always do and it's so predictable and routine. That's the stars for you. [MC: You were a star singer.] But I never adopted that bad attitude. I was a hard worker and I hope a quite well disciplined singer. I had a lot to do in my life but never ever for a single minute wanted to be or felt a star. It is my way of behaving. What does it mean to be a star? If you are one of the best in your profession okay, but you must not know. I never wanted to know. It was easier for me to leave the profession as a singer as I was not clinging on to the success, for the audience, in the end. I didn't need that. (Miss Fassbaender becomes increasingly emotional) Actually, I always hated to go in front of the curtain to take the applause most of the time because I never was content with what I had done. I always felt there was something left open to do. I was never content with what I had done. It is very difficult because it makes life very hard. You never enjoy it really. [MC:  Perfectionism?] Yes, sort of…. Probably, yes…
MC: Do you have an opera that you have set your heart on for a future production?
BF: From my experience, if I wanted something very much, if I was very keen on doing it, it did not turn out that good. Things have to come to me with a wish being open. I have been directing since 1989 or 1990 with over sixty productions, yes some I have repeated, but all in all over sixty productions, such a huge repertoire. I did operetta, opera, musicals, I even directed plays – which was a wonderful experience, very interesting. But to answer your question I like the Austrian composer Franz Schreker very much. I did one of my favourite productions in Leeds for Opera North when I did his opera Der Ferne Klang (The Distant Sound) so I would be very interested to do a Schreker opera again. This is something I am interested in, but there are so many operas out there I would like to do.
Michael Cookson