United Kingdom  Martin, Richter, Arnalds, Mixed Programme: Dancers of the Northern Ballet, Linbury Studio Theatre , Royal Opera House Covent Garden, London, 9.5.2014 (MMB)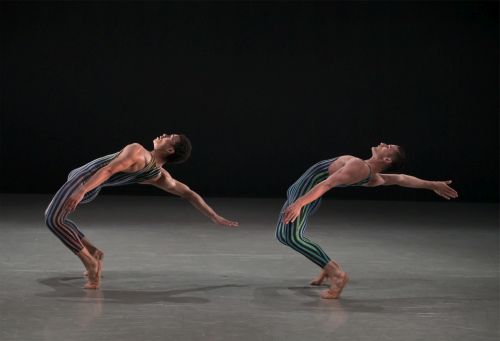 Concerto Six Twenty-Two
Choreography: Lar Lubovitch
Music: W. A. Mozart Concerto for Clarinet and Orchestra K622
Original Lighting Design: Craig Miller
Lighting Recreated: Jack Mehler
Staging: Ginger Thatche


Concertante
Choreography: Hans van Manen
Music: Frank Martin Petite Symphonie Concertante
Costumes: Courtesy of Nederlands Dans Theater
Lighting: Joop Caboort
Set Design: Keso Dekker
Luminous Juncture
Choreography: Kenneth Tindall
Music: Max Richter Recomposed and Luminous, Sarajevo; Olafur Arnalds Brotsjor; Hans Zimmer Time replaced in this performance by Max Richter's Beginning and Ending
Lighting Design: Alastair West
Wardrobe supervisor and Costume Maker: Carley Marsh, Lycras made by Aurora Dancewear
According to information on their excellent website, the Northern Ballet was founded in 1969, with only eleven dancers and under a different name, by Canadian-born Laverne Mayer. It gained a great deal of recognition in the UK under Robert de Warren (artistic director from 1976 to 1987) who regularly invited Rudolf Nureyev to dance for the company as a guest artist. This was followed by a period when it grew and flourished under the leadership of famed dancer Christopher Gable, who sadly died of cancer in 1998 but left the company with an international reputation. Northern Ballet has since come a long way and has moved from strength to strength under David Nixon OBE, their artistic director since 2001. The company has developed into a world class group, performing pieces by celebrated choreographers, as well as living up to their reputation of being innovative and offering opportunities to new choreographic talent. This was well demonstrated in their Mixed Programme presented at the Linbury Studio Theatre.
It was the first time that Northern Ballet had performed at the Linbury Studio Theatre though they have visited London many times before, particularly performing their original narrative ballets, as for example David Nixon's The Great Gatsby, based on F. Scott Fitzgerald's novel of the same name, which was performed to sell-out houses at Sadler's Wells last year.
The evening began with Lar Lubovitch's simply gorgeous piece Concerto Six Twenty-Two set to Mozart's beautiful Clarinet Concerto K622. The piece was commissioned by Centre National de Danse in Angers, France, and premiered in 1986 at the Carnegie Hall in New York. Although nearly thirty years old Concerto Six Twenty-Two is still as fresh and striking as on its very first performance. Lubovitch's choreography is imaginative and works in perfect harmony with Mozart's music, becoming an integral part of it. In fact, one almost gets the impression that the composer wrote the choreographic bars as part of the concerto to support the voice of the clarinet.  Concerto Six Twenty-Two is exactly as the music is: joyful, harmonious, subtle and, at times, sublime. Its male duet, created to the second movement of the Clarinet Concerto (adagio) still has to be one of the most memorable moments of two men dancing together in the whole history of ballet. The adagio is one of Mozart's most glorious and most beautiful pieces of music. It is also incredibly moving and Lubovitch paid it a wonderful tribute with his inspired male duet. Each step, each gesture and every cut figure of the two dancers is touching, warm and lovingly depicting exactly what true friendship is all about: understanding, support, acceptance and tolerance. I have seen Concerto Six Twenty-Two many times before; it is one of my all-time favourites and I must say that Northern Ballet did not disappoint. They delivered one of the best performances that I have ever seen. The dancers were all world class; their sense of community and of joy was present throughout, especially during the first movement. During the third and final movement, rondo (allegro), the dancers fitted very well together and expressed rather effectively that sense of congruous happiness, present in people who know and accept each other well and who can share their joy. I particularly liked young Matthew Topliss who stood out for his athletic prowess, leaping power and noticeable enjoyment of the piece. Giuliano Contadini and Matthew Koon did full justice to the famous adagio and performed the celebrated male duet beautifully, with grace and subtle technical brilliance.
The second piece of the evening was another modern classic, namely Concertante, choreographed to Frank Martin's pretty Petite Symphonie Concertante by the extraordinary Hans van Manen. It was a piece that he created in 1994 especially for eight dancers of the Nederlands Dans Theater 2 (the junior group of the main company). It is typical van Manen with all the clear marks of the master, meaning simple purity of line, almost classical grace, elegance, fluidity and musicality; and it depicts relationships between men and women. Passion, aggression and humour are present throughout the piece even though there is no narrative line. Hans van Manen does not tell stories as such but he expresses the wide variety of human emotions and interaction between elements of the same or opposite sex. It was brilliantly performed by eight outstanding dancers of the Northern Ballet, which again demonstrated unity as an ensemble and excellent technical and artistic qualities as individuals. Martha Leebolt and Giuliano Contadini were particularly effective but to me, it was Tobias Batley's image that remained embedded in my mind. He is taller than most, which gives a special elegance to the way he moves around. He masters leaps and pirouettes with graceful lightness and is dramatically rather expressive. Again, Northern Ballet were worthy of the choreographer and did full justice to van Manen's creation.
The third and final piece was arguably the one that best fits Northern Ballet's claim to be a "powerhouse of inventive dance". Luminous Junc.ture is a new piece, created especially for the Northern Ballet, in 2013, by Kenneth Tindall, a premier dancer with the company and who has also been choreographing successfully since 2011. The programme introduces the piece in the following way and I quote: "Five points in time, seemingly of their own agenda, threaded by light and our path through it. 'Where does the light lead?'" I must admit that whatever was intended with this premise, it did not work for me. Scientifically speaking, the light leads nowhere. Metaphorically, it may be the path to heaven or to a better, purer and simpler life, which I think is what Tindall wanted to express. The music chosen suited the piece though personally, I am not a huge fan of Max Richter or Olafur Arnalds. I like some of the pieces by Hans Zimmer but his contribution was replaced for Friday's performance by another of Max Richter's creations. The reason why was not given prior to performance and also not explained in the programme. The fact that the music was not entirely to my liking impacted my enjoyment of the piece but objectively, I must say that Tindall's choreography is indeed inventive, making excellent use of the technical strengths of the dancers; naturally, all well known to him. There is originality, particularly in the duets; the best example being Benjamin Mitchell and Kevin Poeung who executed some breath-taking figures together. There is beauty in the intricate, complex movements, especially when the dancers, moving slowly on the floor, appear to be swimming through light. The piece works rather effectively as a virtuoso ensemble but also as an individual vehicle for showcasing the dancers' ability and, besides the two that I have already mentioned, the others – Jessica Morgan, Hannah Bateman, Dreda Blow, Rachael Gillespie, Giuliano Contadini and again, especially, Tobias Batley – make full use of it. Luminous Junc.ture is a world class piece with original, technically difficult choreography. At times it is beautiful, at others strange but never boring. It is a credit to Northern Ballet and their policy of supporting new talent and giving opportunities to less known artists.
In all, the Northern Ballet conquered the audience, and was greeted at the end by well-deserved, warm and enthusiastic applause with a few screams of bravo thrown in for good measure. It was an excellent evening of dance by a talented, independent, assertive company who know what they want and where they are heading. They graced the Linbury Studio Theatre with their energy, creativity and, most of all, technical and artistic achievement. They belong not only on the great dance stages of the UK but also on prestigious international venues and I for one just hope that they return to London very soon.
Margarida Mota-Bull