United Kingdom Adler & Ross: The Pajama Game: Orchestra directed by Michael England. Shaftesbury Theatre, London 14.5.2014. (JPr)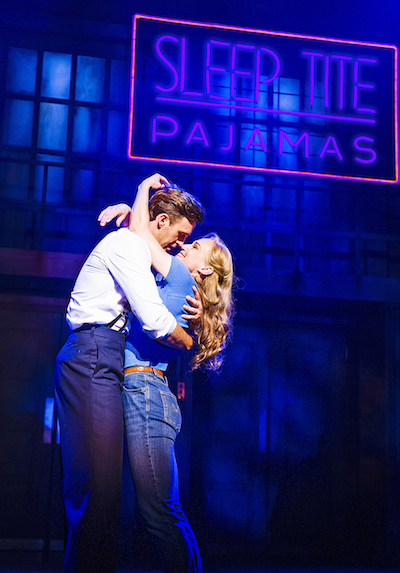 Cast
Babe Williams: Joanna Riding
Sid Sorotkin: Michael Xavier
Vernon Hines: Peter Polycarpou
Gladys: Alexis Owen-Hobbs
Mabel: Claire Machin
Hasler/Pop : Colin Stinton
Production
Book: George Abbott and Richard Bissell,
Words and Music : Richard Adler and Jerry Ross,
Set and costume designs: Tim Hatley,
Choreographer: Stephen Mear,
Lighting Designer: Howard Harrison
Director: Richard Eyre
Please do not believe the five star reviews you might see for this show. What could those critics have been thinking they saw? I know 'You'll say Pajamas and I say Pyjamas!' but perhaps they were dazzled by Sir Richard Eyre's involvement and he seems to have been on autopilot for this? It has made the leap from what I suspect was a smaller performing venue (the Minerva Theatre, Chichester) to the vast Shaftesbury Theatre stage. Tim Hatley's costumes are redolent of small town 1950s America and his functional sets keep the show moving, apart from an over-long Act I that could have done with losing 20 minutes. The ensemble moments are often a bit untidy and the show works best during the more intimate scenes when two or three characters are involved. More importantly Stephen Mear's choreography shows little respect for the work of Bob Fosse (with Jerome Robbins in the background) when The Pajama Game first hit Broadway in 1954. I've see some entertaining cruise ship cabarets and the big 'show stopping' moments here reminded me of them – but it lacked the style and sophistication West End audiences should expect.
There is a certain charm to Richard Adler and Jerry Ross's catchy songs – with their mentor, the great Frank Loesser, having an uncredited contribution on two of them: There Once Was a Man and A New Town is a Blue Town. So popular have some of the songs become that I know most of the words to Hey There (You with the Stars in your Eyes), Once-a-Year Day, Steam Heat and Hernando's Hideaway without have seen the entire musical. The book itself has some Carry On film-style innuendo', as when Prez, the Union President, lecherously propositions a girl by asking her at one point 'Do you want to be my partner in the three-legged race?' The lyrics are sometimes equally dated because of lines like 'more than an Indian loves his scalps'!
Peter Polycarpou's jobsworth time and motion man, Vernon Hines, narrates the opening of the show and says what we will see unfold is 'a very serious drama … about capital and labour' – yes possibly in passing – but it is mainly a familiar romcom story of 'a man's got to do what a man's got to do' uptight new superintendent (Sid Sorokin) and a Union Grievance Committee rep (Babe Williams) in Sleep-Tite's Midwestern pyjama factory. The lovers have echoes of any number of stronger women/weaker man musicals originating during and after World War II as women gained more respect for what they were capable of. Babe is called at one point a 'smart, mean, tough, loyal, beautiful girl'. Politics is really only a side issue, but because Peter Polycarpou's Hines was clearly paying homage to the late Bob Hoskins, physically and with his Who Framed Roger Rabbit American accent, I was reminded of the recent Made in Dagenham film he starred in as a similar character. Here other woman working on sewing machines for Ford at Dagenham went on strike for equal pay with men. Actually Made in Dagenham is the subject of a new West End musical opening later this year and that is described as a 'musical comedy about friendship, love and the importance of fighting for what is right' – exactly what The Pajama Game is all about! Here there is a 'slow down' in the factory by the workers seeking a rise of seven and a half cents an hour!
Polycarpou's Hines comes into his own in his comedy number, I'll Never Be Jealous Again, with Mabel, the Superintendent's redoubtable secretary, and in their dreams they become Fred Astaire and Ginger Rogers. He later does some manic knife throwing and his skit when he tries on some ill-fitting pyjamas reveals he is a master of comic timing. He was a genuine character that I could believe in, whilst many around him were just involved in putting on a show. Somebody really should have sat the cast down in front of some classic Hollywood screwball comedies and musical films to show them 'less is more' and they did not have to rush around shouting at each other for comedic effect. Everyone was 'labouring' too hard and made little 'capital' from what we saw. The big chorus moments such as Once-a-Year Day and Hernando's Hideaway filled the stage with high energy movement but looked too haphazard. The latter even had a cocaine snorting interlude and a drag queen who looked like Conchita Wurst who recently won the Eurovision Song Contest! What was that all about? Even Steam Heat led by Alexis Owen-Hobbs's blonde, appealingly ditzy and long-legged Mabel didn't work as well as it could have because the three dancers all seemed to be doing different things at different times.
Michael Xavier as Sid has the chiseled good looks and lanky laid-back charm of a young Rupert Everett and there was some good chemistry with Joanna Riding's gung-ho, tomboyish, 'heart on her sleeve' Babe. She was a touch matronly (some use of glasses didn't help) and so there was also a hint of toy boy/older woman in their relationship. Nevertheless, their fighting and ultimate reconciliation worked well for me. I am surprised that Richard Eyre could not do more with the minor roles and Claire Machin as the 'game old girl' secretary Mabel was not always entirely comfortable and Eugene McCoy's Prez and Colin Stinton's boss, Hasler, seem to think that yelling at the top of their voices (often unintelligibly like several of their colleagues) creates a genuine character. It doesn't! In fact, Stinton was much more successful with his more nuanced vignette as Babe's father, Pop, a rather absentminded railway man.
If you remember anything from this revival of The Pajama Game it will be its classic uplifting songs that are undoubtedly well sung by all concerned and splendidly played the valiant small orchestra under Michael England's direction.
Jim Pritchard
For more about The Pajama Game and its limited run at the Shaftesbury Theatre visit http://www.thepajamagamethemusical.com/.