Spain Wagner: Die Walküre, Liceu's Orchestra, Josep Pons (conductor), The Liceu, Barcelona, 22 & 23.5.2014. (JMI)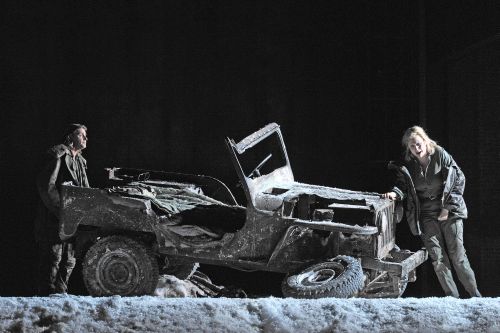 Casts:
Brünnhilde: Irene Theorin/Catherine Foster
Wotan: Albert Dohmen/Greer Grimsley
Siegmund: Klaus Florian Vogt/Frank Van Aken
Sieglinde: Anja Kampe/Eva Maria Westbroek
Fricka: Mihoko Fujimura/Katarina Karneus
Hunding: Eric Halfvarson/Ante Jerkunica
Gerhilde: Sonja Mühleck
Ortlinde: Maribel Ortega
Waltraute: Pilar Vázquez
Schwertlleite: Kismara Pessatti
Helmwige: Daniela Köhler
Siegrune: Kai Rüütel
Grimgerde: Anna Tobella
Rossweisse: Ana Häsler
Production: Stadt Köln
Direction: Robert Carsen
Sets and Costumes: Patrick Kinmonth
Lighting: Manfred Voss
More than once I have referred to Robert Carsen in laudatory terms, as I consider him a major stage director. He's one of the few who are able to combine aesthetics with originality, and he is always respectful toward the music and librettos.
Few stage productions require a guiding thread  ̶  a concept, if you prefer  ̶  more than The Ring of the Nibelung. Last year in Das Rheingold, Carsen seemed to focus on ecology and the human selfishness that lead to the destruction of the planet. Surprisingly, in this second installment, the guiding thread seems to be broken, and I didn't find an idea worth highlighting. This is a fairly traditional production, except for the fact that the action takes place in modern times. Carsen presents a world of factions at war, where Hunding and his men seem to be part of an irregular army. In the first act, at Hunding's camp, snow falls at the back of the stage even when Siegmund and Sieglinde sing of the arrival of spring. Act II is set in a luxurious room in some sort of military dictatorship with Wotan as ruler, minus his eye patch and the spear replaced by a baton. The announcement of Siegmund's death occurs back in a war landscape with a destroyed jeep as the only prop. The third act takes place in a field full of corpses that the Valkyries are taking to Valhalla, but the always much-anticipated MagicFire falls short of spectacular.The stage direction is quite traditional and always mindful of the libretto and music.
The musical direction was the most controversial aspect of these performances. Josep Pons was at the podium, and I found his conducting quite irregular. I can't say that he offered two different readings in two consecutive days, but there were surprising anomalies. To begin with, there was a difference of almost ten minutes  between the performances, which is not easy to understand coming from the same conductor. The weakest part was the first act, where there was neither tension nor emotion: it was just routine and simply boring. Things improved, but with little emotion in those two special moments, the Announcement of Siegmund's Death and Wotan's Farewell. The orchestra was problematic on the first evening, but they offered a more compelling sound the following day, which again was surprising.
There were two different casts, but one can hardly speak of first and second except in chronological terms. These days, when Wagnerian voices are rather scarce, there is much merit in putting together two casts of this quality.
Brünnhilde was performed by Irene Theorin and Catherine Foster. Both were convincing and well-suited to the role. Ms. Theorin was more powerful and tighter at the top, while Ms. Foster was a more lyrical Brünnhilde, offering more vulnerability in the character. Both can be considered excellent Walküres.
Albert Dohmen has been one of the leading interpreters of Wotan in recent years, but he is now too tight at the top. He is still a very compelling and sensitive singer, able to offer good doses of emotion in his singing that make one forget his weaknesses. GreerGrimsley has a powerful voice, but his artistry falls below Mr. Dohmen's. I found his singing rather monotonous with too many open sounds.
Klaus Florian Vogt is a tenor who will always be subject to discussion by opera lovers. His whitish voice does not seem well suited to heroic roles; in characters such as Lohengrin, Parsifal or Walther, his timbre is not ideal but it is suitable. Siegmund, however, is a more heroic character. It is true that one quickly gets used to Vogt's timbre, and his flawless vocal and stage performance come to the fore. Frank Van Aken's voice is better suited to the character, but he is not such an acomplished singer. During the first act he seemed to have vocal problems, and I doubted he could finish the opera, but he seemed fully recovered by Act II.
Anja Kampe was again an excellent Sieglinde, living the character with great intensity. Eva Maria Westbroek is in her element as Sieglinde, both singing and acting, a true gift in the character.
Mihoko Fujimura was a good Fricka, more convincing than Katerina Karneus the following day. Eric Halfvarson and Ante Jerkunica were both excellent as Hunding.
The group of Valkyries were really good, particularly Daniela Köhler as Helmwige, a Brünnhilde in the making.
José Mª. Irurzun