Germany Mozart: Rolando Villazòn, Kammerorchester Basel, Florian Donderer (concertmaster), Berliner Philharmonie, Berlin, 2.5.2014 (SH)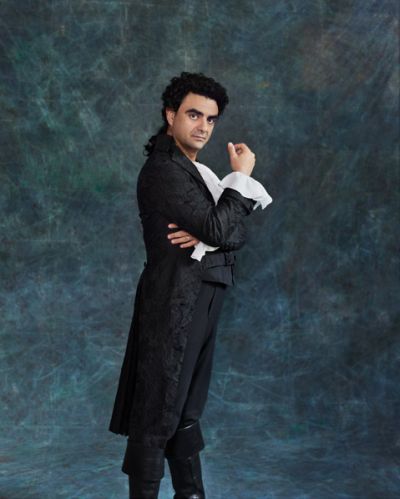 When tenor Rolando Villazòn sets his mind to something, he's all but unstoppable. Villazòn is involved in a range of projects that extend above and beyond the usual schedule of a leading tenor: he hosts a television show, "Stars von morgen," on the French-German channel ARTE; has written a novel; and performs as "Dr. Rollo" with the Red Noses Clown Doctors in children's hospices in Germany and Austria.
He has also taken on the challenge of paying homage to one of history's greatest composers, Mozart. In a multi-year project, the Mexican-born Villazòn is recording a cycle of seven of Mozart's best-known operas for Deutsche Grammophon — Don Giovanni in 2011, Così fan tutte in 2013, and this summer, Die Entführung aus dem Serail. The most recent addition to the series is Mozart Concert Arias, recorded with Antonio Pappano and the London Symphony Orchestra and released last fall.
Villazón brought a live version of this project to Berlin's Philharmonie. Accompanied by an adept Kammerorchester Basel, he presented a trove of lesser-known works to a responsive Berlin audience. In true Mozartian tradition, the program included both vocal and instrumental pieces, lending variety and giving necessary respite to the singer.
After the rousing overture from the infrequently performed 1772 opera Lucio Silla, Villazòn took the stage. He warmed up with "Si mostre la sorte" from the composer's Salzburg years before showing his full range in "Per pieta, non ricercate," a virtuosic aria written for tenor Valentin Adamsberger in the 1780's. In the final selection of the first half, "Misero! O Sogno o son desto?", also written for Adamsberger, Villazòn's supple voice made use of a broad palette of vocal coloring. It echoed through the Philharmonie with passion before shifting to touching desolation, conveyed through pianissimi as sweet as a piece of Sachertorte. The accompanying aria, "Aura che intorno spiri," was sung with an effective mix of tenderness and vehemence — vocal eruptions of desperate ardor remained even and secure despite the high tessitura and frequent leaps, and his voice retained its characteristic soft edge when necessary.
In short, he made it sound easy which is no simple feat., and the orchestra seemed equally at ease. They played with great feeling, particularly during the Prague Symphony in the second half of the concert.
Villazòn seemed most at home in character parts such as Pulcherio in "Dove mai trovar quel ciglio?" from the long-lost opera Lo Sposo deluso, adjusting his vocal phrasing and color to suit the fervor of the buffo character. He has a natural flair for showmanship that lets the audience know he doesn't take himself too seriously.
Ironically, it was a composition written by the 9-year-old Mozart, "Va', dal furor portata," that seemed to weary the singer. The piece is peppered with coloratura, which seemed to take a toll, and Villazòn lost some resonance and mobility in the upper range. This became more apparent as the evening progressed and was especially audible during the final piece on the program, "Or che il dover…Tali e cotanti sono." However, the tenor refused to indicate he was having any difficulty and simply held back a bit on the troublesome high notes.
Unsurprisingly for a charismatic opera star, Villazòn seemed to have an abundance of admirers. On my right, a woman rose to her feet, shouting enthusiastically and waving a small Mexican flag. Meanwhile, four women descended to the lip of the stage, each handing the tenor a bright pink rose; another emerged from the third row and presented him with a thick red envelope. It was all in a day's work for Villazòn, who seems to play into the attention — an ardent fan once cut off a lock of his hair after a performance and lived to tell the tale.
As he took his bows, Villazòn seemed to have channeled his inner clown, Dr. Rollo. He shook hands with each player in the orchestra and doled out roses to select members of the audience. Brandishing a cane, Charlie Chaplain-style, he remained in comedic character during his first encore, "Con Osequuio, con respecto," written for Salzburg performances of Niccolò Piccinni's opera, L'astratto, ovvero Il giocator fortunate. The audience responded with great fanfare, as is likely to occur whenever he takes the stage.
Sarah Hucal