Argentina Wagnerfest!: Buenos Aires Lírica. Carla Filipcic-Holm (soprano), Hernán Iturralde (bass-baritone) and Orchestra of Buenos AiresLírica,Conductor:Pedro-Pablo Prudencio. Teatro Avenida, Buenos Aires. 8.5.2014. (JSJ)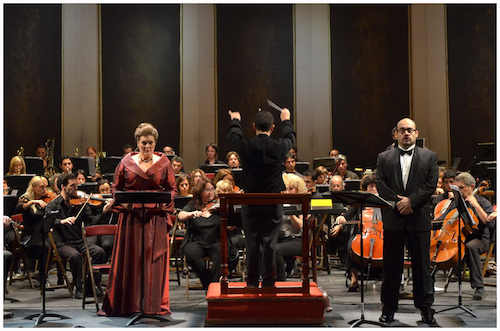 With its Wagnerfest! Buenos AiresLírica has neatly solved two problems – that of presenting Wagner outside the Teatro Colón in Buenos Aires in the Teatro Avenida with its limiting orchestra pit, and in these difficult economic times increasing back up to five its production schedule for the year without the costs of a full production.
For the occasion the company engaged two of the most accomplished local singers for this genre – soprano Carla Filipcic-Holm and bass-baritone Hernán Iturralde, along with the young Chilean conductor Pedro-Pablo Prudencio – to present extracts from Tannhäuser, Die Walküre and Götterdämmerung. 
With the first half devoted to Tannhäuser the program, somewhat oddly ordered, began with Elisabeth's "Dich, teure Halle" from Act 2, followed by the Bacchanal from Act 1 and "Wohl wusst' ich hier", Allmächt'ge Jungfrau" and "Wie Todesahnung" / "O du, mein holder Abendstern" from Act 3, before coming back to the overture to end.
Then in the second part, the extracts from the Ring began with Siegfried's dawn journey down the Rhine and funeral march, followed by the closing tender farewell between Brünnhilde and Wotan from Act 3 of Walküre – and as an encore a spirited "Ride of the Walkyries".
The two singers were polished and brought depth and clarity to their respective parts. The augmented more than 70-strong orchestra, occupying the full stage, were obviously well prepared but especially in the lengthy Tannhäuser orchestral sections and in the Walküre extract could have benefitted from a firmer baton.
Jonathan Spencer Jones