Italy Donizetti, L'elisir d'amore. Orchestra and Chorus of Teatro dell'Opera, Rome. Chorus Master, Roberto Gabbiani. Conductor, Donato Renzetti. 13.05.2014 (JB)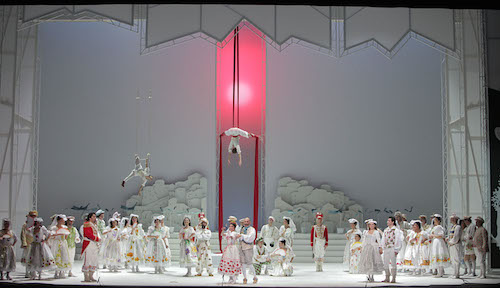 Staging by Ruggero Cappuccio (a revival of his 2011 production in this same theatre) with Sets by Nicola Rubertelli and Costumes by Carlo Poggioli.
Cast:
Adina  Rosa Feola
Nemorino Antonio Poli
Belcore  Alessandro Luongo
Dulcamara  Adrian Sampetrean
Gaetano Donizetti has been given a rough ride by critical opinion. Half trashy, say those dismissing critics. Well maybe, but isn't it fair to ask –what about the other half? True, early on, he worked out two formulas –one for comic, one for tragic opera- then knuckled down to producing the works –some seventy-five operas in all. To condemn a composer for a flawless technique would be like condemning Juan Diego Florez (incidentally, the greatest of all Donizetti tenors) for the perfection of his breathing. –Which is how the tenor makes difficult music sound so easy. The negative critics don't care for ease of writing in a composer. Too mechanical, they say.
But at this point, hold the show. What about those magical melodies that stay in memory for ever? They are so unexpected, precisely because they are not routine. Bellini arguably scores higher in melodic invention. But is that a reason to knock Donizetti's inventions? Or when Donizetti leads us with a straight face into tragedy, then turns the tables into near-farce? This is wit: giving the expected unexpected sense. And Rossini is the supreme master. But Donizetti too has his unforgettable moments.
I would argue that there is a third quality in which Donizetti is unrivalled leader: charm. It is the effortlessness of the invention which enthrals. Charm is impossible to define but it is clearly audible to unprejudiced ears.
It would be impossible on today's opera podiums to find a finer Donizettian than Donato Renzetti. His L'Elisir d'amore  is genuinely an elixir of love: it bristles with vitality at all those key moments, is meltingly lyrical in the opera's sensual numbers, with perfect pacing and timing from start to finish. Moreover his sense of direction in the music is hypnotic. He is a considerate accompanist to three small voices who are audibly frightened of this music. This fear causes them to misunderstand where the music has to breath –a mistake which Maestro Renzetti would never make from his side of the house. If only he could have more involved these singers in his own passionate, poised relationship with this score.
Let's begin with the best of the three voices. Antonio Poli is a young, local tenor from nearby Viterbo. And he has learned a great deal from Renzetti with two hundred percent support from the conductor. He doesn't make the mistake of trying to force his voice to be bigger than it is (I hear Renzetti advice here) but it has to be said there are moments when he sounded feeble as well as nervous and insecure. He wisely saved himself up for una furtiva lacrima in which his phrasing –and breathing- were near-perfect. This brought the ovation of the evening. The maestro had clearly promised him an encore if this should happen. And so it did. The most interesting thing of all is that, obviously encouraged by his applause (Maestro Renzetti simply turned to the audience and said, encores are sometimes a good idea, don't you think? More wild applause!) the young man forgot all about being nervous and was remarkably relaxed and expressive for his repeat. Memorable, dear Antonio. You have shown the maestro and us that when you feel safe you can truly sing this demanding music. More, please.
Rosa Feola sang Adina in the second cast of Teatro dell'Opera's original 2011 staging of this work. Her voice too is small but unlike Poli, she makes the mistake of forcing, which causes the high notes to spread out like treacle, distorting the intonation and producing a nasty pinched sound. The programme says she has studied at the Renata Scotto Master Course at Santa Cecilia. This is astonishing. Only insomuch as the Great Scotto had studied with Mercedes Llopart (1895 – 1970) whose pupils also included Elena Suliotis, Fiorenza Cossotto, Ivo Vinco, Alfredo Kraus and Montserrat Caballé. Madame Llopart's great contribution to these careers was in the placing of the voice (impostazione in Italian) where it is best able to be easy and effective of its delivery. Clearly, La Scotto had been unable to convey this art and skill to Rosa Feola. The Feola voice is all over the place, unfocused and torturing itself –and us!- to arrive at sounds which are totally alien to it. Not even Donato Renzetti's best efforts could save her.
Alessandro Luongo delivered a dignified performance as Belcore, nicely timed in both voice and movement. Adrian Sampetrean, from Romania, didn't quite steal the show as Dulcamara, as the quack-doctor can in those two basso-buffo arias, but he was impressive in his restraint, which makes a welcome change to the upstaging vulgarity which is so often met with in the role. Methinks I hear Renzetti excellent advice here too.
The revival of the theatre's 2011 staging was in Ruggero Cappuccio's capable hands, understating the delicate humour which can only too often sink into witless parody. Restraint rules here too. As a result, Donizetti's elegance comes through. Sets (Nicola Rubertelli) and costumes (Carlo Poggioli) were predominantly white and silver with splashes of red. Some influence here of the English illustrator, Aubrey Beardsley (1872 – 1898) who while obviously formulated by the theatre posters of Toulouse Lautrec and Japanese woodcuts, had a self-declared interest in the grotesque, the decadent and the erotic. Applied with the dignity and restraint of this production team that is indeed an admirable formula for Donizetti.
In a month's time I shall be reporting on another Donizetti comic masterpiece; this one as part of a project for promising young singers. Rather hopeful, wouldn't you think? Watch this space.
Jack Buckley