United Kingdom Hérold, La Fille mal gardée (ballet music arranged and orchestrated by John Lanchbery): Dancers from the Birmingham Royal Ballet, the Royal Ballet Sinfonia, / Philip Ellis. (conductor),  Birmingham Hippodrome, 11.6.2014. (GR)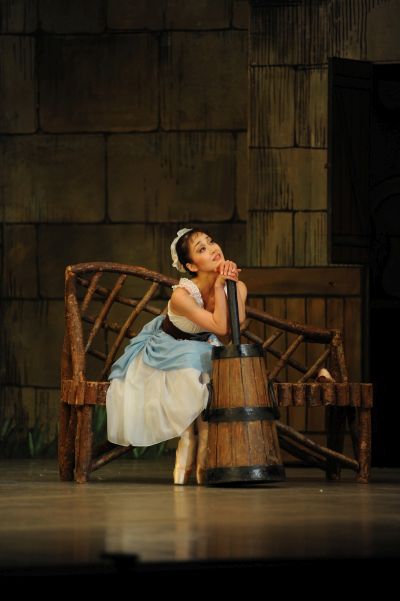 Principal Dancers:
Lise – Nao Sakuma
Colas – César Morales
Widow Simone – Michael O'Hare
Thomas – Jonathan Payn
Alain – Mathias Dingman
Production:
Scenario – Jean Dauberval
Choreography – Sir Frederick Ashton
Lighting – Peter Teigen
Designs – Osbert Lancaster
Hard on the heels of Birmingham Royal Ballet's Darkness and Light last week featuring three Sir Frederick Ashton ballets, came yet another from the great man. Not that I am complaining; the dancers were meticulously on their toes. The final ballet of BRB's 2013/14 UK season was La Fille mal gardée seen at Birmingham's Hippodrome on June 11th. In keeping with the time of year it had a distinctly summery flavour to it, raising temperatures all round; no matter how many times this production is revisited, it is hard to surpass for a family night-out. Fifty-four years ago Sir Frederick Ashton gave us this glorious romcom and it continues to raise smiles and generate spontaneous laughter. Once again BRB did it justice on their home ground, delivering a delightful evening's entertainment, a magnificent team effort – on stage, behind the scenes and in the pit. By telling it to you straight, La Fille mal gardée allows its audience to focus on the movements of the dancers, the scenery and props and the pleasurable music. There is much debate today about whether ballet is in decline and if this is related to how interpretations have been 'modernised'; no such issues arose here. This lovable ballet's cocktail of a transparent storyline, dotted with a collection of enchanting incidents, continues to make it great box office.
Despite the Frenchness of the named protagonists, the initial frontage design of Osbert Lancaster with its village church and grazing cattle was quintessentially English. Under the baton of Philip Ellis, the Royal Ballet Sinfonia supplemented the colours of his landscape. Act I got off to a cackling start, the flashy and rampant cockerel of Kit Holder (see photo) ruling his roost of four doting chickens played by Laura Day, Karla Doorbar, Reina Fuchigami and Miki Mizutani. Holder's head-bobbing again reminded me of comedian Norman Collier while the free range antics and playful demeanour of the hens was from an era long before any battery confinement. Outside her sunflower-decked farmhouse, Lise was dreaming of Colas (see photo) the love of her life, pinning up a ribbon on the barn door; playing the amorous couple were BRB's top pairing of Nao Sakuma and César Morales, surely one of the best dancing partnerships in the UK. Typical of their excellence was the intricate manipulations of the ribbon – symbolic of their love and a thread throughout Ashton's interpretation: Morales tied it to his staff with the proverbial lover's knot before using it as the most delicate of lassos to rein Sakuma in whenever their dance steps drove them too far apart, a physical and emotional bond. The ribbons multiplied in the following ensemble number for Lise's friends and the villagers. The artistry of the BRB ribbon-wavers was worthy of an Olympic medal in rhythmic gymnastics!
However the course of this love match was not destined to run smoothly. Lise's mother, the Widow Simone, had other ideas: intent upon a marriage that would unite her real estate with that of neighbour Thomas, the prosperous vineyard owner. For now Lise was reduced to besom sweeping, details had to settled before her daughter 'jumped the broom'. Michael O'Hare brilliantly caricatured Simone; his scurrying walk and mannerisms reminded me of Old Mother Riley, the old music hall act.  After the pompous Thomas, laudably played by Jonathan Payn, arrived with his pot of money to introduce his halfwit son Alain to Lise. As the village idiot, Alain is not the easiest role to get across, but Mathias Dingman was very convincing, making the most of his brolly during his opening solo and performing a mean gallop. But enough of such frivolities; it was time for all to bring in the harvest and what better way for the good Widow to travel to the fields than by pony and trap. This prompted the biggest audience sigh of the evening for the cuddly and well-behaved animal, looking as if his gorgeous white mane had had a shampoo and set for his appearance.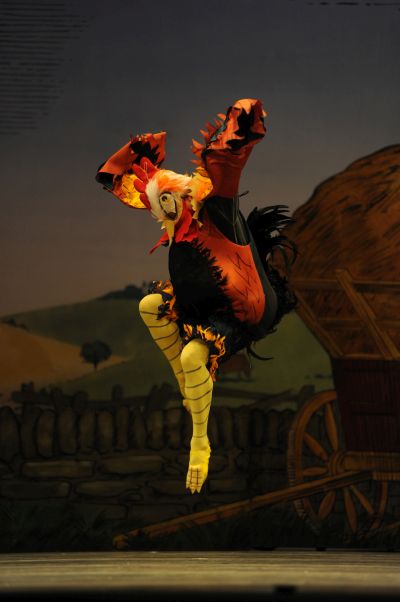 The second frontage of Lancaster, a purely pastoral one, set up the hay-gathering process of Act II. Each member of the BRB corps de ballet was armed with a sickle and their strokes were incorporated into some pulsating choreography; this picture was completed with some outstanding playing from the Royal Ballet Sinfonia under leader Robert Gibbs, their accompaniment matching the sweeping crescent-shaped blades, cut for cut. Such exhausting work for the harvesters deserved a break and so there was time for a picnic and some frolicking during the Pas des Moissonneurs (Reapers). The merry-making continued with the Flute Dance, affording opportunity for the flutes of Lynn Peters and Sandra Skipper to shine. But when Dingman tried his hand at the windpipe, the humour of his character was emphasised by the tuba sounds of David Gordon Shute. The ribbons also returned, this time to simulate a wheel with Sakuma en pointe as the well-oiled axle. And after a magical clog dance from O'Hare, the platting and unwinding of the maypole ribbons was an intricate dancing interchange, together with some more excellent instrumental solos. The Pas de trois involving Lise, Colas and Alain was also memorable: with Sakuma seemingly destined to marry Dingman she was obliged to dance with him, but every time their heads were about to come together, up popped Morales to sandwich his own in-between; their split second timing was perfection. A thunderstorm had everyone scurrying for cover and home; the nervous Alain was not such an idiot after all;  Dingman had brought his brolly!
Act III began inside the farmhouse with Lise and Mama at the spinning wheel. When Lise eventually got her mother to doze off, the watchful Colas saw his chance for further canoodling, but there was an intervening locked stable-type door. Able to open the top half, he leaned in and pulled her up into his arms, her quivering battement indicative of her enjoyment. The harvesters brought in the hay bales and celebrated their rewards with a spectacular Morris dance. Left alone, Lise dreamt of settling down with Colas and how many offspring they might have. Morales made a dramatic appearance from within the rather conspicuous piles of hay, prompting a delicious Pas de deux. Their cover blown, Lise  whisked Colas upstairs into her bedroom. The suspicious Simone, in true Whitehall farce tradition locked Lise in the same bedroom, as Alain and father Thomas arrived with village notary and clerk to complete the arranged contract. The intended groom was given the key to the bedroom; his hesitant passage up the stairs demonstrated that this clown was not macho enough for the delectable Lise – but Dingman's climb was hilarious all the same. Eventually Simone realised she was beaten and it all ended happily ever after with more festivities around the maypole.
Although all the dancers in this BRB production were first-rate, Sakuma stole the show, managing to portray the many situations in which Lise found herself: dreamful yet practical, innocent whilst cunning, bold but bashful, fragile one minute, defiant the next. What a star!
Geoff Read