United Kingdom A Simple Space: Gravity and Other Myths, Udderbelly Festival, Southbank Centre, London, 4.6.14. (JPr)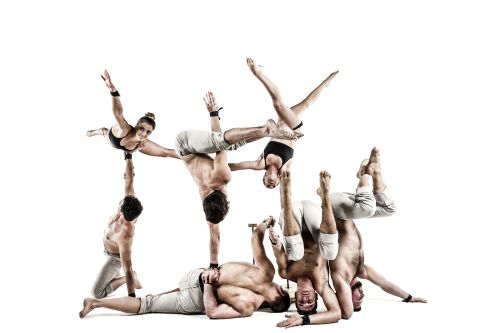 Performers: Lachlan Binns,  Jascha Boyce, Rhiannon Cave-Walker, Daniel Liddiard, Jacob Randell, Martin Schreiber, Triton Tunis-Mitchell, Elliot Zoerner (also live percussion)
In the post-Cirque du Soleil world 'circus' means something other to a modern generation than it does to those of an older vintage when it meant gaudy costumes, clowns, jugglers, knife throwers and acrobats, plus (hopefully well looked after) exotic animals … and accompanying sawdust. I still hanker for that type of spectacle in a tent on a local playing field surrounded by a jumble of caravans but it a type of traditional entertainment that is in decline particularly since, especially in this country, people apparently do not want to see, even domestic animals, performing for their entertainment. Cirque du Soleil describes itself as  a 'dramatic mix of circus arts and street entertainment' and has evolved over the years so that its various incarnations are a synthesis of circus skills of the various traditions throughout  the world but giving each its own central theme and storyline whilst blending it with music and imaginative lighting.
The antithesis of this type of extravaganza is the evening of 'physical theatre' presented by 'Gravity and Other Myths' a talented and athletic troupe (six men and two women) from Australia whose unique close-up show A Simple Space can be seen until the 6th July in the splendid upside-down purple cow tent at the Udderbelly Festival on the South Bank. This Fringe show has been well received wherever it has been performed and London gets an opportunity to admire their skilful presentation. The publicity uses the terms 'hypnotic' and 'beguiling' and that it is undoubtedly is in parts as many times the lines are blurred between all the balancing, tumbling and other gymnastics we see and it is sometimes – using simple lighting effects and percussive music – quite close to modern dance. Certainly the opening section where to shouts of 'falling' individual performers almost spontaneously drop backwards – knowing they will be caught by the arms of another – demands a high level of choreography. There are several sections of ensemble movement like this in the 50 minutes show.
The 'simple space' in question is a large black mat we see on entering the intimate auditorium – there are few props used and certainly never any safety wires. There is seating on three sides of the mat with some only inches away from the cast and all the incessant action. It's naturally all very intimate and allows for audience participation, such as when the very light and limber Jascha Boyce steps across her fellow performers and some very willing people who have been plucked from their front row seats. Later there is a contest when everyone stands on their head and the audience is invited to pelt them with brightly-coloured balls until there is the last man – or in this case woman – standing … or not standing, you know what I mean!
Actually that this is 'stripped back' circus is never more real than when the eight strong company soon after the start lure the audience into a false sense of security with a fairly harmless strip-skipping competition that was 'won' (I'll leave that to your imagination) by the musician amongst them,Elliot Zoerner. It was his simple percussion and all the other musical and sound effects that – surprisingly subtly – underpinned some of the fluid motion we were seeing.
As the show continues, everyone show off their individual talent whether it is hanging off an aerial bar by only her flexed feet, solving a Rubik's Cube – or holding his breath the longest – while balanced on his head. The show comes to an end with another skipping game, only this time the 'ropes' are human! Add to this there are lots of times when they stack themselves into towers, throw each other about (at one time as if it is trapeze act without the equipment) or contort their bodies into improbable counter-balanced shapes … and there is also an energy-sapping back somersault 'competition'. All this is interspersed by more light-hearted moments such as when they all create balloon animals behind their backs.
It is all engagingly 'simple' in its own right and although outwardly there is a sense of competition among them all  because of their knowing 'Look at me isn't this good' smiles, I suspect the same thing happens at every performance and that is where the importance of 'choreography' behind most of what we saw should be acknowledged.
This enthusiastic and very welcome group from 'Down Under' brought nearly all of the packed audience to their feet with a winning combination of good humour, agility, bravery and innovative movement – and this was thoroughly deserved. If you know a lot about the history of 'circus' then not all of this will be new to you but that will not be the audience probably coming to the Udderbelly Festival so I wholeheartedly recommend 'A Simple Space'.
I had one lasting thought however – why was it only really the two girls (Jascha Boyce and Rhiannon Cave-Walker) who got thrown around?
Jim Pritchard
There are performances of A Simple Space at the Udderbelly Festival until 6 July and for more information go to www.udderbelly.co.uk.
For more about Gravity and Other Myths visit their website at http://gravityandothermyths.com.au.