Argentina Verdi, Don Carlo: Soloists, Choruses from Institute of Music of Avellaneda and Opera Studio Rosario, Municipality of Avellaneda Symphony Orchestra. Conductor: César Tello, Teatro Coliseo, Buenos Aires. 9.6.2014. (JSJ)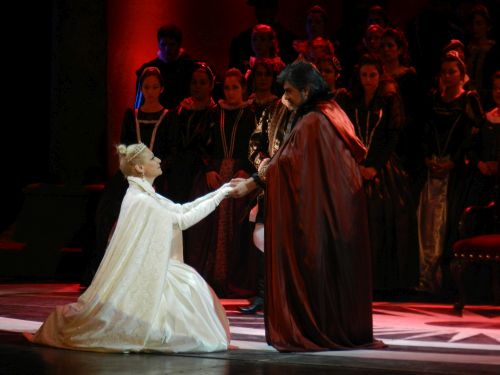 Cast:
Don Carlos: Fernando Chalabe
Elisabeth de Valois:Haydée Dabusti
Philip II: Marcelo Otegui
Princess Eboli:Anabella Carnevali
Rodrigo:Leonardo López Linares
Grand Inquisitor: Marcelo Boluña
Tebaldo: Joel Damián Ramirez
Monk:Luciano Straguzzi

Production:
Director/lighting: Nelson Coccalotto
Costumes: Liza Tanoni
Chorus IMMA Avellaneda: Armando Garrido,
Chorus Opera Studio Rosario: Nelson Coccalotto
Verano Italiano (Italian Summer), now in its second year, is a multi-disciplinary festival that was launched in Buenos Aires during June/July to promote Italian culture, from music and theatre to movies and cooking.
Opera is of course a central part of this culture and this year Verdi's Don Carlo was presented by the Italian Consulate-General in a single production – with the proceeds going towards the local Italian community.
Don Carlo – that is, the four act Italian version, as distinct from the original five act version – is a demanding work to put on. In part this is due to its length, and an over half hour late start and protracted scene changes resulted in an after midnight finish for a somewhat depleted audience.
Given the resources required, this production, which was from the Teatro El Circulo in Rosario (where it will also be presented in July) was a bold one and its success was due mainly to the principals. Despite their obviously earnest efforts, both chorus and orchestra, most noticeably the brass, exhibited imbalances and imprecisions.
The production itself, although fairly straightforward, was also muddled, with a single setting comprising a giant Christ-like effigy in the centre of the stage and some columns in an arc behind. However, different shades of lighting were used effectively and the costumes were attractive.
As an outside Buenos Aires production it gave an opportunity to experience several singers who are little known on the local stages. Among these Leonardo López Linares gave a good performance of Rodrigo, with clear musical line, and Anabella Carnevali was a powerful Princess Eboli, although with some stridency in the higher register in 'Nei giardin del bello'. Notable too was Uruguayan bass Marcelo Otegui's Philip II, particularly in the study scene in Act 3 with its well known 'Ella giammai m'amo'.
Others were Marcelo Boluña as Grand Inquisitor, Luciano Straguzzi as the Monk and unusually a counter-tenor, Damián Ramirez as the page Tebaldo.
But it is for the two main roles that the greatest praise is due. Fernando Chalabe, replacing the programmed Neapolitan tenor Raffaele Sepe, exhibited stamina and style in the title role, while Haydée Dabusti was an impeccable Elizabeth, with clear and consistent phrasing and beauty of tone.
Jonathan Spencer Jones