Italy.  Donizetti, Don Pasquale Orchestra da Camera Bruno Maderna.  Chorus of LuccaOPERAfestival conductor, Jonathan Brandani, Staging by Stefania Panighini with Sets by Francesca Pieretti and Costumes by Michela Caccioppoli.  Teatro dei Rassicurati, Montecarlo (Lucca) 13 and 14 June 2014 (JB)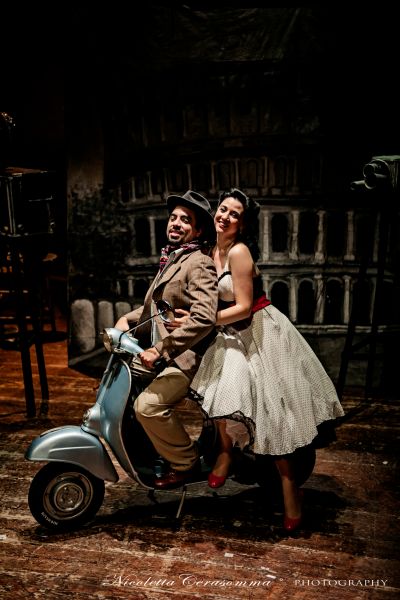 Cast:
Don Pasquale:     Cristian Diaz
Dr Malatesta: Mattia Campetti
Ernesto:            Francisco Brito
Norina:          Michelle Buscemi
When the curtain first went up on Don Pasquale at the Theatre-Italian in Paris on 3 January 1843 the four most distinguished singers of the day –Grisi, Mario, Tamburini, Lablache- were there to deliver the Donizetti goods and thereby secure its permanent place in repertory as the greatest comic opera of all time.
When the curtain first went up on Don Pasquale at the LuccaOPERAfestival at the Teatro dei Rassicurati of Montecarlo near Lucca on 13 June 2014 matters were less grandiose.    But as I hope to show, there were notable compensations.
The Teatro dei Rassicuranti is a seventeenth century jewel which is indeed   reassuring in many ways: horse-shoe shaped with two tiers of boxes, no orchestra pit and a seating capacity of a mere one hundred and fifty.  Every seat taken.  What is lost in grandeur is gained in intimacy.  And intimacy is at the heart of Donizetti's conceptions.
The theatre was rescued from oblivion by Herbert Handt who reopened it on 21 September 1973 with an opera of Domenico Puccini (grandfather of the better-known Giacomo).  He removed half the stalls seats to accommodate the orchestra.  He also persuaded the Ministry of Culture to provide an annual grant to present an opera every year, which ensured its active continuation.  But a new mayor of Montecarlo said he had no interest in music and the Ministry grant was thereby forfeited.  Subsequently, another mayor  managed to squeeze a grant from another Ministry for a major restoration of the theatre, which reopened in 2004.
The present carriers of the torchlight of LuccaOPERAfestival are two young, intelligent and imaginative local men, Mattia Campetti (General Manager) and Jonathan Brandani (conductor).  Their achievements have been much applauded by Herbert Handt, who is in his ninetieth year but still lives nearby and is intellectually as vital as ever.
You won't meet another conductor with such clear, purposeful indications as Jonathan Brandani: that is a valuable asset when you have young, inexperienced singers.  Moreover, he makes this music spark.  And sparking is what Donizetti comedy is all about.  And nothing is so infectious as enthusiasm.  And Brandani conveys this with his fine regard for the score's details.  I could myself have wished for half a dozen more string players to give the body of sound the composer wants. (Jonathan had twenty-two players against Herbert's twenty-six.)  There were some orchestral mishaps on the opening night.  I was glad I was able to stay for the second performance where matters were much more felicitous.  (When Lindsay Kemp was operating with young performers he always urged me to avoid an opening night: let them settle into it! he asked.)
Mattei Campetti is the life and soul of LuccaOPERAfestival, right down (or should that be up?) to being chief cook and bottle-washer.  He was the most professional person on the stage and relaxed in his professionalism.  The stage is where he belongs.  He came across entirely naturally, both vocally and in movement as Dr Malatesta.  How often have you seen this role ruined by a bad parody of Donizetti's comedy?  Campetti has the presence of mind and skills to play it straight.  He was the only one of the four singers who lives that golden rule of expert operatic performance: less is more.  Sheer perfection.
The Australian soprano, Michelle Buscemi, has an impressive, powerful voice.  What she misses in grace and charm she makes up for in dramatic impact.   She also has a good line in sending herself up in comedy.  There were moments when she sounded as though she was attempting to blow the entire audience out into the street.  The audience enjoyed this sport.  I couldn't help feeling that Puccini or even Wagner would have been better suited to her voice.  She is not really in line with the intimacy of the rest of the cast.  But that works.  Given half a chance, Norina would have defined herself as an outcast.
Every tenor in the world wants to sing Ernesto's two arias even if he never sings the opera.  And most of the great tenors have recorded them.  It doesn't sound as though Fransico Britio (Argentinean) has listened carefully to these recordings.  He badly missed the boat every time.  He does have a voice.  The problem is that it has been incorrectly placed.  Until he can find a teacher who will correctly place his voice he will not be able to sing this opera or any other.
Cristian Diaz  (Colombian) was nicely into the role of Don Pasquale.  He has admirable stage-presence and firm, clear vocal delivery.  The wonderful duet with Malatesta was a sheer delight.
Grandeur is mocked in this opera.  And that was taken care of nicely in Stefania Panighini's staging, set in what looked like a nineteen-twenties film studio, with all the main characters being filmed at every opportunity.  Vanity is another theme which Donizetti parodies.  Ms Panighini has a love-affair with the choreography of the Charleston and the flipping hands and feet were immense fun at first, if a little overplayed as the show went on.  Same for the Chaplinesque movements –appropriate too, except when overused.
Jack Buckley