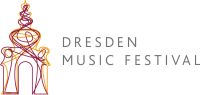 Ravel, Gershwin, Antheil, Korngold, The Chamber Music Society of Lincoln Center: Yura Lee (violin), Wu Han (piano), Gloria Chien (piano), Kristin Lee (violin), Richard O'Neill (viola), David Finckel (cello), Palais im Großen Garten, Dresden, Thursday 5.6.2014 (MC)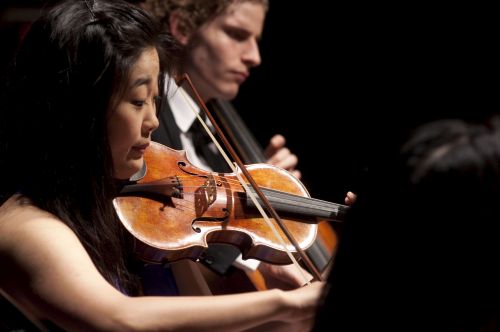 Ravel: Violin Sonata
Gershwin: An American in Paris, original score for 2 pianos
Antheil: Sonata No. 2 for violin, piano and drums
Korngold: Piano Quintet
As part of the Dresden Music festival this recital from the Chamber Music Society of Lincoln Center, New York was held in the attractive setting of the Palais im Großen Garten, a venue that is becoming increasingly popular. The actual recital room is upstairs at the baroque palace in a large rectangular room with nearly all the plaster removed down to the bare red brick walls. Probably the most crucial factor in this report was the extremely difficult acoustic which detracted substantially from my enjoyment. Curiously I did attend a song recital at the Palais im Großen Garten at the previous Dresden festival and the acoustic was acceptable. This year, even though the stage was positioned in a similar position as was my seat; the acoustic was terrible, allowing only the start of notes to be heard clearly before they rapidly faded out ensuring there was no depth to the sound. The music was fascinating, an American themed programme of twentieth century music by Gershwin and Antheil both American born, Korngold who was later to become an American citizen and Ravel a composer inspired here in his violin sonata by American jazz/blues performers.
Violin soloist Yura Lee and experienced pianist Wu Han got the recital off to a flying start with one of the most exuberant performances of Ravel's Violin Sonata I have ever heard. The confident Yura Lee adopted a bold approach which Ravel's music was strong enough to take. During the opening movement the strange acoustic became quickly apparent seeming to swallow up the piano sound yet thankfully the forward placed violin fared much better. Ravel had found much inspiration in popular American music and the memorable Blues movement saw Yura Lee's daring playing with a marked raw edge pay dividends. Never have I heard Blues given such a biting jazzy feel that blazed so much I wondered if it would catch fire. 
Many of Gershwin's works exist in two piano versions, however, the transcription to An American in Parislay hidden at his publishers for fifty years. This two-piano transcription actually contains an extra five minutes of music that was cut from the orchestral score. With their Steinway grand pianos positioned snugly together Wu Han and Gloria Chien played Gershwin's score with real relish even if initially the playing of Chien took some time to settle down. Once the unison improved the overall effect became one of highly charged excitement capturing that 1920's American jazz feel.   
After the interval any of the audience still basking in the afterglow of a stroll around the park in the late evening sun would have had a rude awakening from the Second Sonata for violin and piano with drums written by George Antheil theself–proclaimed "Bad BoyofMusic." This extrovert piece might be rather short in length but it's long on thrills and spills and I could see that its eccentric personality caught many of the audience by surprise. At times I felt as if Antheil had set to music an adventurous series of short and riotously contrasting film clips from American music life. Violist Kristin Lee was in remarkable form, completely buying into Antheil's mad-cap sound world with unyielding assurance.  Much of the impact of Gloria Chien's highly percussive piano part was lost in the piano despising acoustic. In the concluding section it was rather fun when Chien turned from her Steinway Grand to play a pair of drums with her hands like tom-toms.
For the final work of the evening violist Richard O'Neill and renowned cellist David Finckel joined leader Kristin Lee, Yura Lee and Wu Han in Korngold's Piano Quintet. Of Austro-Hungarian birth Korngold had sought refuge in America during the Second World War finding fame writing Hollywood film scores. Lavishly scored, the Piano Quintet is a wonderful work generously imbued with romanticism. The piano part should have added significantly to the interest but the instrument was barely audible.I greatly admire the handsome and comforting opening movement marked Mäßiges Zeitmaß with its rising figures. I can usually imagine Korngold travelling through the verdant Tyrolean countryside on a warm spring day. Much of the impact of Korngold's blustery writing with searing passion that was generated by the Lincoln Center players was lost with the sound swimming about in the difficult acoustic. I'm not sure if the players were aware of the situation, I rather hoped they weren't.
Michael Cookson