Germany Puccini,  La bohème: Soloists,Sächsischer Staatsopernchor Dresden, Kinderchor der Sächsischen Staatsoper Dresden, Sächsische Staatskapelle Dresden / Riccardo Frizza (conductor), Semperoper, Dresden,  6.6.2014 (MC)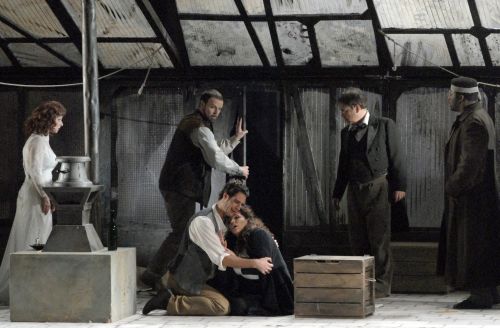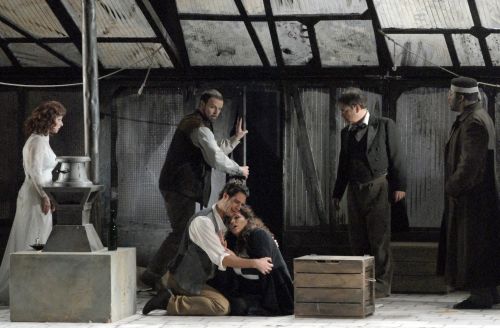 Cast:
Mimí: Dinara Alieva
Musetta: Vanessa Goikoetxea
Rodolfo: Yosep Kang
Marcello: Christoph Pohl
Schaunard: lhun Jung
Colline: Tomislav Lucic
Benoît: Peter Lobert
Parpignol: Jun-Seok Bang
Alcindoro: Bernd Zettisch
Sergeant der Zollwache: Michael Wettin
Ein Zöllner: Andreas Heinze
Ein Händler: Michael Auenmüller
Production:
Stage direction: Angela Brandt based on a production by Christine Mielitz
Set Design & Costume Design: Peter Heilein
Choir: Wolfram Tetzner
 It was good to be back at the Semper Opera House in Dresden this season for the Staatsoper's production of Puccini's La bohème under the direction of Angela Brandt, based on a production by Christine Mielitz.
With an enduringly popular opera such as La bohème, with its boy meets girl plot and tragic ending of which I must have attended over a dozen productions, the test of a good staging is whether it still feels fresh. In four acts La bohème in the best performances can fly by and last night's Brandt/Mielitz production certainly did that delivering splendidly judged amounts of jollity and tragedy. The staging was pretty convincing as the traditional mid-19th century Parisian setting, delivering a resourceful and dramatic effect which avoids the spectacular. The rather minimalist set of the first and final act uses a grey, grimy looking garret located on the roof of the tenements. The only real props on the set were an upright piano and stool, a wood burner and two orange boxes. Despite wearing coats and the presence of the wood burner the set didn't sufficiently evoke the freezing Christmas Eve conditions, a prerequisite in La bohème, but it looked dingy enough. Highly convincing however was the bonhomie of the near destitute and inseparable quartet Marcello, Rodolfo, Colline and Shaunard. The colourful set in act two focuses quite rightly on the Café, an art deco-like glass affair located in the centre of the stage with a large and varied cast of city folk and children including a regimental band in vividly coloured uniforms. It was here in the fashionable Café Momus that Musetta held court with her affluent boyfriend Alcindoro. Set outside the city gates act three beautifully captures the dark final hours before dawn with the set lit only by moonlight. Curiously most of the action occurs around a prominently positioned shadowy bin store.
It took a while for the performers to settle and hone their voices. Yosep Kang may have got off to a slow start as Rodolfo in act one with Che gelida maninabut he impressively developed his attractive voice singing with confidence and reasonable power. Kang was able to supply convincing emotional expression though his voice although it is hard to determine why the tenor does somewhat lack stage presence such an important factor in this male lead role. Dinara Alieva looked suitably vulnerable as the consumptive Mimí but was too prim and proper to reveal any flirtatiousness. In her first solo aria Sì, mi chiamano Mimì Alieva was still finding her voice thankfully by Donde lieta usc in act three it seemed in fine condition providing ample strength and believable expression.
Comfortable in the extrovertly colourful role as Musetta the flame haired siren, Vanessa Goikoetxea sang well enough but failed to steal the show with Musetta's waltz Quando me'n vo from act two. Looking strangely uninterested as Marcello, baritone Christoph Pohl didn't make as much out of the role as I expected. I was delighted by the stunning voice of bass Tomislav Lucic in Colline's act four 'coat' aria Vecchia zimmara senti revealing a lovely dark timbre with a delivery that seemed effortless. The Staatskapelle Dresden is a world class orchestra that played wonderfully under Riccardo Frizza but did at times overpower the singers, especially Dinara Alieva, so a little more sensitivity is needed in that area.
This was an entertaining and well sung production that recovered well after a sluggish start, yet I expected rather more from this prestigious company.
Michael Cookson