United Kingdom Puccini, Tosca: Soloists, Royal Opera House Chorus and Orchestra / Plácido Domingo (conductor), Royal Opera House, Covent Garden, London. 16.6.2014. (JPr)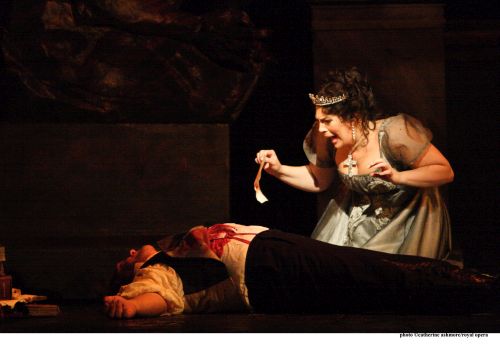 Cast
Floria Tosca: Sondra Radvanovsky
Mario Cavaradossi: Riccardo Massi
Baron Scarpia: Bryn Terfel
Angelotti: Michel de Souza
Spoletta: Hubert Francis
Sacristan: Tiziano Bracci
Sciarrone: Simon Wilding
Gaoler: Olle Zetterström

Production
Director: Jonathan Kent
Revival Director: Amy Lane
Designs: Paul Brown
Lighting design: Mark Henderson
A great performance of Tosca is a visceral experience and it takes you on an emotional rollercoaster ride that makes you realise Puccini never wasted a note – and neither has your evening been wasted! This probably was one of those. Gregory Dart's programme note confirmed my thoughts about this opera when he began his essay: 'Puccini's Tosca is a masterpiece of concision, of cruel brevity. It is one of the most ruthlessly taut dramas in operatic history.'
Even though Act III didn't begin till nearly 10pm I never felt I was looking at my watch wanting the evening to end: partly this was because of some fine singing – and perhaps more so because of the conductor, none other than Plácido Domingo. The great tenor now clings to the stage singing baritone roles with a voice little different to that he always used. Remember his top notes were never his greatest asset, his burnished tones always were! On this first encounter with him wielding the baton – much more energetically than the tired figure we now otherwise see would lead us to suspect – he should perhaps stick to conducting! Of course the wonderful Royal Opera House Orchestra after eight performances of Tosca already this season could probably play this music on their own but I believe having a singer on the podium – one who is also clearly such an accomplished musician too (not always the same thing) – did help the balance between stage and pit. Never was any singer drowned and Domingo took exemplary care to give them time during some of the faster expository passages because he knew the difficulties they had getting all the words of the libretto out clearly.
Jonathan Kent's 2006 production replaced Franco Zeffirelli's much-revered 1964 one that is remembered from the filmed performance with Maria Callas and Tito Gobbi. This current one is also available on DVD with three 'superstars' in the leading roles, Jonas Kaufmann, Angela Gheorghiu and Bryn Terfel. The latter returned for this revival, albeit as a replacement for the previously announced Thomas Hampson.
Paul Brown's sets are traditional and monumental and give us everything we need for Puccini's real-time story. We have the three major locations from the Rome of Napoleonic times; the church of Sant'Andrea della Valle with its double staircase (sounding a little creakier than it need to), Scarpia's book-lined Palazzo Farnese apartment and the bleak scene for the execution at the Castel Sant'Angelo. Mark Henderson's lighting was a little gloomy at times but it all had a welcome – almost cinematic – sense of atmosphere throughout all the scenes. Everything combined to allow the well-known tale of romance, jealously, betrayal and revenge to unfold relatively unhindered by directorial whim. Unfortunately – or perhaps fortunately if there were to be any singers with limited dramatic abilities – the sets are so huge that the performing space is restricted to just the front third of the stage or thereabouts. Brown's costumes also seem to fit the period though I have never been too sure about Cavaradossi's candy-striped waistcoat.
I haven't seen too many of the revivals since I first reviewed this production in 2006 but I doubt whether the orchestra has played the score as well as this many times in the interim. There was all the love, jealousy, lust and passion we needed to hear, as well as, much lyricism and pathos. Under Domingo it was all delivered with an all-encompassing arc to it and none of the stop-go feeling to the music that some conductors seem to feel is appropriate for Tosca.
In Amy Lane's purposeful revival virtually all the cast eschewed the basic stand-and-deliver style of many other more routine ones and gave convincing dramatic performances. Admittedly Riccardo Massi as Cavaradossi was not as experienced as most of those on stage with him and his painter did seem a bit of a 'drip' at times but he was never just a cypher. There was a certain fragility to his voice (nerves?) and he is certainly not the new Domingo … or new anybody … but he is an accomplished performer and someone I'd happily hear again. He certainly has access to some ringing top notes and his Act II cries of 'Vittoria! Vittoria!' probably reached Napoleon in his Paris mausoleum. I would have liked him to rein in the volume from time to time for his two major arias and reveal more tenderness (Act I) and sorrow of a final parting (Act III). Nevertheless, I have rarely seen Act III acted better by any Cavaradossi, Massi very touchingly revealed he knows he will die yet goes along with his beloved, yet misguided, Tosca who believes they will soon be free to begin their life together.
Sondra Radvanovsky is a very experienced Tosca and was a believable diva and her petulance got much laughter at appropriate moments in Act I especially. Hers is a big voice too; again I would have liked her singing to have a little more warmth – so however well sung her 'Visse d'arte' was, I was not moved by it because that quality was absent. Nevertheless, her portrayal was near-perfect, she was feisty, alluring, temperamental and showed the utter conviction of someone clearly willing to endure some heroic suffering for the man she loved.
I first encountered Bryn Terfel when he auditioned for me over thirty years ago (where has that time gone for both of us?) and as a stage presence he remains as unique as ever. He is Scarpia, a big bully, and the sadist who will always get what he wants … there can only be one winner if he is challenged. He is the most black-hearted villain of all black-hearted ones. His venomous 'Ebbene?' created a frisson. Unfortunately for me the truly great Scarpias downplay the evil and retain an air of civility even though we know it is only pretence and – great as he undoubtedly was – this is what I miss with Terfel. As for his voice, it has now much Wagnerian heft to it and lacks some of the fluidity of earlier years and so he is beginning to sound like John Tomlinson … not an entirely bad thing of course!
For once the smaller parts, especially the desperately fleeing Angelotti of Michel de Souza, the huffing and puffing, clearly hungry, Sacristan of Tiziano Bracci and the fiendishly efficient, though subservient, Spoletta of Hubert Francis, added greatly to the fascinatingly gloomy realism of this Tosca. For instance, during the confrontation between Scarpia and Tosca – with Cavaradossi off-stage being tortured – Spoletta mumbles a prayer 'Judex erge cum sedebit …' sometimes this can seem to intrude into Tosca's travails, however on this occasion it was a very poignant commentary on what we were seeing unfold.
I suggested the plot of Tosca is a familiar one but this was not the case with the people sitting behind me and I overheard the conversation as follows: 'It's a complicated story isn't it? You'll have to go through it with me.' Her companion replied; 'Don't worry, just remember he loves her and gets into trouble because of it.' Indeed the evening seemed to have drawn a number of 'first-timers' to the upper reaches of the Royal Opera House … and if this was their first opera there live, they could have chosen many worse nights to be there and they will be left with wonderful memories of this one. Towards the end Tosca and Cavaradossi sing of their future together as 'a harmony of colour and song': even if it doesn't happen like that for them at the end of the opera – it certainly sums up my reaction to this memorable Tosca.
Jim Pritchard
For more information about future events with The Royal Opera at Covent Garden visit http://www.roh.org.uk/.