Switzerland  Verdi: Rigoletto   Soloists,Chorus of the Zurich Opera, Philharmonia Zurich, conductor:Fabio Luisi, Zurich Opera, Zurich. 21.6.2014. (JR)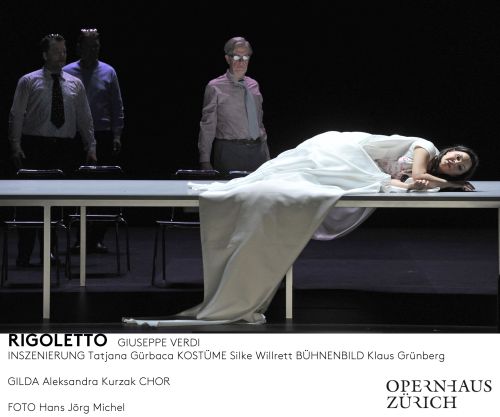 Cast:
Duke of Mantua:   Saimir Pirgu
Rigoletto:              George Petean
Gilda:                   Aleksandra Kurzak
Sparafucile:           Andrea Mastroni
Maddalena:            Judith Schmid
Giovanna:               Julia Riley
Count Monterone:   Valerij Murga
Marullo:                  Cheyne Davidson
Borsa:                    Dimitry Ivanchey
Count Ceprano:      Yuriy Tsiple
Countess Ceprano:   Deanna Breiwick
Production:
Producer: Tatjana Gürbaca
Sets & Lighting: Klaus Grünberg
Costumes: Silke Willett
Chorusmaster: Ernst Raffelsberger
Dramaturgy: Claus Spahn
"Opera for all" announced Zurich's Opera House as it relayed a live broadcast of the final performance of a revival of Rigoletto to the huge square in front of the opera house. Thousands had gathered in the warm evening sunshine; on the longest day of the year, it stayed light even after Gilda had faded away.
The performance was part of Zurich's Festival, not a festival in the mould of Glyndebourne, Salzburg, Bregenz, Wexford or Bayreuth where each location is consumed by festival fever but a motley collection of end of season performances at the Tonhalle, various theatres and the opera in an attempt to attract an additional audience. Apart from one or two flags here and there, you would be forgiven for not noticing there was a music festival in town at all.
Anyhow, Zurich Opera was selling folding chairs (at a subsidized price: thank you Zurich Insurance) with "Oper für alle" emblazoned on them and they were selling like hot cakes (or rather, in Zurich's case, sizzling hot sausages from the gastronomy tents on the periphery).  The masses descended with their picnic hampers and cheap wine onto Zurich's largest outdoor space, which is conveniently situated right outside the opera house. It was recently re-covered in glittering alpine stone at a staggering cost of 17 Million Swiss Francs (about 11 Million Pounds) – true to their renowned local democracy, the burghers of Zurich had to approve the cost in a local referendum.
To matters musical. The singing was uniformly excellent. I had heard both Saimir Pirgu (as the Duke) and Aleksandra Kurzak (as Gilda) when this production was premièred two years ago. Both have enveloped their roles more deeply in the interim – indeed Kurzak has now sung it at the Met, Covent Garden, Helsinki and La Scala. Pirgu's Albanian tenor is still not a voice of burnished tones but he hits the top notes fair and square and has ample strength to hold them (sadly a bit too long). His acting skills are (just about) adequate. Kurzak sang exquisitely throughout and looked the part to boot. Her arias were most accomplished and she stole the show.
George Petean, a Rumanian baritone, as Rigoletto, lacked menace and humour, sometimes volume, but did no damage. In the minor roles, I liked Andrea Manzoni as the assassin Sparafucile, matching Christoph Fischesser's dark sonorous bass at the première. Judith Riley impressed again, particularly with her acting skills in the part of Rigoletto's maid; Valerij Murga sang a fine Monterone. Only Cheyne Davidson was a rather colourless Marullo: the part is not really for him.
That brings me to the weakest part of the evening, the production. If you had never seen this opera (and my guess is that the majority of the motley audience on the piazza had never seen much opera at all) they would not have had a clue what was going on. This ultra-bare production by Tatjana Gürbaca did no-one any favours. There is no ducal court in Mantua, no house for Rigoletto, no bedroom balcony, no ladder, no masks (usually the bit where the producer can have a bit of fun), no canal-side sleazy bar. We were presented with a long white table and some black chairs, and a sheet – for the whole length of the opera. Costumes were non-descript; only Gilda's T-shirt and the frilly pink skirt given to her as a present by the Duke (or rather Gualtier Maldé, the impoverished student) were worthy of note. The male chorus (excellent throughout) waved their hands in a number of puzzling gestures and wore paper crowns. Amusing was the breakfast served to Gilda of white toast bread with Nutella and Giovanna painting her nails whilst blowing bubble gum. Interesting was the arrival of a lookalike of Gilda whilst the "real" Gilda dies, taking her place, to signify the release of Gilda to go to heaven and join her deceased mother.
Luisi, interviewed during the interval on the balcony overlooking the square, told us he had conducted the piece some 100 to 150 times and has never got bored with the work, always finding new nuances and each singer making the performances different. He certainly kept up the volume and forward momentum – perfect pacing throughout. The orchestra were on top form, as it should be at the end of along run of performances.
The outside audience were remarkably quiet, I only heard one mobile phone. Tram bells, lake steamers' horns, the occasional passing Ferrari and motorbike (and even one helicopter) did little to distract the rapt attention by virtually all onlookers. Sound quality through giant speakers was very good, camerawork top notch, even those at the very back of the giant square (Switzerland's second biggest) had a good view.
John Rhodes