Hungary Strauss: Arabella, Operahaz Orchestra and Chorus, Günter Neuhold (conductor), Budapest Operahaz, 30.5.2014, (JMI)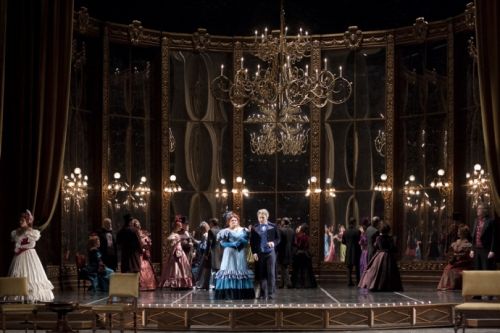 Cast:
Arabella: Ildikó Raimondi
Mandryka: Béla Perencz
Zdenka: Borbála Keszei
Matteo: István Horváth
Fiakermilli: Erika Miklosa
Count Waldner: László Szvétek
Adelaide: Bernadett Wiedemann
Count Elemer: Attila Wendler
Count Dominik: Andras Kaldi Kiss
Count Lamoral: Sándor Egri
Fortune Teller: Zsuzsanna Fülöp

Production: Budapest Operahaz
Direction: Géza Bereményi
Sets: Attila Csikós
Costumes: Rita Velich
Lighting: Sándor Kardos
I doubt that one needs an excuse to make a visit to Budapest, but if you do the Operahaz is offering a festival dedicated to Richard Strauss in commemoration of the 150th anniversary of his birth. From 25 May through 10 June, six Strauss operas are being staged. The festival could be considered a tribute to Hugo von Hofmannsthal as well as to Strauss since five of the six operas were co-written by these two great artists.
Arabella premiered in Dresden in 1933 and was the last collaboration of Strauss and von Hofmannsthal. It is not one of Strauss's most popular operas, falling in this respect  behind Rosenkavalier, Elektra, Salome and Ariadne, but it is a delightful work where his music flows at its best. This performance at the Budapest Opera was a real success, with an effective and attractive stage production, a remarkable musical performance and a balanced, interesting cast in the main characters.
The staging by Géza Bereményi features nothing truly original or similar to Regiekonzept, so fashionable nowadays. Rather, it is a faithful account of the plot, done with taste, efficiency and good doses of aesthetic appeal. The sets reproduce what the libretto says and do so in a charming way, particularly in the ballroom scene of the second act and, above all, in the final scene when Arabella offers the glass of water to Mandryka with a lovely winter landscape and Vienna's Karlskirche in the background.
The musical direction was in the hands of Günter Neuhold, who showed his high affinity for the music of Richard Strauss. He gave a remarkable reading, worthy of a true Kapellmeister, where everything worked perfectly. The Orchestra of Budapest's  Opera House is excellent and showed great flexibility in following Mr. Neuhold's baton.
Ildikó Raimondi was Arabella and gave a very convincing portrayal of the character. Her presence and her interpretation could not be better suited to the part although, in purely vocal terms, she is not so suited: Arabella requires a full lyric soprano and Ms. Raimondi is lighter. One misses some weight in her middle range in the last two acts. Her timbre is attractive and there are few drawbacks to her singing, except that the top notes are always too open and somewhat shrill. But in any case, I enjoyed her Arabella.
Her lover, the jealous Mandryka, was baritone Béla Perencz, possibly the best Hungarian baritone at the moment. His voice is well suited to the character, and he is also a notable performer on stage. He was a convincing Mandryka.
I found Borbála Keszei a pleasant surprise in the part of Zdenka; the surprise comes from the fact she was totally unknown to me. She was a remarkable Zdenka with an attractive soprano, singing with good taste and expressiveness. She is more than a pure soubrette since her voice has enough body for characters like Susanna or Pamina.
István Horváth was good as Matteo but not truly outstanding. Erika Miklosa is one of the most famous Hungarian sopranos, and her Queens of the Night have been common in major opera houses over the past ten years. She resolved the difficulties of Fiakermilli with ease and poise.
In the secondary characters, László Szvétek was a modest Count Waldner. Bernadett Wiedemann as Adelaide offered a large voice, but one of poor quality. The three suitors were covered without excessive briiliance by Attila Wendler (Elemer), Andras Kaldi Kiss (Dominik) and Sándor Egri (Lamoral), who would have been better as Count Waldner.
The beautiful Opera House was at about 90% of capacity. The audience gave a warm reception to the artists, with the biggest ovations for Ildikó Raimondi, Béla Perencz and Günter Neuhold.
José Mª Irurzun