United Kingdom Strauss, Der Rosenkavalier: Soloists, Glyndebourne Festival Opera Chorus, London Philharmonic Orchestra, / Robin Ticciati (conductor). Broadcast to Gate Cinema, Notting Hill Gate, London, 7.6.2014. (JPr)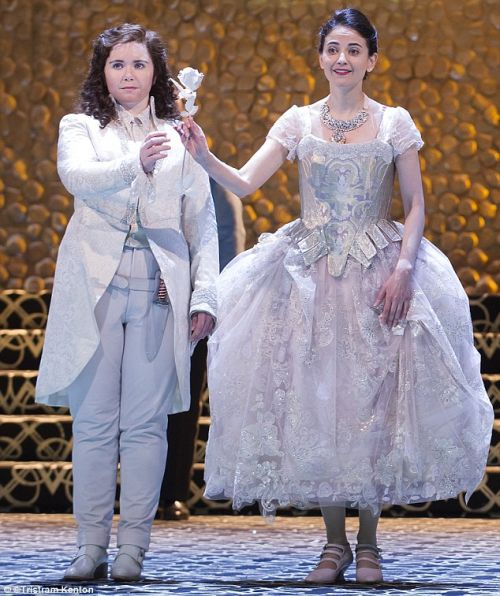 Cast:
The Marschallin: Kate Royal
Octavian: Tara Erraught
Baron Ochs auf Lerchenau: Lars Woldt
Sophie: Teodora Gheorghiu
Herr von Faninal: Michael Kraus
Marianne Leitmetzerin: Miranda Keys
Valzacchi: Christopher Gillett
Annina: Helene Schneiderman
Notary: Gwynne Howell
Italian Singer: Andrej Dunaev
Innkeeper: Robert Wörle
Police Commissioner: Scott Conner
Production:
Director: François Roussillon
Set Designer: Paul Steinberg
Costume Designer: Nicky Gillibrand
Movement Director: Sarah Fahie
Lighting Designer: Mimi Jordan Sherin
What a furore this Richard Jones's new production caused when it opened because of comments from a cabal of probably misogynistic critics over the size of Tara Erraught as Octavian. Let me get this out of the way here and now: she was the best singing actor on stage. Even if they liked women perhaps some of those critics were blinded by the gratuitous nude scene as the opera opens with Kate Royal's Marschallin bathing like Botticelli's Venus with all her charms on display. (What was her agent thinking about allowing a star singer like her be persuaded that this is a good career move?) Unless her performance and demeanour has changed dramatically since the first performance, Tara Erraught was a near-perfect Octavian visually and (from what I was allowed to hear) vocally. After all she/he is supposed to be 17 and anyway spends most of the opera in a dress as 'Mariandel'; is she not supposed to look like a women then! I doubt Richard Jones – whose work I have known for nearly 25 years – would have had her cast if he didn't like the look of her. She reminded me very much of Sally Burgess's memorable assumption of Octavian from years past and I doubt anyone ever said anything about her appearance at the time.
With any Der Rosenkavalier the choice mostly becomes one of deciding to concentrate firmly on either Viennese nostalgia or on Viennese decadence. What we usually see for the latter is a setting in fin de siècle Vienna around the time of the opera's composition (c1911) when times were changing in many strata of Austrian society. Richard Jones however treats it as a bawdy farce (to be truthful he seems to approach almost every opera like this these days) because the lines in the trio near the end 'It was all a farce and nothing more' seem the most important to him. Jones himself suggested, when shown interviewed, that Paul Steinberg's sets and Nicky Gillibrand's costumes brought the audience changes in period from that of Maria Theresa and opera's original, eighteenth-century, setting to the early twentieth-century at the time of the opera's composition. To be truthful this was hard to discern and it could have been any time last century what with all Jones and his collaborators' bright colours and gaudy designs. Yes Sigmund Freud does appear from time to time but everyone involved in exposing Baron Ochs in Act III also seem to be on an acid trip which brings us more up-to-date.
It was amusing to hear Richard Jones and Nicky Gillibrand in their pre-recorded interval segment discuss all the work that went behind the look of what we saw; apparently a Ballets Russes exhibition was another influence. Actually the designs Jones opted for rehash many ideas he has previously used in other operas and I doubt needed little more time to sketch out than it would have needed to drink a mug of coffee. Octavian walking on long tables, a noose we see later and all the doors, for instance, go as far back for me as his Covent Garden Ring in the 1990s. There is a sense of a rather camp cartoon-like approach to most of what  I have seen him do recently, and the involvement of any crowd is often stylised and confined to a small enclosed area so that there is a feeling that everyone is on top of each other. Often much of it works very well – here perhaps not so; the best moments were the more intimate ones between two or three characters … or when they were completely alone with their thoughts.Jones's eye for detail is evident from the start as we are shown the young page Mohammad's eagerness for any whiff of his mistress, and during Octavian and Sophie first encounter they gently rock backwards and forwards, there is also much typically quirky visual humour with an almost stage-wide chaise-longue in Act I and a sofa that lengthens to become a large bed in Act III.
In composing Der Rosenkavalier Richard Strauss and Hugo von Hofmannsthal, respectively the greatest German composer and librettist of the early twentieth century, were collaborating together for the second time. Rosenkavalier has become one of Strauss's most popular operas despite critical opinion turning against it in its early years and the fact that composer and librettist both became somewhat dissatisfied with elements of their creation. Although we get from Richard Jones a poignant portrait of human relationships – and much class envy – there is little of the neo-Baroque comedy of manners that makes it a sequel to Mozart's Le nozze di Figaro. Of course a number of other things in Der Rosenkavalier do indeed seem remarkably modern: the Marschallin's lack of self-consciousness, the very open and frank sensuality in the opera, as well as, its scathing critique of blundering masculinity.
The Marschallin's arrival in the final act supplies one final twist too. As I mentioned earlier, she calls the whole plot simply 'a farce' and displays her moral authority – and noble and traditional values of discretion, benevolence, and personal self-sacrifice – by magnanimously pardoning the young lovers who have conspired against her and in doing so orchestrates the expected happy ending. In the last act, as the various social strata coalesce with the juxtaposition of the Sophie, Octavian, Ochs, the newly-ennobled Faninal, with the various servants of different rank, the librettist and composer's choice of a period setting makes real sense; we are clearly in the mid-eighteenth century and the contemporary setting for the Mozart opera. Perhaps updating it as much as Jones did – whether he actually wants to admit it – worked in this regard I am not sure. Certainly it was wrong to portray the Marschallin as a sex-addict in need of psychoanalysis on that large couch by Freud himself. She is not a nymphomaniac needing to open her robe to Octavian as she does at one point, but just a lonely women trapped in a lovelorn marriage needing some genuine affection.
So bad was the sound at Notting Hill's Gate Cinema that I am loath to say much about the singing or the orchestra. It blipped out intermittently like the needle jumping on an old LP and anyway most of the sound was as if it was coming from the end of a long tunnel. It improved a little during Act III that I have been told (and must believe) was the only actual 'live' part of this broadcast. The rest with pre-recorded introductions and interviews front and backstage by Katie Derham brought nothing of the 'live' experience to this broadcast that is experienced when watching the Met or Covent Garden ones – and it was mostly just like watching a pre-release DVD on a big screen. François Roussillon's film direction either paused in longshot too long or was too close-up also for too long but was otherwise adequate.
 As previously confirmed Tara Erraught was splendid and gave her character an understated – almost pre-pubescent – masculinity and her comic business in Acts I and III – when disguised as her female alter ego 'Mariandel' – were really funny. The ultimate object of Octavian's affection, Sophie – who Baron Ochs intends to marry to secure his financial security – was charmingly sung by Teodora Gheorghiu. Her portrayal veered appealingly between girlish exhilaration and twenty-first century geekishness. The presentation of the silver rose duet with Octavian in Act II was particularly beautifully sung by her and Ms Erraught. As for Kate Royal as the Marschallin; her monologue in Act I when she convinces herself to send her young lover away and come to terms with a new role as a matron was the highlight. However I could not warm to her and she looked part Marlene Dietrich in a regal role or Princess Grace of Monaco as portrayed in the current film. Nevertheless, in Act III Ms Royal brought considerable poise, understated resignation and much sadness to the incomparable trio near the end.
 I cannot really say I liked Lars Woldt's Baron Ochs much either and have seen it portrayed better in the past. With his illegitimate servant son, Leopold, the two of them looked like the influence had been Timothy Spall's Earl with his son in TV's Blandings. Was Woldt's facial contortions part of his acting or his singing, either way in close-up they were a bit distracting. Also it cannot have been a coincidence that Scott Conner's Police Commissioner looked like John Cleese as Basil Fawlty?
 This Der Rosenkavalier was graced by an ensemble cast of young and old talent. Andrej Dunaev was an idiomatic Italian tenor; Miranda Keys was Sophie's formidable duenna, Marianne; Michael Kraus was suitably patrician as Faninal and the Italian intriguers, Annina and Valzacchi – who are so disgruntled by failing to get any payment from Ochs that they assist Octavian in bringing about his downfall – were well characterised by Helene Schneiderman and Christopher Gillett.
 Der Rosenkavalier is far from being my favourite opera, yet when the waltzes weave their magic it is always a truly excellent experience. I am still amazed that since there used to be a twentieth-century tradition of cutting performances of this opera, no-one takes responsibility for doing this today. At well over three hours of music, there remains too much here for such a slim story (to my mind) and as things are, they make Rosenkavalier mainly a conductor's opera. It is hard for any of the four leading singers to ruin a performance completely but it is very easy for the conductor to do just that. It was probably the sound issue again but from what I heard Robin Ticciati and the London Philharmonic Orchestra did little wrong … yet did little more than just accompany the singers. The prelude seemed interminable but elsewhere together they were at their best when the music was wistfully nostalgic and melancholic and when they never over-egged the sentiment.
 Finally, can I address the real 'elephant in the room' of why isn't anyone under 50 attracted to these cinema events in any great numbers … even with this production's notoriety and nudity? Once again I found myself in a packed auditorium of grey-headed people mostly – and I am 60 now – a decade, or possibly more, older than I am! Sporadic gentle snoring was also interrupting the singing by the end of Act I – as well as the Gate Cinema's other sound issues – and I never feel quite as old as when I am at one of these cinema opera or ballet transmissions!
Jim Pritchard
For more about forthcoming opera at 2014 Glyndebourne Festival or at your local cinema visit http://www.glyndebourne.com/.