Germany Mozart: Così Fan Tutte: Säìchsischer Staatskapelle and Staatsopernchor, Omer Meir Wellber (conductor), Dresden Semperoper, 2.6.2014 (JMI)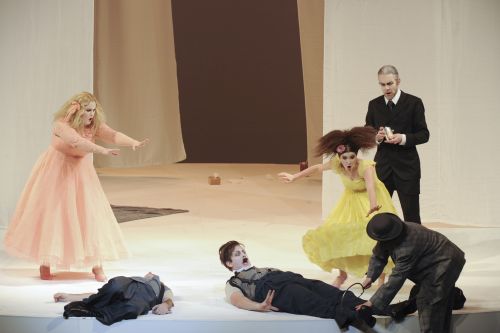 Cast:
Fiordiligi: Emily Dorn
Dorabella: Katrin Wundsam
Ferrando: Christopher Tiesi
Guglielmo: Christoph Pohl
Despina: Ute Selbig
Don Alfonso: Georg Zeppenfeld

Production: Semperoper Dresden
Direction: Andreas Kriegenburg
Sets: Harald Thor
Costumes: Andrea Schraad
Lighting: Stefan Bollinger
My trip to Dresden got off to a disappointing start with this Così Fan Tutte. The performance was marked by a forgettable stage production, a barely Mozartean musical version and a rather modest cast.
The staging is by Andreas Kriegenburg and was premiered in March. I  had the occasion to see his entire Ring of the Nibelung and Wozzeck in Munich, and my impression of this régisseur's work was very positive. Hence my interest in seeing what he would offer in this Mozart opera, but I have seldom been so frustrated.
Mr. Kriegenburg offered a sort of tribute to Charles Chaplin. Guglielmo and Ferrando were dressed as Charlot, but without the stick, and Fiordiligi and Dorabella resembled dolls, one with a Las Meninas-like wig and the other wearing a wig in the form of a big moustache. Don Alfonso looked rather like Karl Lagerfeld. Kriegenburg followed the buffo path in a rather ridiculous way, and his imagination fell short with the two "Albanians" who only changed the color of their jackets, going from black to grey Charlot. The presence of the chorus on stage just didn't work.
The stage went beyond minimalism to achieve nihilism. There was a turntable in the center with a few white curtains in the first act and a some park benches in Act II. The ladies had colorful dresses, and the men were in gray, black and white. It was all just a boring joke.
Omer Meir Wellber was in charge of the musical direction, and he accompanied recitatives on the harpsichord. His reading lacked delicacy and lightness. To me, it did not sound like Mozart: more grace and inspiration are needed to do justice to this score. There were some remarkable moments, but overall he abused the volume. The Staatskapelle Dresden is one of best orchestras in the world, but I remember better performances from this pit.
Soprano Emily Dorn was Fiordiligi and, although she was the best of the sextet of soloists, her suitability to the role is more than doubtful. She has an attractive light soprano in the middle range that opens up surprisingly at the top, where her size gets impressive. Fiordiligi requires a different soprano: the part is very demanding at the bottom of the tessitura, and Ms. Dorn is quite weak in this area. Although she's an interesting singer, I don't believe that Fiordiligi is right for her now. She went unnoticed at Come Scoglio but clearly improved with Per Pietà.
Katrin Wundsam offered little interest as Dorabella. She is more soprano than mezzo which made her fall short in the character. There was not enough contrast between the sisters.
Christopher Tiesi as Ferrando was not especially good. His tenor has a certain appeal in the center, but the top is badly projected and he had some problems with breath control.
Christoph Pohl's Guglielmo did not convince me. His voice is not very natural, and I also prefer a darker voice in the character. Whether on his initiative or Mr.Wellber's, he sang in Act I the aria Rivolgete a lui lo sguardo which I always find much better than the usual Non siate ritrosi .
Ute Selbig was well suited to Despina though not particularly brilliant. Georg Zeppenfeld was not a good choice for Don Alfonso. In other repertoire I find him excellent, but here a different voice and intention in singing are needed.
Attendence at the Semperoper was around 90% of capacity. The audience was warm with the artists, but there were no cheers for them at the final bows.
José Mª Irurzun