Spain Verdi: I Vespri Siciliani, Teatro Real Orchestra and Chorus, Coro de la Comunidad de Madrid, James Conlon (conductor), Teatro Real, Madrid, 17.6.2014 (JMI)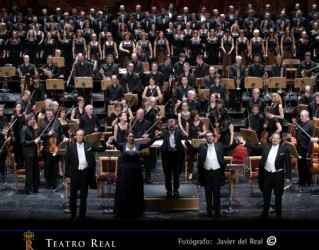 Concert version
Cast:
Arrigo: Piero Pretti
Elena: Julianna di Giacomo
Procida: Ferruccio Furlanetto
Monforte: Franco Vassallo
Ninetta: Adriana di Paola
Sire de Bethune: Francis Tójar
Danieli: Antonio Lozano
Vaudemont: Luis Cansino
Tebaldo: Alejandro González
Manfredo: Eduardo Santamaría

This Verdi opera does not belong to the select group of his masterpieces. In fact, it is a rather uneven work: the best of Verdi is present at times, but there are moments when the quality leaves something to be desired. It is the first original opera that the composer wrote for the Paris Opéra (Jerusalem was an adaptation of I Lombardi), and he had to accept their tastes and traditions. That's precisely where I Vespri Siciliani's problems arise, beginning with a libretto by Eugène Scribe that is nothing but a recycling job. To this should be added the excessive length, unlike the dramatic concision in most Verdi operas; and the ballet music, although it does not exist in the Italian version, which is the one offered by Teatro Real.
Beyond a doubt, this work requires an outstanding conductor. Almost the same might be said of all operas, regardless of the author, but for I Vespri Siciliani it's even more essential. On this occasion Teatro Real was very careful in their choice of conductor, and the results were excellent. James Conlon was practically the music director of the Bastille at the time of Gérard Mortier, and his appearances in Spain have been scarce. In fact, I think this was the first time I've seen him conducting in any Spanish theatre. Mr. Conlon was undoubtedly one of the architects of the concert's success, and his reading could not have been better suited to Verdi's score. There was strength, energy, inspiration and a true dramatic sense, in addition to care taken not to cover the singers. Under his baton the orchestra was superb, as were the choirs.
In recent years, we've become used to attending operas at Teatro Real with mediocre casts. The only exception to this rule has been operas in concert version, which is what happened again.All opera lovers  know the tremendous vocal challenges facing the four main characters in this opera, and I must say that the quartet gathered here were at a high level in all cases, although not all of them offered the same quality.
Tenor Piero Pretti as Arrigo was a pleasant surprise for the audience: if I'm not mistaken, this was the first time he performed in Spain. I heard him a few months ago at La Scala singing the part of Edgardo, and in my review  I referred to him as a light-lyric tenor (perhaps something more), with an attractive voice, particularly at the top, but unable to communicate with the audience. My impression after this concert is more positive: I found him more expressive and nuanced in his singing than on the previous occasion. He bravely faced the challenges of the score, although Verdi's high Ds were not as brilliant as one could desire. I now think he is a full lyric tenor of much interest, although I do not believe it is very sound for him to frequent this sort of role. Arrigo requires a spinto tenor, which Mr. Pretti is not yet, with a heavier middle register and, above all, a more sonorous bottom. All this leads him to push sometimes and that ends up taking a toll. I would like to hear him again in the character in a few years when his center and bottom gain more consistency. I hope he has an important career ahead: we all need it.
Julianna Di Giacomo was an excellent interpreter of the Duchess Elena. Her soprano is not particularly beautiful, but she can handle the great Verdi heroines, which is particularly appreciated now when these voices are rather scarce. What was missing for her to end up with a personal triumph? Only the cherry crowning the cake, i.e. the very top notes, where she is not too comfortable. The famous "Bolero" ended in a shrill, almost shouted, note. I could not enjoy the cherry, but the cake was exceptional.
Ferruccio Furlanetto gave life to Giovanni di Procida, the Sicilian patriot. I think many might agree that Mr. Furlanetto's voice is not very beautiful, but that doesn't prevent one from enjoying his performances. Singers who fall into the category of ARTISTS (let me put that in capital letters) are scarce, but Ferruccio Furlanetto is one of them. I always enjoy his singing  ̶  there is not a word, not a syllable, that lacks  intention. The one-dimensional Procida is not one of his best roles because an artist like Furlanetto excels in the most dramatically complicated characters (Don Quichotte, Boris Godunov or Jacopo Fiesco).
The least interesting performance came from Franco Vassallo as Monforte. He has always been very bright at the top, and this was no exception, but I find his singing monotonous and short on emotion.
The numerous secondary characters were well covered.
Teatro Real seemed rather depressing at barely 60% of capacity. I have said many times that there are two types of people at opera houses: those who go to see the opera and those going to be seen at the opera, and the latter did not attend this concert. The audience gave a triumphant reception to all the artists  ̶  ten minutes of applause which is quite unusual in Madrid.
José Mª. Irurzun