United Kingdom Christoph Willibald Gluck, Orfeo ed Eurydice (sung in Italian with English surtitles): Soloists, Buxton Festival Chorus. Northern Chamber Orchestra / Stuart Stratford. (conductor), Opera House, Buxton, 13.7.2014. (RJF)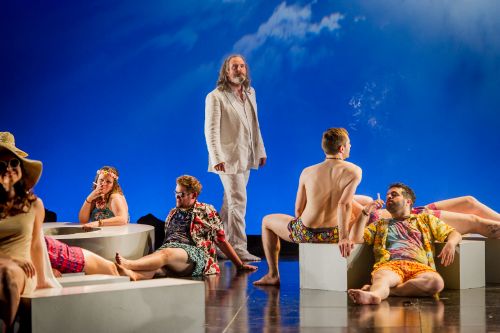 Cast:
Orfeo – Michael Chance
Euridice – Barbara Bargnesi
Amore – Daisy Brown

Production:
Director, Stephen Medcalf.
Designer, Frances O'Connor.
Lighting Designer. Malcolm Rippeth
Choreographer & Assistant Director, Paula O'Reilly
Whilst the anniversaries in 2013 of the birth of Benjamin Britten, Giuseppe Verdi and Richard Wagner were widely celebrated by new productions and performances, the three hundredth anniversary of the birth of Gluck seems to be passing with little acknowledgement, the Royal Northern College of Music being a notable exception with their production of this opera. Yet Gluck and his so called Reform Operas, of which Orfeo ed Eurydice was the first, could be said to have had as profound an effect on the evolution of opera than even those distinguished names. Gluck and his librettist Calzabigi set out with the intention of breaking away from what had become the sterile style of opera seria, with its concentration, via long da capo arias, on vocal display, and replace it with sung and staged drama. In choosing the story of Orfeo, set to music by numerous predecessors, they indicated their intention in as clear a manner as possible. They also chose a well-known simple story of the intensity of love and its virtues.
In this production simplicity was the name of the game in respect of the set, which consisted solely of the name Orfeo in large three-dimensional letters and the prop of a guitar. Initially the letters were suspended and spelt right to left. Later they had additions to give Amore. The letters were lowered and then moved about on stage as props for entrances and departures as well as hiding places, both imaginative and functional and, an important consideration, relatively inexpensive. Costumes were of today with Orfeo in white suit alooking like a latter day rock star, his guitar the only stage prop. As befits the era and rock ethos his wife dies popping pills whilst Amore is a leather clad gamine figure. The chorus appears as groupies in T-shirts emblazoned with the name Orfeo, or more scantily clad as sun lovers smoking on a beach holiday,. Is this Elysium?
With conductor Stuart Stratford drawing near period instrument sounds from his orchestra the scene was set for this contemporary setting. In the title role the vastly experienced counter tenor Michael Chance was superb in his acted portrayal. Regrettably, his singing was marred with some less than beautiful sounds to the extent that I would have preferred a steadier, and consistently rich sound, of a female mezzo. Fortunately the two female principals were in good form. The young Daisy Brown has excellent diction and an edge to her tone that enables good expression. As Euridice, Barbara Bagnesi was outstanding vocally and as an actress. She expressed Euridice's many changes of mood in exemplary fashion with a wide variety of vocal nuance and colour. Equally welcome, she acted and inflected the words in a manner we do not often see or hear on the operatic stage.
The many dances, particularly in Act Three, were realized by the Festival Chorus, if not quite in the manner of trained dancers but suitably choreographed by Paula O'Reilly.
There are further performances on Saturday 19th, Tuesday 22nd and, Friday 25th July at 7.15pm
Robert J Farr