United Kingdom  An Al Fresco La bohème on the Big Screen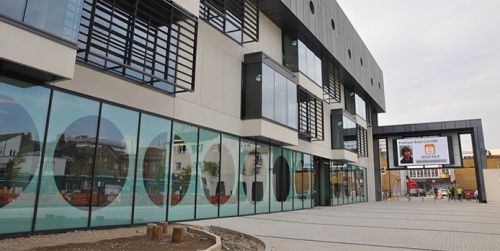 BP Big Screens 2014 – Puccini, La bohème:broadcast to The Forum, Southend-on-Sea, Essex, from the Royal Opera House, Covent Garden, London, 15.7.2014. Directed for the screen by Krišs Rusmanis. (JPr)
 I joined several hundred people on a balmy evening at The Forum Southend-on-Sea, a brand-new public square that opened in September 2013 with a permanent big screen, which is ideal to show live broadcasts such as this. The Forum is a fully integrated public and academic library and learning hub built by a unique and dynamic partnership between Southend-on-Sea Borough Council, the University of Essex and South Essex College – and is also a new home for Focal Point Gallery.
 2014 marks the 25th anniversary of the partnership with BP which has enabled half a million people to enjoy world-class opera and ballet through free live broadcasts from the Royal Opera House beamed to big screens in or near their home town. BP first supported the Big Screen programme in 2000, when there was just one screen in Covent Garden, although the partnership began in 1988 with a wide variety of activities. Last season was the most successful year for BP Big Screens, with more than 45,000 people watching from Aberdeen to Belfast and London to Plymouth and a further five years of sponsorship was announced. This year there have been two new venues showing the operas; Trent Bridge Cricket Ground in Nottingham (this La bohème) … and The Forum (La bohème and the forthcoming Rigoletto). The BP Big Screens project is a great way to share world-class opera with family and friends for free and it is a full-evening's entertainment, including exclusive backstage films, competitions and live interaction.
 The Royal Opera House first screened a live performance on a Big Screen in Covent Garden Piazza in 1987 when it was packed to see Plácido Domingo perform in La bohème. Now in its own 40th year and having its 27th revival the same production returns to celebrate BP's ongoing sponsorship of this much-expanded series of outdoor events. John Copley, the 81-year-old director, was present to oversee another run of performances. When this La bohème has its final run next season it will bring to an end Copley's distinguished career at the Royal Opera House – where he first began as an actor at 15 – which has included directing 15 new productions and a vast number of revivals. He has done a great deal for opera, perhaps more so in the rest of the UK and internationally than at Covent Garden because the bulk of those repeat performances at the ROH have been revivals of this 1974 La bohème that is becoming as famous for its longevity as for it cinema-style realism. John Copley revealed how when he wanted the billiard table that is seen in Act II, his designer, the late Julia Trevelyan Oman, needed to find a reference for it before she would include it on the set even though Copley had seen something like this on the south bank of the Seine in Paris in his younger days. His still hands-on approach was later revealed by Catriona Paterson (head of female costuming for the ROH) when she said how Musetta needed a new dress because he wanted some orange frills replaced with red ones. (Incidentally 60-70% of the costumes are still the original ones from 1974.) Deliciously non-PC, Copley was happy to state that when he began directing in the 1960s there were 'some really fat' singers compared to modern times.
 Mark Berry has already reviewed the first night cast but the broadcast fielded a much starrier cast of Angela Gheorghiu and Vittorio Grigolo singing the roles of Mimì and Rodolfo supported by Irina Lungu's Musetta and Massimo Cavalletti's Marcello, though the performance was still conducted by Cornelius Meister.
The evening was introduced by Kirsty Wark and Dominic Peckham (a former Royal Opera chorister) and a lot of work has gone into improving the presentation of these events down the years, particularly since the arrival of regular similar cinema screenings. Ms Wark, a well-respected current affair's journalist, was a pleasant and unflappable host, showed good knowledge and asked interesting questions from a variety of guests whether they were people working backstage, performing, conducting … or the handler of the dog, Puccini(!) an 8th-generation German Spitz who appears in the Café Momus Act II. Dominic Peckham was based mainly outdoors in Trafalgar Square doing quick interviews, exhorting those present to send in some photos (called 'summer selfies' or 'picnic pics') along with their tweets. He also orchestrated some community singing of the Act II marching music. However both Kirsty Wark and Dominic Peckham still seem to think outdoor opera means bottles of champagne – clearly they move in more rarefied circles because around me people seemed keener on (the local) Rossi's ice cream or having some chips!
 We heard from Angela Gheorghiu and Vittorio Grigolo mostly through pre-recorded films but they ambushed Kirsty Wark in passing at the end of the snowy Act III when 'Mimì' came along clutching her 'Rodolfo' to look into the camera and say 'It's winter we're freezing here, I hope it's warmer there?' In the modern way of thrusting a microphone at anyone immediately after they have done something  Wark and Peckham were present backstage after the curtain calls to talk again with the two leading singers and Vittorio Grigolo summed up everything splendidly saying why they as performers – as well as the audience watching – can return to La bohème time and again: 'There is always something different to learn … in life, in love and on stage.'
 The Forum in Southend-on-Sea was the perfect venue for this event and is quite an oasis in this bustling seaside town. The audience was very attentive and – unlike in the theatre – the only coughing heard was from Mimì! I don't think there are that many seagulls present in the Paris of the young bohemians we saw on screen but they ddi make their presence felt with their constant calls overhead and there was the odd car alarm that also intruded on the music. As for the performance itself, as much as I admire Angela Gheorghiu I thought there was a little too much simpering from her as she tried to be the 'bambina' ('girl') referred to in the libretto and I wondered how much better the performance might have been had she swopped roles with Irina Lungu's rich-sounding and spirited  Musetta. They were supported by an accomplished ensemble headed by Massimo Cavalletti's personable and burly Marcello. The conducting of young German maestro Cornelius Meister seemed perfectly serviceable if rather stop-start, especially when he halted the music for needless applause. In his interview he was keen to stress how he had recently conducted Die Walküre in Vienna so it is clear his musical heart may belong to someone other than Puccini.
On Wednesday 17th September on a Big Screen somewhere near you Verdi's Rigoletto will be shown in David McVicar's dark and atmospheric production, with strong characterisations and vivid scenery. The production deftly depicts the colourful and corrupt world of the court in sixteenth-century Mantua. The dark and violent themes remain as potent today as ever. The opera tells the story of the jester Rigoletto, cursed by a man he has mocked, who is driven to despair by the seduction of his daughter and later by his increasing obsession with revenge. In the title role of Rigoletto is Dimitri Platanias, and the role of the innocent Gilda is performed by Eri Nakamura. The role of the Duke of Mantua is sung by Piero Pretti with Maurizio Benini conducting.
 Keep your fingers crossed for good weather and do go if you can.
Jim Pritchard
For the full list of BP Big Screen venues visit www.roh.org.uk/bpbigscreens.
To find out more about the Royal Opera House visit www.roh.org.uk.