Germany Puccini: Tosca, Orchestra and Chorus of the Bayerische Staatsoper, Carlo Montanaro (conductor), Nationaltheater, Munich, 18.7.2014 (JMI)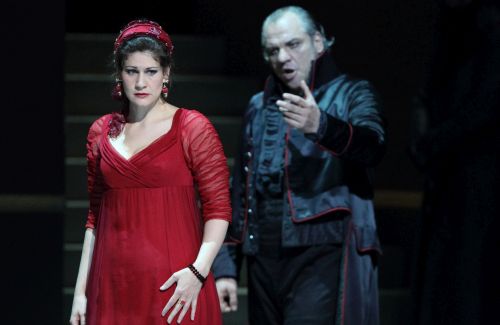 Cast:
Tosca: Anja Harteros
Cavaradossi: Stefano La Colla
Scarpia: Zeljko Lucic
Angelotti: Goran Juric
Sacristán:Renato Girolami
Spoletta: Francesco Petrozzi
Sciarrone: Christian Rieger
Jailer: Tim Kuypers

Coproduction: Bayerische Staatsoper, The Metropolitan Opera and La Scala
Direction: Luc Bondy
Sets: Richard Peduzzi
Costumes: Milena Canonero
Lighting: Michael Bauer
This Tosca was not supposed to be just one more performance, as happens in 9 out of 10 cases. It featured a very interesting cast with the presence of the outstanding Anja Harteros and Marcelo Alvarez. When I arrived at the theatre and saw people selling their tickets, it made ​​me fear the worst, and my fears were partially confirmed. At least the cancellation was not by Anja Harteros but rather by Marcelo Avarez, who was replaced at the last minute by the virtually unknown Italian tenor Stefano La Colla. It was not a promising start to the evening.

Anja Harteros is one of the best sopranos today; in my opinion, there is no one better. She might be surpassed by others in glamour or media attention, but not in artistic importance. I am well aware that such assessments are very personal, but I have been enjoying this truly exceptional soprano's artistry for several years, particularly in Munich.
If I'm not mistaken, this was the first time that the German soprano was singing  Tosca in Munich, although it was not her debut in the role. Her Tosca was superb in every respect: she was powerful, passionate and always the master of her magnificent voice. Something, however, was lacking in order for her to reach the heights I was expecting. I think we needed a Cavaradossi who had even a minimum of chemistry with her. It must be very difficult to be passionate on stage when your lover is unresponsive, and I'm fully convinced that with Marcelo Alvarez things would have been different. In fact, the best work by Anja Harteros came in the second act.
I expect the cancellation of Marcelo Alvarez caught the Bayerische Staatsoper by surprise, and they had to move heaven and earth to find a Cavaradossi in less than 24 hours. In fact, until noon the Argentinean tenor was still listed on the theater's website. It's a repetition of his cancellation a few months ago in Berlin, and also in the part of Cavaradossi. As it happens, the choice (if they could choose) for a replacement in Berlin was Stefano La Colla. His voice has a certain amplitude and is shinning in the top notes but problematic at the passage. His main problems lie in his poor musicianship, his lack of expressiveness and the monotony of his singing.
Zeljko Lucic is one of the few Verdi baritones today, but Baron Scarpia requires another type of voice, a bass-baritone such as Ruggero Raimondi in the past or Bryn Terfel now. In the first act Lucic had difficulty projecting his voice above the orchestra and was particularly weak at the low notes. Things improved in the second act, but to me his interpretation was not fully convincing. Scarpia demands someone who is able to combine elegance with low passions, and Lucic limited himself to the latter. I prefer to hear him sing Verdi.
In recent years, Tosca in Munich has not been very fortunate in terms of musical direction. On previous occasions we had Marco Armiliato, who was no more than correct, and something similar can be said on this occasion of Carlo Montanaro.
Once again, we had the Luc Bondy staging, and my opinion of it has not changed from previous times. It is a traditional work and short on brilliance. This is what I wrote of earlier production
José Mª. Irurzun