Germany Wagner, Die Walküre: Soloists, Chorus and Orchestra of the Bayreuth Festival / Kirill Petrenko  (conductor),  Bayreuth, 28.4.2014.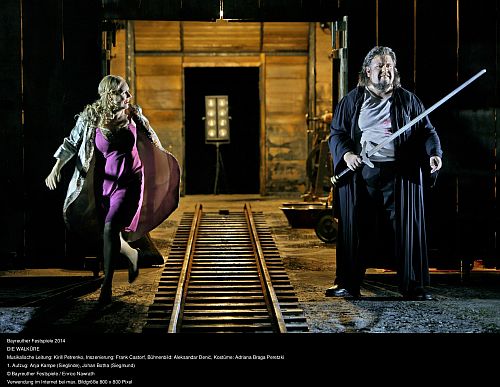 Cast:
Siegmund: Johan Botha
Hunding: Kwangchul Youn
Wotan: Wolfgang Koch
Sieglinde: Anja Kampe
Brünnhilde: Catherine Foster
Fricka: Claudia Mahnke
Gerhilde: Allison Oakes
Ortlinde: Dara Hobbs
Waltraute: Claudia Mahnke
Schwertleite: Nadine Weissmann
Helmwige: Christiane Kohl
Siegrune: Julia Rutigliano
Grimgerde: Okka von der Damerau
Rossweisse: Alexandra Petersamer
Production
Director: Frank Castorf
Sets: Aleksandar Denić
Costumes: Adriana Braga Peretzki
Lighting: Rainer Casper
Video: Andreas Deinert & Jens Crull
I thought I had left some horrendous weather behind in England but having got safely to the top of the Festspielhaus the heavens opened and all the thunder and lightning did little to foretell the deluge that ensued. It would have been more fitting to herald a performance of Götterdämmerung or Der fliegende Holländer than Die Walküre, though of course Wagner's music does have a heart-pounding stormy prelude that illustrates Siegmund's flight from his foes.
I wondered whether we were still in America (where Das Rheingold was set) and suspected we were up until a silhouette of Lenin was seen projected at the end of the Act I that might – and was proved – to suggest otherwise. Initially we see an elaborate wooden barn on three levels and lit with strings of light bulbs. There is also connected to it what must have been a huge hayloft typical of such structures. There are some bales of hay and two live turkeys in a cage. Not much happens that conflicts with Wagner, though Siegmund's 'Winterstürme' ('Winter storms'!!!) and his following duet with Sieglinde that concludes the act are played out against some black and white film shown stage left of Wotan's domestic bliss with Erda and then the discovery of more oil … somewhere, sometime. Once again sung as it was on this occasion by three of the finest exponents of their roles possible Act I could have been set in a circus tent on the moon and I could have hardly have cared less. It seemed like we were in America's Midwest since Wotan looked like an Amish elder with his hat and long beard and this could explain all his Valkyrie children but perhaps not his two 'wives' as they are not, I understand, polygamous!
Johan Botha sings and acts like the late Luciano Pavarotti with whom he shares some physical attributes but I would still much rather have Siegmund sung so wonderfully lyrically and effortlessly than wonder whether the singer will have enough stamina for his last triumphant line ('So blühe den, Wälsungen-Blut!') as he brandishes his sword and gets to grip with his sister. Of course, the stately Johan Botha looks nothing like his twin in the 'stick thin' frame of Anja Kampe and this does not matter much either. Kwangchul Youn's Hunding appears initially in an Abraham Lincoln stovepipe hat about half as high as himself. Anja Kampe was intense and vocally resplendent throughout 'Du bist der Lenz'. This First Act lasted barely an hour and was strongly driven by Kirill Petrenko – the Bayreuth Festival Orchestra again played the entire opera faultlessly – yet the conductor still managed to bring out some of the radiance in the music that Frank Castorf denied us on stage.
As Dorothy famously said to Toto, 'We are not in Kansas anymore' for Act II … obviously because Wotan is reading a copy of Pravda and there is Joseph Stalin's 1910 'Letter from Baku' reproduced in the printed programme. It concerns the oil industry and we now know where we are. Wotan is clearly enjoying his double life because Erda comes on during his confrontation with Fricka who elaborately costumed in the guise of a silent screen vamp is carried on and then – literally – cracks the whip while marauding around the stage. Everything is fairly static and straightforward during this Act and is presented against the occasional backdrop of black-and-white Eisenstein-inspired footage of oppressed hungry workers and the search for more oil. The basic setting is still the Act I barn with the extravagant towering hayloft now replaced by an oil derrick.
The first singer to let the side down a little in this Ring is sadly British – though almost totally unknown in her own country. Catherine Foster's 'Hojotohos' as Brünnhilde are poorly supported and shrill. I think, if anything, her dramatic soprano voice is a size too small for the Festspielhaus and she continues throughout Act II to force volume out. On the plus side her quiet more mezzoish singing during the Todesverkündigung was impeccable and impassioned, perfectly matching Johan Botha's ardent, caring, Siegmund and Anja Kampe's anxiously distraught Sieglinde. Kwangchul Youn's Hunding catches up with Johan Botha's Siegmund in the barn and he just slumps down – even though he is not one of opera's most gifted actors he possesses one of the finest heroic tenor voices of this generation. It was sad that Botha's involvement in this Ring had to end after just two acts. A clean-shaven Wotan dispatches Hunding with a spine-chilling 'Geh!' that reveals all Wolfgang Koch's Lieder-like attention to words that is a highlight of his performance. Another near-perfect example was his aggressive and threatening 'verbannt' ('banished') to the Valkyries in Act III.
At the start of Act III Baku seems on the verge of a revolution with some dissidents storming the oil refinery as it now is. However there was an audible leakage of gas that kills most of them. If it was the twenty-first century then the Valkyries would be the rich wives of oligarchs and whoever they are supposed to be they are eclectically dressed spending their time mostly eating and drinking during the thunderous 'Ride' Maestro Petrenko gives them and the subsequent emotional reunion with their sister, Brünnhilde, over what is to become of Sieglinde and her unborn child. The Valkyries were individually occasionally weak but sang well together.
What was an agricultural community has now become enslaved by the energy industry with all the problems of pollution and land usage that causes – something that the UK is wrestling with as it begins to encourage fracking for oil and natural gas. I am beginning to realise how Frank Castorf is determined to underscore (undermine?) all Wagner's more intimate moments with ideas of his own. So Wotan's emotional farewell to a distraught Brünnhilde has in the background the German offensive on Baku in 1942 with oil fields being blown up and the resulting conflict. A large 'nodding donkey' comes to the front of the stage – just in case someone in the audience had not yet twigged what Frank Castorf is getting at. Flames are emitted from a large oil container and we see Brünnhilde drift off to sleep in extreme close-up on the makeshift screen that has been employed all evening for the various films and onstage video.
Suitably incandescent Fire Music ended the evening in its own blaze of glory and at the curtain calls there were now storms of another sort as thunderous applause greeted all the singers and their conductor. Although Frank Castorf's approach seems to be based on a line from Parsifal 'Zum raum wird hier die zeit' ('Here space becomes time') I did not hear a single 'boo' … that was soooo last year at the moment!
Jim Pritchard
Jim Pritchard will continue to review the Ring, as well as, Lohengrin in coming days from the 2014 Bayreuth Festival.