United Kingdom Opening Gala Concert.: Susan Bullock (Soprano),  Richard Berkeley-Steele (tenor), Kinder Children's Choir of the High Peak (Choir mistress, Joyce Ellis MBE), Northern Chamber Orchestra / Stephen Barlow.(conductor), Opera House, Buxton, 11.7.2014 (RJF)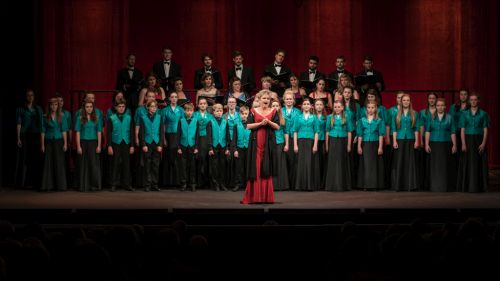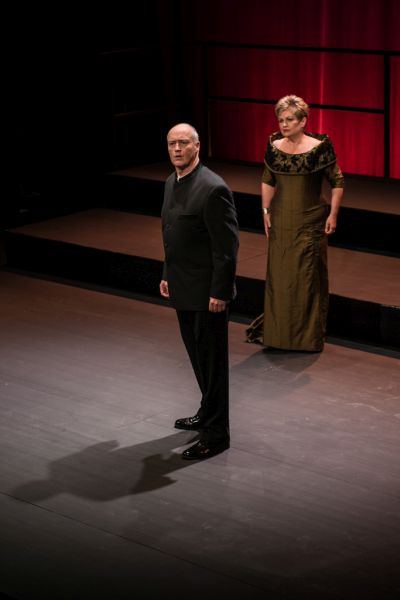 Weber: Overture, Oberon.
Wagner: Die Walkure. Wintersturme & Du bist der Lenz; em>Lohengrin. Bridal Chorus.
Rachmaninov.:Vocalise.
Wagner: Lohengrin. Im fernen Land.; Tannhauser. Wagner Dich, teure Halle,
Lehár: The Merry Widow. Introduction, Dance & Vilja Lied.
Johann Strauss II: Overture, Der Karneval in Rom
Lehár.: Land of Smiles. Wer hat die Liebe uns in Herz gesenkt.
Humperdinck: Hansel & Gretel. Dance Duet, Evening Prayer & Pantomime.
Lehár.: Giuditta. Meine Lippen, sie küssen so heiss.; Land of Smiles. Dein ist mein ganzes Herz;
The Merry Widow. Lippen Schweigen.
Sieczynski: Vienna, City of My Dreams.
The opening week end of the 2013Annual Buxton Festival included a new item, at least in my experience. This took the form of a concert of operatic items to go along with the usual opening fare of rare or little performed operas. It featured the duo of soprano Claire Rutter and baritone Stephen Gadd who joined the Northern Chamber Orchestra in a delicious pot-pourri of operatic delights from Italian and French opera along with a dash of Mozart. This year the Buxton Festival opened with a similar Opera Gala courtesy of sponsorship by Mercedes Benz (South Yorkshire). As befits the well-known car maker the repertoire was, with the exception of the orchestral version of Rachmaninov's Vocalise, of Austro-Germanic repertoire. This year's renowned singers were the husband and wife duo of soprano Susan Bullock and tenor Richard Berkeley-Steele, both internationally renowned in the vocally demanding Wagner operas. In what turned out to be a memorable occasion was the added joy of the introductions by well-known broadcaster Sean Rafferty, who brought his own touch of humour to his contributions, and also the presence of award winning High Peak Kinder Children's Choir. The proceedings were all elegantly supported by Festival Music Stephen Barlow conducting the Northern Chamber Orchestra who started the proceedings with a gentle, and then vibrant, rending of the overture to Carlo Maria Von Webber's rarely performed Oberon.
Following this light introduction, heavyweight Wagner followed in the form of the love duet between siblings Sieglinde and Siegfried from act one of Die Walkure. Although essentially lyric toned both Susan Bullock and her husband are renowned Wagnerians, she most recently for Opera Australia. The strain of the Heldentenor repertoire was more evident in Berkeley-Steele's voice, with odd dry patches and a beat than with that of his wife who sailed refulgently through the vocal demands as she later also achieved as Elisabeth's long Dich, teure Halle. The Festival Chorus of sixteen voices was rather too lightly manned for the rich demands of the well-known Bridal Chorus but could not be faulted for intonation and diction.
The second half of the Gala concert was altogether in lighter vein with the soloists characterising and phrasing with aplomb. These qualities were particularly evident and welcome in Susan Bullock's singing, and the orchestral playing of Lehar's Dance & Vilja Lied from The Merry Widow. Whilst the tenor showed some lack of honey in his voice in the duet Wer hat die Liebe uns in Herz gesenkt, he had no trouble as Danilo in the penultimate item caressing the phrases as he waltzed. Greatly appreciated in the second half were the contributions of the Kinder Children's Choir of the High Peak, first in Hansel & Gretel whenintheir performance, immaculate in appearance, diction and articulation, they wowed the audience. Thirty in number, albeit with only five boys, as to the latter I regret it was ever thus, they finger clicked, clapped hands and moved feet like professionals born. They were a delight to see and hear and a credit to their Choir mistress, Joyce Ellis MBE, and also Susan Bullock who supports them as Vice President.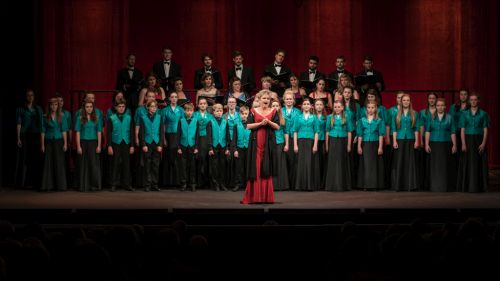 Mercedes Benz deserves credit as well as prime position outside Matcham's theatre for two of their newly designed A class models. A little too large for shopping my wife regretted. Having looked at the price I was relieved, but did wonder why Mercedes at nearby Macclesfield had left it to South Yorkshire to get into the A class that is Buxton Festival!
Robert J Farr