United Kingdom Jerome Kern & Oscar Hammerstein II:  Show Boat: Soloists, Cape Town Opera Chorus, Cape Town Philharmonic Orchestra, Lyric Theatre, The Lowry, Salford, 8.7.2014  (MC)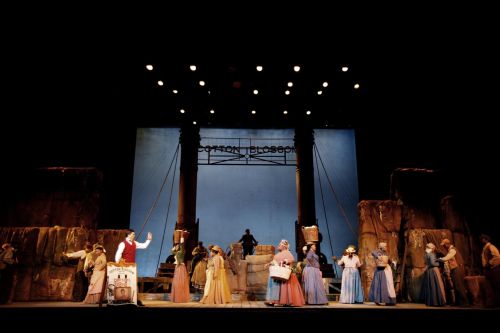 Cast:
Magnolia 'Nolie' Hawks: Robin Botha
Gaylord Ravenal: Blake Fischer
Julie LaVerne: Lynelle Kenned
Ellie: Catherine Daymond
Frank: Brandon Lindsay
Captain Andy Hawks: Graham Hopkins
Parthy Hawks: Anthea Thompson
Joe: Otto Maidi
Queenie: Nobuntu Mpahlaza
Steve Baker: Stephen Jubber
Kim: Caitlin Clerk
Sherriff/Max: Adrian Galley
Pete: Jaco Muller
Windy/Jim: Graham Clarke
Plus chorus
Dancers:
James Bradley, David Chevers, Andre De Beer,
Bronwyn Garlick, Nacia Erasmus, Daniele La Trobe,
Marelize Swanepoel, Jesse Christelis, Maggie Benedict
Production:
Director: Janice Honeyman
Set Designer: Johan Engels
Costume Designer: Birrie Le Roux
Lighting: Mannie Manim
Choreographer: Timothy Le Roux
Sound Designer: Marcel Bezuidenhout
Dialogue/Vocal Coach: Lesley Nott Manim
Chorus Master: Patrick Goodwin
Musical Director: Gareth Jones
The only thing that could match the ruthless efficiency of the German football team thrashing Brazil seven-nil in the World Cup semi-final was the elevated level of enjoyment from the Cape Town Opera production of Show Boat happening simultaneously in The Lowry theatre in Salford.
I've adored Showboat ever since I saw the 1951 MGM Technicolor film starring Kathryn Grayson, Ava Gardiner and Howard Keel, and after attending the Cape Town Opera production I love it all the more. The musical set in America's deep south in 1887 has caused controversy for not dealing with racial prejudice as we would hope it would be addressed if written today and it does hover close to an 'Uncle Tom' scenario but it's very much of its time. I tend to concur with the view of singer Phillip Lamar Boykin who first played the character Joe in a American tour of Show Boat in 2000, "Whenever a show deals with race issues, it gives the audience sweaty palms. I agree with putting it on the stage and making the audience think about it. We see where we came from so we don't repeat it, though we still have a long way to go."
The predominant setting is the Cotton Blossom show boat at its dockside mooring in Natchez on the Mississippi and also in Act Two the Trocadero club in Chicago. Under Janice Honeyman's traditional production the cleverly designed sets by designer Johan Engels made a real impact in the Lyric Theatre at The Lowry adding to the bittersweet experience of Show Boat. As riverhand Joe, Otto Maidi's moving rendition of the smash hit song 'Ol' Man River', most famously associated with Paul Robeson, seemed to capture the essence of Show Boat. Although the wise and considered character of Joe is required to do little in the way of acting Maidi's rich, dark tone and superb projection in 'Ol' Man River' was a true highlight that brought tears to the eyes of many in the audience. Robin Botha played the almost perennially happy character of Magnolia 'Nolie' Hawks who falls in love with the suave gambler Gaylord Ravenal in what must be the quickest courtship in the history of musical theatre. For her audition at the Trocadero club Nolie's big number 'Can't Help Lovin' Dat Man' was convincingly sung by Botha with suitable charm and vulnerability, and crystal clear diction.
Having seen the MGM film of Show Boat it is almost impossible to separate star actor Howard Keel from the role of riverboat gambler Gaylord Ravenal which could have been written especially for him. Our Gaylord Ravenal played by the handsome Blake Fischer didn't have Keel's stature, stage presence and rich bass-baritone – few have – but he compensated with commitment coming over as a charming suitor. Standing alone on the Cotton Blossom deck in front of the silhouette of the steering wheel Gaylord's solo 'You Are Love' was delivered with palpable assurance. Noticeably smooth in his middle register Fischer's tenor voice got the high notes successfully revealing an appealingly bright tone. Complementing each other delightfully Gaylord's duets with Nolie 'Make Believe' and 'You Are Love' generated an engaging onstage chemistry.
Crucial and affecting is the role of the downtrodden singer/actress Julie LaVerne a mulatto who narrowly avoided prosecution for miscegenation with her white husband Steve and was forced to leave the Cotton Blossom troupe. Sympathetically played by Lynelle Kenned, Julie has two unforgettable songs 'Can't Help Lovin' Dat Man' and 'Bill' both persuasively performed with a smooth vocal and deep emotive expression. As Julie was carried onstage at the finale her eventual fate still remained unclear. Was she drunk or had she died? Of the remaining cast standing out were confident performances by the ebullient Graham Hopkins as Captain Andy Hawks and Nobuntu Mpahlaza characterful as Queenie. Excellent support too from the well prepared chorus and dancers with impressive playing of the Cape Philharmonic Orchestra conducted by Gareth Jones.
Beautifully performed and choreographed Cape Town Opera's affecting yet enjoyably uplifting production of Show Boat moved The Lowry audience to a deserved standing ovation.
Michael Cookson