Germany Strauss: Der Rosenkavalier, Bayerisches Staatsorchester, Constantin Trinks (conductor), Nationaltheater, Munich, 29.7.2014 (JMI)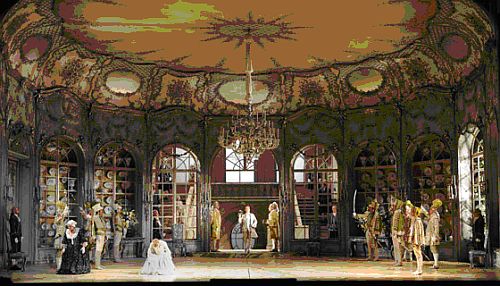 Cast:
Octavian: Alice Coote
Marschallin: Soile Isokoski
Baron Ochs: Peter Rose
Sophie: Golda Schultz
Faninal: Martin Gantner
Valzacchi: Ulrich Ress
Annina: Heike Grötzinger
Singer: Yosep Kang
Marianne: Ingrid Kaiserfeld
Police: Christoph Stephinger

Production: Bayerische Staatsoper
Direction: Otto Schenk
Sets and Costumes: Jürgen Rose

Three years have passed since I last saw Der Rosenkavalier in Munich. That was a memorable occasion, with a truly prodigious Marschallin sung by Anja Harteros. Last night's performance used the same stage production and musical direction, but the voices did not achieve the same level of excellence.
Otto Schenk's stage productions are always a real guarantee of  beauty and good taste. This Rosenkavalier premiered at the Nationaltheater in 1972, i.e. 42 years ago. Since then, it has been staged on a regular basis in Munich, as have Schenk's other two Rosenkavalier productions in Vienna and Dusseldorf. The impression it made on me last night mirrors what I felt three years ago:

https://www.seenandheard-international.com/2011/07/27/an-elegant-der-rosenkavalier-at-the-munich-opera-festival/
 
The musical direction was again in the hands of Constantin Trinks, who has been frequently present in Germany's major opera houses in recent years. His conducting was controlled and safe, but the results seemed to me somewhat uneven. I missed the nuances which are so essential in this Strauss opera. In fact, I found his reading repeated what he offered three years ago. The first half of Act I was too loud, as were other passages in the remaining two acts, but there were also some excellent moments, especially the second part of Act I. Overall, he was flat at key moments in the final act. There was a very good performance from the Bayerisches Staatsorchester.

Der Rosenkavalier/Octavian, was played by mezzo soprano Alice Coote, who did not leave a great impression. In my view she falls below Sophie Koch, the Octavian of my previous Munich Rosencavalier. Ms. Coote is a sensitive interpreter, with an attractive voice in the middle range, but her top notes are rather shrill.

Soprano Soile Isokoski was the Marschallin, and she was uneven. She is an excellent singer, but her voice has become smaller in recent years. Ms. Isokoski had some remarkable  moments, especially the duet with Octavian that closes the first act, where she expressed all the melancholy of the Marschallin. In contrast, her much anticipated monologue preceding that duet went unnoticed. In the wonderful trio in the last act, she exhibited good taste and musicality but fell short on volume
.
Bass Peter Rose has become the Baron Ochs of today. His interpretation on stage is awesome and at the level of the great performers of recent years, although vocally he does not reach the same height that the two Kurts (Moll and Rydl) offered us in this character not so long ago.
Golda Schultz in the part of Sophie was a very pleasant surprise. This South African soprano studied at the Juilliard School in New York and has sung a few times in Munich in the past two years. She was the best of the entire cast, with a lovely voice and more body than what is usual in these characters. She has no problems reaching the audience and is a superb singer. I think we will hear much more from her.

Martin Gantner was well-suited to the role of Faninal, and Yosep Kang did a good job with the difficult aria of the Italian Singer.The other characters were, without exception, well-covered.

Again, the Nationaltheater was sold out. The biggest ovations were for Golda Schultz and Peter Rose, in that order.
José Mª Irurzun.