United Kingdom Delibes, Coppélia: Dancers and Orchestra of English National Ballet / Gavin Sutherland (conductor), London Coliseum, London, 24.7.2014. (JPr)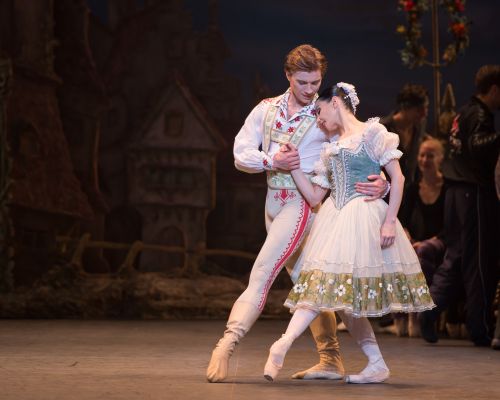 Production:
Choreography: Ronald Hynd after Marius Petipa
Design: Desmond Heeley
Lighting: David Mohr
Cast:
Tamara Rojo: Swanilda
Alban Lendorf: Franz
Dr Coppélius: Michael Coleman
There is a great deal of ballet during any summer in London all fighting for what is probably a limited audience and although Coppélia might seem a strange choice given the current resurgence of English National Ballet under its artistic director and star dancer, Tamara Rojo, nevertheless it should generate good box office results now the children are on their school holidays. Seeing so many young faces in the audience is always a highlight of most ballet evenings and so different from the 'grey generation' (of which I am one) that seem to be the only ones who regular go to opera or classical concerts. As performed like this Coppélia vies with Frederick Ashton's La Fille mal gardée as the most charming and light-hearted of all ballets even though it was created in Paris in 1870 and Ronald Hynd's production is itself nearly 30 years old.
As the synopsis clearly states the story is a simple one: 'Swanilda, the burgomaster's daughter is betrothed to Franz, a handsome young villager. On the eve of their wedding she has cause to doubt the seriousness of his affections when she finds him ogling a beautiful girl sitting on the balcony of Dr Coppélius's house.'   It is based on an original E T A Hoffmann story called The Sandman best known for the Olympia doll act of Jacques Offenbach's 1881 The Tales of Hoffmann. Here another 'hero' also becomes obsessed with a beautiful girl who (spoilers alert!) is a mechanical doll that a crazy scientist and toy-maker has made and is so realistic from a distance that Franz has the urge to get to know her better. In Coppélia much jealousy ensues between Swanilda and the fickle Franz over the doll. Occasionally the ballet can take a more sinister turn as Coppélius tries to transfer the 'life-force' Frankenstein-like from Franz to his creation but Hynd glosses over this in his version and eschews magical spells to link the going-on in Act II to the interest in the nineteenth-century with science and electricity.
Coppélia is also the near-perfect antidote to all the tragic happenings in an increasingly cruel and dispiriting world. However there was plenty of tragedy following the première of this sunny work in 1870 and within a few months its choreographer, Arthur Saint-Léon, was dead, as was the first Dr Coppélius and even more sadly, the 16-year-old ballerina, Giuseppina Bazzacchi, who had created the role of Swanilda, had died of smallpox. As if this was not enough, the Franco-Prussian war began and that would close the Opéra where the ballet was first put on. Nevertheless Coppélia has survived in a thread that remains unbroken from those first performances to the present day. This encompasses the magnificence and problem with ballet: it is fantastic – as here – to see the re-creation of a masterpiece but 're-creation' essentially is all it is and whilst appreciating what we are seeing we can only but celebrate those who came before them. In her very informative programme note, Jane Pritchard (no relation), reminds everyone that the original choreographer 'gave in to the prevailing fashion in Western Europe for a woman to appear as the hero, Franz' however this has 'left residual problems as Delibes wrote no music for a formal pas de deux and Franz's musical themes are light-weight for male dancers.' Modern productions obviously are based on Marius Petipa's late nineteenth-century choreography but given the technical abilities of the current generation of dancers there is much pretty dancing on show but little to challenge them and despite the energetic gallop at the end this version tends to just fizzle out.
Desmond Heeley's delightful stage pictures are supposedly Galician but have the look of a typical eastern Europe village reminiscent of Transylvania as shown in all the classic Dracula films. Most will remember the story, the sun is setting and everyone is inside with the doors firmly locked! Of course we are not in a horror story but a love story, and Heeley's equally elaborate costumes – with David Mohr's subtle lighting – are never less than apt and absolutely enchanting.
Léo Delibes' effervescent score – not only the concluding gallop, but the earlier Czardas and Mazurka – can seldom have been better played for a ballet performance. The always excellent Gavin Sutherland conducted his own exemplary English National Orchestra. Occasionally in more 'naked' moments some of the instrumentalists found slow tempi testing but overall the orchestra continues to make the case that the music element of ballet performances can no longer be ignored – as most dance commentators still do – in the twenty-first century. With the utmost respect I was present in the past during a time when any old musical rubbish would do as long as the dancing was spectacular, but this cannot be so now and absolute attention to the highest standards of music performance – as here – will be important to the survival of the classical ballet repertory.
The plot – what there is of it – is basically over after the bucolic Act I at the harvest festival and then Act II when Swanilda and her six playful companions investigate Coppélius's house and she dresses as the doll and pretends to come to life. This Act ends with the complete humiliation of the venerable inventor. Act III basically is just a succession of divertissements for the blessing of a bell and the dances represent the different reasons the bell can be tolled – here just part of Swanilda and Franz's wedding feast. By the end Dr Coppélius – originally something of an outsider – is reconciled with the villagers and becomes part of their community.
Such a slight plot requires a lot of mime and this is well performed by the entire ENB company. From my seat in the stalls it was a pleasure to see even the corps members at the very back never dropping out of character and rarely losing the sense of joy in their faces; acting and steps were perfectly integrated during the entire evening from an ensemble who were dancing at the top of their form. Franz knows his power over ladies and the very welcome guest artist from the Royal Danish Ballet, Alban Lendorf, was superb in the role. Even though he is a muscular dancer, the type not usually favoured in this country, he was a very convincing young tearaway. The vigour of his dancing infects every movement and its vitality lends fire to the virtuosities of the big displays – though it is a pity he has so relatively little to do! By turns Lendorf was flirtatious, courteous or reveals a twinkling sense of fun and his Act III solos were splendid. He was an equally accomplished and sensitive partner to ENB's artistic director, Tamara Rojo, as an almost perfect Swanilda and the chemistry between the two leads was believable. She seemed to revel in throwing off the cares of her day job and have some fun.
Everyone knows what an exemplary technique Tamara Rojo has always had at her disposal and she remains an accomplished actor-dancer able to access a full range of Swanilda's emotions – playfulness, love and jealously – even if it is unlikely to be a role she has danced very often in the past. Rojo gives even the simplest steps the same care and attention as the most complicated ones. It was as if she was giving a masterclass to those on stage with her and my spirits lifted with each of her variations as she perfectly captured the light, humorous quality of the work, with that still admirable technique, steady balances and precise footwork. ENB have a very strong roster of ballerinas – I do not get to see many of the Royal Ballet's performances but I doubt if they have such strength in depth – and all Swanilda's six 'friends' (Senri Kou, Begoña Cao, Kei Akahoshi, Alison McWhinney, Laurretta Summerscales and Ksenia Ovsyanick) deserve a mention for their impeccable contributions in Act I and II and especially in Dr Coppélius's workroom in Act II which could hardly be bettered.
A final individual mention goes to Michael Coleman (one of the finest male dancers in his youth) for his nuanced and witty Dr Coppélius who suffered the insults of the mischievous Galician villagers with great stoicism and allowed for some real poignancy to be experienced during his brief Act III moments. As I now head to Bayreuth he reminded me very much of Mime in Wagner's Ring! The thunderous applause for all concerned at the curtain call was thoroughly well deserved proving – with English National Ballet dancing so splendidly these days – that there are still plenty of pleasures to be gained for many from Ronald Hynd's venerable Coppélia.
Jim Pritchard
For more about English National Ballet's future performances visit www.ballet.org.uk.