Jun Hwi Cho Of Seoul, South Korea Wins Joyce B. Cowin First Prize At The Seventh New York International Piano Competition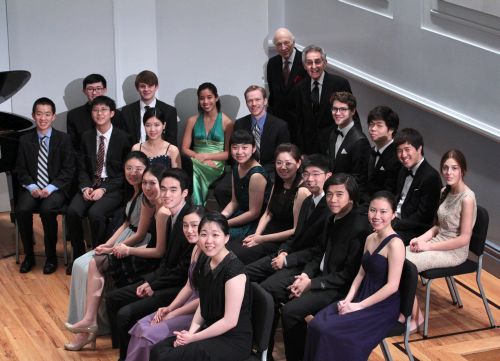 Jun Hwi Cho is Awarded $10,000 as well as Concert Appearances Throughout The United States
The Stecher and Horowitz Foundation has announced 18-year old Jun Hwi Cho of Seoul, South Korea as the Joyce B. Cowin First Prize Winner of the Seventh New York International Piano Competition. In addition to a $10,000 cash prize, the Stecher and Horowitz Foundation will also present Mr. Cho in distinguished venues throughout the United States,beginning in the 2014-15 season.
Jun Hwi Cho completed four years in the preparatory Division of the Korean National University of Arts and attended the Korean National Institute for the Gifted in Arts in 2011. Mr. Cho graduated from the Yewon School (Arts Middle School) in 2012 and is now attending the Pre-College Division of the Juilliard School, where he studies with Choong-Mo Kang.
He has performed on the Korean Broadcasting System (KBS TV) Classic Program, the Boston University Tanglewood Institute Prodigy Concert, the 26th Young Musicians Concert in Korea, and with the Korean W. Philharmonic Orchestra and the Bucheon Symphonia Orchestra in Seoul.
The Second Prize at the Seventh New York International Piano Competition was awarded to Daniel Kim of Lexington, Massachusetts, who also won the prize for Best Performance of the Commissioned Work (Gabriela Lena Frank's Nocturno Nazqueño). Third Prize went to Yilin Liu from Shanghai, China and Fourth Prize to Seol-Hwa Kim of Seoul, South Korea. The First Prize Winners of the Melvin Stecher and Norman Horowitz One Piano, Four Hands category are Max Ma of Newcastle, WA and Thomas Steigerwald of Uvalde, TX. The Second Prize Winners in this category are Ling-Yu Lee from Taipei, Taiwan and Ning Yuen Li, originally from Shenzen, China.
The Stecher and Horowitz Foundation's Seventh New York International Piano Competition, held at The Manhattan School of Music from June 23rd – June 27th, 2014, hosted twenty-two pianists, ages 16-21, from around the world. The week­long event included four rounds plus a series of master classes and seminars. In her Wall Street Journal article Corinna da Fonseca-Wollheim remarked that "what sets it apart from other piano competitions are some unusual rules designed to guarantee that it makes a real difference in the career of a young musician, rather than merely passing judgment on it." (June 14, 2012). Unique to the New York International Piano Competition is its policy of no elimination; each contestant performed in all four rounds and was judged by a jury of some of the most distinguished members of the music community. Every participant returned home either as a prize winner or finalist award recipient.
The level of competition has been uniformly high over the event's 12 year history; former winners have gone on to win the Avery Fisher Career Grant, the Gilmore Young Artist Award, The Juilliard School's William Petschek Recital Award, the
Louis Sudler Prize in the Arts at Harvard University, the Young Concert Artists International Auditions, the 2010 Concert Artists Guild Victor Elmaleh Competition, and some to become National Foundation for Advancement in the Arts Presidential Scholars.
Monetary awards total $50,000, but just as important as the monetary awards are the opportunities for concert and recital appearances that are awarded to winners and finalists. Held every two years, the New York International Piano Competition is dedicated to providing artistic development, educational enhancement, seminars, master classes, and performance opportunities. This year's jurors included Tong-Il Han, jury chair, Jane Coop, Jon Nakamatsu, Orli Shaham, Thomas Schumacher, and Jeffrey Swann.
The internationally-lauded composer Gabriela Lena Frank was commissioned by the Stecher and Horowitz Foundation to compose a required piece for this year's competition, learned and performed by all contestants. The Chicago Tribune's chief critic John von Rhein wrote a feature story on Ms. Frank in which he described her as, "one of the most compelling composers on today's new music scene, whose works are widely performed just about everywhere."
The Stecher and Horowitz Foundation, a non-profit organization, is an outgrowth of the Stecher and Horowitz School of the Arts which was founded in 1960 in Cedarhurst, New York. Until 1999 the school was Nassau County's leading conservatory of music, attended by some 15,000 students during its thirty-nine year history. The Foundation is now dedicated to an expanded concept that seeks to inspire and support outstanding young musicians worldwide.
Melvin Stecher and Norman Horowitz, Executive Directors of the Stecher and Horowitz Foundation, have devoted a lifetime to the musical education of young people. Internationally recognized as one of the most distinguished duo-piano teams of their generation, Stecher and Horowitz are equally renowned for their multi-faceted activities as performers, teachers, composers and educational consultants – activities that have earned them a unique position in the world of music.
For further information, please contact Hemsing Associates at (212) 772-1132 or visit www.hemsingpr.com