Germany Mozart: Le Nozze di Figaro, Orchestra and Chorus of the Bayerische Staatsoper, Dan Ettinger (conductor), Nationaltheater, Munich, 17.7.2014 (JMI)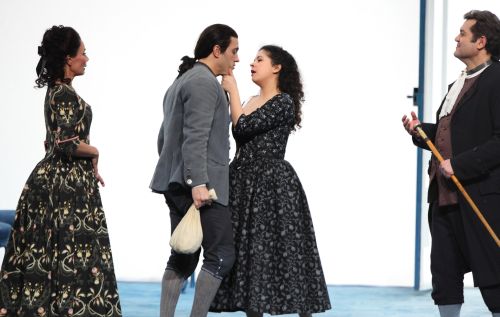 Cast:
Figaro: Erwin Schrott
Susanna: Hanna-Elisabeth Müller
Countess: Véronique Gens
Count Almaviva: Gerald Finley
Cherubino: Kate Lindsey
Don Bartolo: Umberto Chiummo
Marcellina: Heike Grötzinger
Barbarina:  Elsa Benoit
Basilio: Ulrich Ress
Antonio: Peter Lobert
Don Curzio: Kevin Conners
Production: Bayerische Staatsoper
Direction: Dieter Dorn
Sets and Costumes: Jürgen Rose
Lighting: Max Keller
This Dieter Dom production is now 17 years old, and it is surprising in several respects. It's a minimalist work, bordering on nihilism: the staging consists of three white walls covered with a white roof. Each wall has a blue door, and they disappear in the last act. The settings of the different acts are varied with a few props, and the entire performance takes place in bright summer light. Any connoisseur of this opera will wonder how, under these conditions, one resolves Cherubino's jump and the act set in the garden. As to the first, Dieter Dorn uses a ploy seen in other productions and has Cherubino jump into the orchestra pit.
During the first three acts things work well because of Mr. Dorn's imagination and the outstanding direction of the actors, but it all sinks in the last act. There is neither night nor garden. The bright light is still there, which means the continous confusion of the characters hasn't the slightest credibility. As there is no place to hide, Mr. Dorn puts some white sheets on the floor for the characters to cover up with. The costumes are attractive, based on color contrasts with the white walls, and the plot is very well narrated, with many details that give meaning to certain scenes. It's a shame that the imagination Mr.Dorn exhibits for much of the opera disappears as if by magic in the last act.
The musical direction was entrusted once again to Dan Ettinger. He is kind of an all-terrain conductor working in all manner of repertoire and theaters. Efficiency is always guaranteed, but I've never seen him go far beyond that. His Mozart seemed too noisy, which in my opinion was due to the fact that the pit was too high. Furthermore, the voices of the female performers were not big, and there was a poor sound balance between pit and stage. It did not sound like light, stylish and fun music by Mozart. Under Mr. Ettinger's baton was a very reliable orchestra and the always excellent chorus.
Figaro was played by Erwin Schrott whose performance was quite good. The problem was that in his arias ("Non più andrai" and "Aprite un po' quegli occhi") he was determined to show off decibels. If it were a football game, he would have received a yellow card in the first act and a red one in the last.
German soprano Hanna-Elisabeth  Müller left a very good  impression last night as Servilia, and she confirmed it in the more important role of Susanna. I do think that Susanna requires a wider center than hers; in fact, this very promising soprano is closer to  Barbarina than to Susanna. The sound from the pit significantly diminished her effect.
Véronique Gens gave life to the Countess and sang well.  As often happens, "Porgi amor" went unnoticed while "Dove sono" was better received. The difference in height between the Countess and Susanna was more than remarkable. Who could believe that the Count confused them, and in full daylight!
The best in the entire cast was Gerald Finley, whose Count Almaviva was magnificent in every aspect. His identification with the character was complete, with every phrase, gesture and syllable serving as a lesson about singing with intention.
Mezzo soprano Kate Lindsey was a good Cherubino. Her voice is attractive, if somewhat reduced in size, and it also suffered from the volume in the pit.
In the secondary characters Umberto Chiummo went unnoticed as Don Bartolo. Heike Grötzinger did well as Marcellina, but with a dry voice. Ulrich Ress was well-suited to Basilio, and Peter Lobert as Antonio was sonorous and fun. The very promising soprano Elsa Benoit was a fine Barbarina, and Kevin Conners was faultless as Don Curzio. What a great comprimario!
José Mª Irurzun