United Kingdom 20th Century Boy – The Musical: Cliffs Pavilion, Southend, Essex, 15.4.2014. (JPr)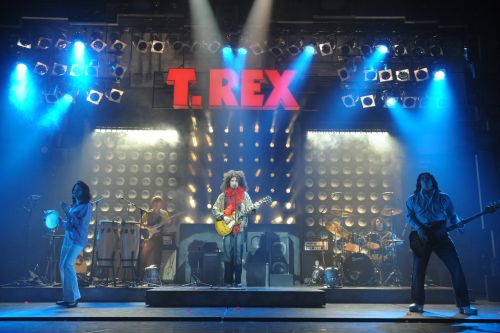 Cast:
Marc: Warren Sollars
June: Lucy Sinclair
Gloria: Donna Hines
Rolan: Luke Bailey
Phyllis: Sue Jenkins
Harry Feld/Jockey: Peter Manchester
Tony Visconti: Andy Coxon
Helen Shapiro/Chelita Secunda: Katia Sartini
Steve Currie/Captain Sensible/Bass: Steve Simmonds
Steve Took/Mickey Finn/Percussion: Matthew Ashcroft
 

Production
Director and Choreographer: Gary Lloyd
Musical Supervisor and Arranger: John Maher
Musical Director: Ryan Alex Farmery
Sets and Costume Design: Diego Pitarch
Lighting Design: Ben Cracknell
In the song Dandy in the Underworld there is a line 'Will anybody ever care?' Almost 37 years since T. Rex singer and glam rock icon Marc Bolan died in a car crash in South London people really do still care in so many ways. In 2014 where would popular culture – film, TV and adverts, especially – be without his music? A very recent new Glee episode mentioned T. Rex when one of the young characters was shown holding a seemingly genuine vinyl album … I wonder whether this would have been the same had he lived?
I have just seen a wonderful musical biography about the struggles of a lead singer of a group striving to make a name for himself and the troubles he encountered – however 20th Century Boy was not it. Actually I have recently watched twice Clint Eastwood's masterly film of the story of Frankie Valli and The Four Seasons, Jersey Boys. Perhaps because I enjoyed this recent cinema release so much it raised my expectations for a similar emotional roller-coaster ride from another musical jukebox show. Frankly, as it is at present 20th Century Boy is all a bit of a mess and it is only for twenty minutes at the end of the story – and a very long evening – that all the cast let their hair down for a medley of familiar songs (including 'I Love to Boogie', the 'Hey Jude'-inspired 'Hot Love' and '20th Century Boy' itself) that gives the audience a chance to do what they want all along and get on their feet, clap their hands … and boogie themselves. The show needed regular injections of that sort of energy much earlier.
The director, Gary Lloyd, admits 'When first approached to meet about getting involved with this project, I didn't know much about Marc Bolan other than a handful of songs well known by most people.' Here is the problem, too few people seem to have been involved in this show who might actually have seen Marc perform or spent enough time watching YouTube or the DVDs that are available. I did see T. Rex at Wembley's Empire Pool in 1972 and Finsbury Park's  Rainbow Theatre in 1977 (shortly before Bolan's untimely death) and several times in between. As a performer I never recognised the Marc Bolan shown by 20th Century Boy.
nbsp;
As he, himself, claims during the show Bolan was T. Rex and T. Rex was Bolan and so a musical that does not have a charismatic performer able to bring across successfully Bolan's narcissism, somewhat child-like innocence, otherworldly feyness and the excitement of his music is in trouble from the beginning. A guitar he intermittently remembered he was supposed to mime playing, a curly wig he occasionally flicked and a feather boa, could not turn Warren Sollars into Marc Bolan. He employed in the early stage a voice so familiar as that of Michael Crawford's Frank Spencer – and with Sue Jenkins doing some Jewish schtick as Bolan's mother Phyllis Feld – it could have been Some Mother's Do 'Ave 'Em The Musical. Sollars does not seem to have watched Bolan on film enough and often came across as the lovechild of Freddie Mercury and Mick Jagger! I don't know at what point Gary Lloyd realised that he did not have (a) Bolan at the centre of his , and he spread out his occasionally autobiographical songs across a very talented triumvirate of singers Donna Hines's Gloria Jones (who drove the car that killed him), Lucy Sinclair's June Child (Bolan's first wife) and Katia Sartini as Chelita Secunda (his fashion stylist).
Bolan's son, Rolan (Luke Bailey), is central to what we see and since he never knew his father he brings the audience on a journey through his father's career after coming from Los Angeles, where his mother Gloria Jones retreated after the accident, to London to meet his grandmother and uncle for the first time, as well as, one of Bolan's former roadies, Jockey. We meet the three strong women in Bolan's life – his mother, first wife June and Rolan's mother Gloria – in a story that should be an intriguing, revelatory – and occasionally emotional – journey but too often resorts to 'Ooh err missus' Carry On films' humour. We get something about what someone can do with his rhubarb, along with double-entendres about June taking Bolan 'in hand', being 'slipped a bit' of Mickey Finn and lines such as 'You've never heard of Cliff Richard … lucky you!' and how Bolan never trusted cars, to which Rolan replies 'He got that right!'
On a deliberately shabby all-purpose set that slides across or forward Marc Bolan's story is played out assisted by a blizzard of contemporary headlines and underscored by the sounds of screaming fans or bass lines from the band. Songs from different times of an all-too-short career are used to illustrate Bolan as a wannabee Jewish Hackney boy (cue song London Boys), see his tentative first steps as a folk-inspired singer – famous DJ John Peel was a big fan – before producer Tony Visconti introduces him to the electric guitar – which John Peel wasn't so keen on! We see about the No 1 hits, Top of the Pops, all the fame, before in the second half it all goes to Bolan's head and on a dispiriting tour in America, there is too much drink, drugs … and Gloria for him to resist. His career takes a nosedive and only Rolan's birth forces him to re-evaluate his life and pull himself together. By 1977 Bolan was seen as a considerable influence on the new wave of punk musicians of the time and a spring 1977 tour with The Damned brought him some new credibility and he also had his own show on TV simply called, Marc. His final album Dandy in the Underworld was his most critically acclaimed album since the earliest days, yet that September he was killed on Barnes Common, London, as Gloria drove them home from a late dinner with friends.
To be honest the show works best when Bolan isn't involved and perhaps an entirely original story to T. Rex songs might have been the best way to go; yet there is a great moment when as Bolan's fame overtakes him, Rolan and the three women in his life perform the epically plaintive anthem 'Whatever Happened To The Teenage Dream', the four standing virtually motionless at the front of the stage. This was an all-too-rare perfect synthesise of music and drama in this musical. This occurs once again at the end when the revival of Bolan's profile and music career has been glossed over as we race to the reunion of Gloria with Phyllis at the tree the car hit on the anniversary of Bolan's death and we hear 'Dandy in the Underworld' poignantly sung by Tony Visconti (Andy Coxon), June, Gloria and Rolan. Bolan's music had a lot to say to us in the '70s and moments like this showed that it still does.
Bolan died about a month after Elvis Presley had passed away and growing up, Bolan said he wanted one day to be 'bigger than Elvis.' That was never to happen but his music endures wonderfully nearly four decades later and proves how ahead of his time Bolan was. It is great that 20th Century Boy might bring this trailblazing glam rock music to a fresh generation. The story is indeed worth telling and although a splendid company does their very best the real Marc Bolan remained conspicuous by his absence I'm sad to say. Though – as he was fond of saying – I urge everyone to still 'Keep a little Marc in your heart'.
Jim Pritchard