United Kingdom Mussorgsky, Beethoven, Villa-Lobos et al,  Tryst: Devotion and Betrayal: New English Ballet Theatre, Peacock Theatre, London, 5.7.2014 (J.O'D)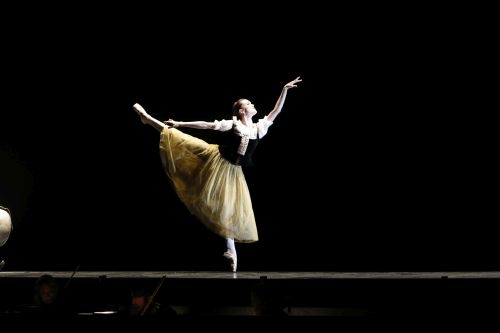 Tangents
Dancers: Jessica Clyde, Hayley Blackburn, Mercedes Schindler, Lorenzo Bernardi, Matthieu Quincy, Silas Stubbs
Choreography: Daniela Cardim Fonteyne
Music: Modest Mussorgsky: Pictures at an Exhibition
Pianist: Viktor Sugeng
Design: Daniela Cardim Fonteyne

Orbital Motion
Dancers: Mercedes Schindler, Joshua Barwick,  Lorenzo Bernardi, Hayley Blackburn, Niklas Blomqvist, Jessica Clyde, Matthieu Quincy, Yvonne Slingerland Cosialls, Silas Stubbs, Justine Wisznia
Choreography: Valentino Zucchetti
Music: Philip Glass Violin Concerto No. 1 © 1987 Dungaven Music Publishers Inc. Orchestration by Philip Glass, Nigel Bates and Barry Wordsworth
Set and costume designs:Emma Bailey, Karen Pilkington-Miksa, Valentino Zucchetti
Toca
Dancers: Francesca Tennant, Mattieu Quincy
Choreography: Érico Montes
Music: Heitor Villa-Lobos Études 11 and 10 (recording licensed courtesy of Naxos)
Design: Érico Montes

Mad Women
Dancers: Justine Wisznia, Gyorgy Baan, Hayley Blackburn, Jessica Clyde, Matthieu Quincy, Yvonne Slingerland Cosialls, Francesca Tennant
Choreography: Kristen McNally
Music: Ablebodied Seamen (Greenwood/Richard) © CEG Rights BV; Get thee behind me Satan (Berlin) © Universal Music; Camel cigarettes advertisement from Old Time Radio commercials; Smirnoff Applebite Music by Smith and Elms© at Eclectic Music
Costumes: Kristen McNally and Tour de Force

Kreutzer Sonata
Dancers
Wife: Christina Cecchini
Husband: Niklas Blomqvist
Violinist: Joshua Barwick
Harlots:  Hayley Blackburn, Jessica Clyde, Yvonne Slingerland Cosialls, Francesca Tennant, Justine Wisznia
Guests : All Company
Children: Harry Brown, Wiktoria Piotrowska, Angelina Theophanous
Choreography: Andrew McNicol
Music: Ludwig Van Beethoven Violin Sonata No 9 Op. 47, 'Kreutzer Sonata'; Leoš Janáček, String Quartet No. 1, 'Kreutzer Sonata'
Libretto: Garth Bardsley
Costumes: Emma Bailey
Artwork: Lincoln Seligman

String Quartet: Sacconi Quartet [Ben Hancox (violin); Hannah Dawson (violin); Robin Ashwell (viola); Cara Berridge (cello)]
Piano: Anne Lovett
Violin:  Andrew Harvey

'They kept the best till last,' a woman said to her friend as they came out into the street at the end of the performance. She was referring to Kreutzer Sonata, New English Ballet Theatre's first one-act narrative ballet and the one that ended this programme of new work by five young choreographers. Based on the Tolstoy novella of the same name, and set to the music by Beethoven and Janáček, the piece's Russian setting brings John Cranko's Onegin to mind. The late-nineteenth century atmosphere is also similar to that of Liam Scarlett's Sweet Violets. But choreographer Andrew McNicol has created something that is bleaker than the former (due, in part, to the music) and more fluid than the latter. As the wife, husband and would-be lover, Christina Cecchini, Niklas Blomqvist and Joshua Barwick show themselves to be convincing dancer-actors. The costumes, by Emma Bailey (tarlatan and tulle, for the women, in brown and dullish yellow), are in keeping with the period but do not weigh down the dancers' movements. The set decorations by Lincoln Seligman give a suitably murky impression of a nineteenth-century Russian brothel or drawing room. The musicians of the Sicconi Quartet accompany the dancers off stage. Violinist Andrew Harvey and pianist Anne Lovett perform on stage in a scene that is redolent of Kenneth MacMillan's Mayerling. (It is only a pity that their microphones are so visible). The ending is abrupt, but just before it Cecchini conveys very clearly with her face and hands the wife's disbelief that, stabbed by her brutal, jealous husband, she is about to die.
Kreutzer Sonata forms the second half of the programme. The first is made up of four, shorter works. Tangents, by Daniela Cardim Fonteyne, takes the language of neoclassical ballet and breaks it: bodies buckle in mid-movement; the feet of a lifted female dancer do not always point downwards. A selection from Mussorgsky's Pictures at an Exhibition, performed on stage by pianist Viktor Sugeng, provides energy for the movement. But the piece is also remarkable for the stillness it incorporates. Dancers sit or stand with heads angled away (at tangents) from the movement of other dancers. Mercedes Schindler, a dancer whose head always seems to be in the right position, holds her averted face in a particularly expressive way.
Of the three remaining pieces, the six-minute long duet Toca, by Érico Montes to music by Heitor Vila-Lobos, is perhaps the most successful – for its simplicity and for Francesca Tennant's performance. The other two are over-ambitious. In Orbital Motion Royal Ballet dancer Valentino Zucchetti sets ten dancers revolving like planets to the music of Philip Glass. This works well when there is space between them, or when they are in pairs. In the group configurations they sometimes tie themselves in knots. Kristen McNally (also a dancer with The Royal Ballet) plays with the idea of Stepford Wives in Mad Women.
John O'Dwyer