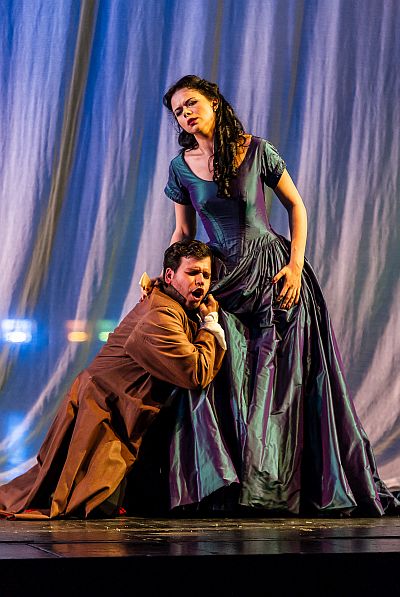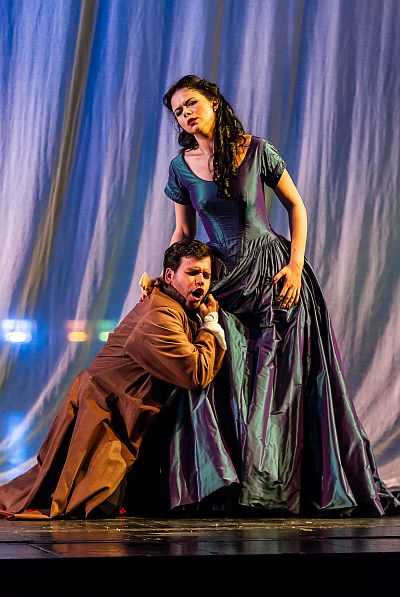 United Kingdom Donizetti, Mozart, Opening Acts – Jette Parker Young Artists Summer Performance: Royal Opera House, Covent Garden, London, 20.7.2014 (MMB)
Donizetti: Act I of La favorite
Léonor – Nadezhda Karyazina
Inès – Anush Hovhannisyan
Fernand – Luis Gomes
Balthazar – Jihoon Kim
Welsh National Opera Orchestra / Paul Wingfield
Royal Opera House Thurrock Community Chorus / Jeremy Haneman (chorus master)
Mozart: Act I of Così fan tutte
Fiordiligi – Kiandra Howarth
Dorabella – Rachel Kelly
Despina – Dušica Bijelić
Ferrando – David Butt Philip
Guglielmo – Michel de Souza
Don Alfonso – Ashley Riches
Welsh National Opera Orchestra / Michele Gamba
Harpsichord continuo played by David Syrus
 The Jette Parker Young Artists are an international group of professionals at the start of their careers (which is what "young" refers to), aged normally between mid-20s to mid-30s. It is formed not only of singers but also of conductors, répétiteurs, ballet pianists and directors. The programme organises each year a Summer Performance where these artists have the opportunity to take centre stage, after a season where they often served as covers or performed small roles in the case of the singers, or assisted conductors, directors and musicians in the case of the non-singing artists.
Act I of Donizetti's La favorite was the piece chosen to open the performance. This is a rather dramatic opera where the first act really serves as the setting of the story and the presentation of the characters. So, when the act finishes, one is left wanting more, to find out what happens to the characters and how the story evolves. Nevertheless it provided Portuguese tenor Luis Gomes, whom I had the pleasure of interviewing, with an opportunity to showcase what he can do. Fernand, the tenor part in La favorite is a fabulous role for a bel canto specialist, which may partially explain why the opera is not staged often. I have heard some of the tenor's show-stopper pieces performed in concert and recital by none less than Juan Diego Flórez, arguably the greatest bel canto tenor at present. I am very pleased to say that Gomes held his ground with distinction. In the interview, he told me that he was worried about the stamina required to sing Fernand and that it was his biggest challenge while preparing for the Summer Performance. However, if this was an impediment, it really did not show. Gomes sings with great warmth and has a wonderfully lyrical quality to his voice. His French diction is clear and his acting was excellent. As the young man in love who does not hesitate to defy the head of the monastic order (Balthazar), he was very convincing. His rendition of his opening piece, Un ange, une femme inconnue, when he confesses to Balthazar that he is in love, was very moving and superbly well sung. While he stayed away from one or two of the sparkling very high notes, he delivered the whole piece with exceptional quality, displaying a well-controlled pianissimo and a beautiful legato line, easily projecting the voice to the back of the auditorium. The only thing I would say is that his breathing technique needs improvement. Gomes has one more season with Jette Parker and so, the minor deficiencies will almost certainly be polished. Alongside him was the excellent, Jihoon Kim as Balthazar. He has an aristocratic bearing and a powerful, majestic stage presence which greatly enhances the part. He possesses a sonorous bass, beautifully warm and with a natural degree of sentiment that makes the voice very attractive and pierces straight to the heart. The only downside is his French pronunciation, a little unclear, particularly the vowels, which he tends to close when they should be open and limpid. The women had a little less to do in this first act. Anush Hovhannisyan made for a funny, lively Inès, though I thought her voice faded slightly under the orchestra in the more powerful moments. Personally, I preferred Nadezhda Karyazina as Léonor (the favourite of the title). Her mezzo is very powerful, with a solid, assured technique. Even in the high notes, which she projects easily, her voice never loses a lovely, rich and warm tone. Her acting skills are considerable and she was very convincing as a young woman in love torn between her role as the King's favourite mistress and her love for Fernand. I was also rather impressed with the chorus – the Royal Opera House Thurrock Community Chorus – that I believe are amateurs but who did an excellent job supporting the artists on stage. The Welsh National Opera Orchestra performed exceptionally well, led by Jette Parker Young Artist Paul Wingfield. His interpretation was very dramatic, as the piece should be performed, but was also poignant. I think he did a very good job although the orchestra was a tad too loud in some passages and overlaid the singers rather than sustain them.
The second part of the Summer Performance was filled in by Act I of Mozart's Così fan tutte, which is not one of my favourites among Mozart's magnificent operas. My problem with Così is the plot; not the music. The music is sublime and exceptionally brilliant, which often makes me wonder why Mozart went with such a silly story. Having said that, I must agree though that it lends itself for a partial performance and the first act is a good vehicle to display the acting and singing skills of the performers. Ashley Riches sang the infamous role of Don Alfonso and he was outstanding in it. He has a marked, charismatic stage presence, projects his voice well, has clear diction and his baritone is powerful and expressive. His Don Alfonso was suitably manipulative but also charming, making it convincing that he can easily lead the two young men to do what he wants for his own amusement. Michel de Souza, whom I also had the pleasure of interviewing, told me that he too has a problem with the plot of Così. Nevertheless, he played a rather convincing and very funny Guglielmo. Souza is an excellent actor and his comic timing was outstanding, appearing very natural and fluid. His baritone possesses a very warm tone, he projects the voice well, phrasing with elegance and his Italian diction is very clear. Physically, he carries himself favourably, depicting a charming, naïve but at times cheeky, slightly dark Guglielmo who, in spite of his love for Fiordiligi, is happy to play a cruel prank on her and enjoys the game of seduction. By comparison, David Butt Philip, as Ferrando, faded slightly and was less convincing in the comic parts, appearing a little wooden at times. His singing however was excellent and he sang the marvellous Un' aura amorosa beautifully. As for the women, Fiordiligi was performed by Kiandra Howarth who has an outstanding voice, projecting it in a way difficult to believe if one is not there to hear it. If there had been crystal glasses in the auditorium, I think they would all have been shattered to pieces during her sparkling, gutsy delivery of Come scoglio. Dorabella was played by Rachel Kelly very effectively. She carries herself very convincingly as the one who will surrender first and her mezzo tone is well-balanced, with a pleasant crystalline quality. I was a little disappointed with Despina, played by Dušica Bijelić. While I think that she played the character well and made the most of it, I think that a more sympathetic edge towards her mistresses would have made Despina more believable. She was committed and sang well but to my personal taste, I found her voice a little too strident in the high notes and her tone lacked warmth. Her technique however is solid and she has a clear diction in Italian.
Michele Gamba, also a member of the Jette Parker Young Artists Programme, conducted the Welsh National Opera Orchestra in a light, playful mode that suited the opera but never disrespecting the composer or changing the brilliance of the music. He was kind to the singers, allowing the orchestra to clearly underline the voices without ever topping them. Greg Eldridge, also a member of the Jette Parker, did an outstanding job directing the pieces, particularly Così fan tutte, where he makes an excellent use of the settings, having the singers walk up and down the various stairs, giving the action a fluid, rhythmical quality that makes the comic side exceptionally effective.
In all, I enjoyed this year's Summer Performance immensely and I think it was a success. All artists deserve to be congratulated for their enthusiastic, energetic and committed performances. Their relishing of the stage and of performing was patent throughout but especially, in the end when they all came together to thank the audience for their applause. They were all greeted warmly by the public, with a few bravos for good measure, and I have no doubt that we watched and heard some super stars of the future.
Margarida Mota-Bull