Riccardo Chailly in Conversation with Michael Cookson, Leipzig, June 2014
On one of the hottest days I can remember I left the stifling Leipzig Hauptbahnhof and walked to Riccardo Chailly's hotel. It was indeed a privilege to have the opportunity of interviewing one of the finest conductors on the world stage today.
In 1970 the Milan born Maestro became Claudio Abbado's assistant at La Scala aged nineteen but had to wait until 1978 for his La Scala debut. Chailly had however made a sensational American debut aged just twenty-one conducting at very short notice Madama Butterfly at San Francisco. From 1988 to 2004 Chailly held the post of chief conductor of the Concertgebouw Orchestra undoubtedly one of the most prestigious of all conducting appointments
Today Chailly is probably best known as chief conductor of the world renowned Gewandhausorchester Leipzig a post he has held with distinction since 2005. An extension to his contract means Chailly will stay with his Leipzig orchestra until 2020. Last year it was announced that Maestro Chailly will become principal conductor of La Scala in 2015, succeeding Daniel Barenboim, before assuming musical directorship in 2017.
Clearly extremely comfortable in the familiar surroundings of his Leipzig hotel Maestro Chailly exudes a quiet confidence and puts me immediately at ease. Even though I only tend to ask questions of a general nature it soon becomes clear that the Maestro answers candidly with little suggestion of being guarded.
Only the day prior to the interview I heard the Gewandhausorchester Leipzig under Maestro Chailly play at the Dresden Semperoper and it was in stunning form. I fully understand the plaudits awarded to the recent Gewandhaus release of the complete Brahms symphonies on Decca and recommend the set unreservedly.
I've just seen a Gewandhausorchester press release stating that owing to a fractured ulna in his right forearm Maestro Chailly is not able to lead the upcoming concerts in Leipzig in September 2014 including the appearance at the festivals BBC Proms, in Berlin and Lucerne.
Michael Cookson: I'm guessing you honed your English speaking, working with orchestras in England and America?
Riccardo Chailly: Yes, from the seventies when in the USA I was associated with two orchestras for several years as a guest conductor, one was the Chicago Symphony Orchestra and the other the Philadelphia Orchestra. But in London when I was a young man I was principal guest conductor with the London Philharmonic Orchestra. Yes, I was a young fellow then, my God.
MC: I sometimes hear that British orchestras are not rated too highly on the international stage. How would you respond to that?
RC: Not from my experience. In Britain I was first associated with the London Philharmonic Orchestra where I got my only British appointment as principal guest conductor for three years. The next was with the London Symphony Orchestra whom I did a lot of work with. I found these orchestras more than OK. I toured with the LSO with great success and we had an excellent rapport. Unfortunately now I don't have the time to guest conduct too often given my schedule here in Leipzig and in the future at Milan.
MC: Not like Valery Gergiev jetting all over the world giving an astonishing number of concerts and operas?
RC: No, no, no. That type of life is not for me. I'm completely opposite to that. For me the role of a chief conductor is a stable, long term relationship. This is very important for me, I think. When you start you must consider how to approach a chief conductorship. My approach was always in the traditional style. From the early days with the Radio-Symphonie-Orchester Berlin [Editor: Now the Deutsches Symphonie-Orchester Berlin] I stayed there for eight years and in Amsterdam with the Royal Concertgebouw Orchestra I was there sixteen years. Then I was at the Bologna Opera for six or seven years, then at Milan with the Giuseppe Verdi Orchestra for seven years and now here in Leipzig I am already in my ninth season with the Gewandhausorchester. We are projecting our relationship to 2020 that shows my desire for a long term relationship; which is my point.
MC:Here in Leipzig with the Gewandhausorchester you play orchestral music but not opera now.
RC: That's right. I stepped down in 2008 after two years as music director of the opera. It became too complicated, too difficult to find a proper understanding with the opera management at the time. It's the same orchestra but playing for two different organisations. Also in a way there were too many responsibilities. I was wanted to take over both the opera and the orchestra which I did but after two years I said, no. I wanted to concentrate on the symphonic role and just that. So I separated from the opera and now conductor Ulf Schirmer is directing the opera and going very well.
MC: Sir Simon Rattle is leaving as principal conductor at the Berliner Philharmoniker and now Maris Jansons has announced he is leaving as chief conductor at the Concertgebouw.i I was wondering if these were positions you were interested in?
RC: Both great orchestras which I know first hand. I was always on the discussion list but now I am taking over at La Scala, Milan which in combination here with the Gewandhaus means that I have filled a complete season. I love the Berliner Philharmoniker and I regularly guest conduct the orchestra but any more I cannot say.
MC: So you have no scoop to give me? [RC: Laughs] I'm sure everyone interested in classical music is anxious to know who will take over those prestigious posts in Berlin and Amsterdam.
RC: I know. But I have no scoop to give. [Laughs] The only scoop is that I will be back in Berlin in November to conduct the Philharmoniker with Martha Argerich as soloist. Happily for me it is such a joy to return to Berlin to conduct the Philharmoniker again.
MC: And Argerich is such a marvellous pianist.
RC: Oh yes. She is playing the Schumann concerto with me which she plays magnificently. The major work on the concert programme is the Rachmaninov Third Symphony.
MC: I heard Argerich play in Manchester last summer and I could feel an electricity as soon as she walked on the stage to take her seat, before even playing a note.
RC: Yes she has quite a physical personality and is a magnificent player. As soon as she puts her fingers on the keys she can transform you to her own universe. Martha is a dear friend from a long way back and I'm delighted to be with her again in the Schumann concerto.
MC: As wonderful as it is, do you not think the Schumann Piano Concerto is played too often? The same could be said for other core work of the repertory.
RC: Not the way Martha Argerich plays it. She plays it in an absolutely unrepeatable way. Just over two weeks ago here in Leipzig I was joined by Maria João Pires the Portuguese pianist to play the Schumann concerto. That was played in another way, totally different to Martha but both unforgettable. You see when you have such geniuses playing the Schumann there is no stereotypical performance, no sense of routine.
MC:   You clearly love the Schumann piano concerto. I have a Decca recording of you conducting the work with Jorge Bolet as soloist with the Radio-Symphonie-Orchester Berlin.
RC: You are right I did a recording with him in Berlin around thirty years ago; that would be the mid-eighties.
MC: At Munich in March I interviewed the renowned mezzo-soprano and now theatre director Brigitte Fassbaender. Brigitte said that from being a small child she had been surrounded by music in her home. As you probably know Brigitte's father was an opera singer and her mother an actress. Was this a similar home life to you as a child?
RC: Of course. My father Luciano Chailly was a composer. Since the very first day of my birth I can remember the sound of the piano, especially at night time as I was in bed. Music was always part of my daily life. Obviously with my father being a composer, a theatre artistic director and composition teacher at the Milan conservatoire that gave me an attitude and a direction to follow in music. Yes, all the topics of conversation at home were around music.
MC: So it was expected that you would become a professional in the music world?
RC: My father was hoping that I would. But when he knew that I wanted to be a conductor he was completely against it. because (he said) at his age he had seen too many flops in the music world; especially sons of musicians. You see my father was a celebrated composer in Italy in the fifties, sixties and seventies. So he assumed that I would be one of those flops [Laughing] in the best tradition of musical families. He was very much against me becoming a conductor. So I had to prove with all my guts and all my energy that I wouldn't be so bad. Then when he was almost persuaded that I should continue my conducting studies he became my first teacher of composition for one year which was a nightmare for me owing to the father/teacher relationship. But thanks to this almost traumatic period I then went to the Conservatorio Giuseppe Verdi, in Milan on my fourth year of composition because my father had made me do three years in one. [Laughing] He taught me that a conductor should know how to compose to be able to interpret someone else's compositions. It was very important and it was for me a prime schooling.
MC: It felt like tough love from your father Luciano?
RC: Oh, very much so. I have great love for my father, he died in 2002. But that time studying with him was not an easy period… Very complicated indeed.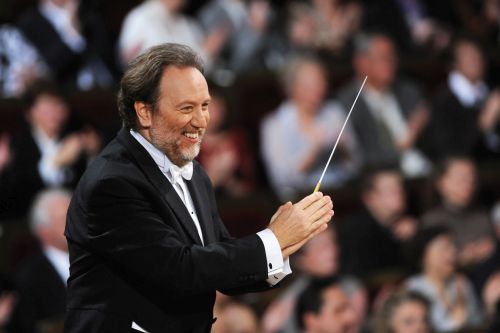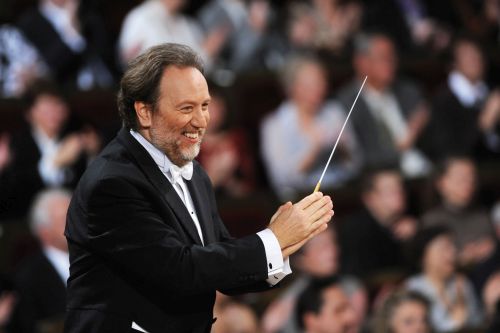 MC: Please tell me about your music schools and who inspired you?
RC: Well actually there were three schools. My first was in Perugia, the second the Conservatorio Saint Cecilia in Rome and my main one the Conservatorio Giuseppe Verdi, in Milan. In the early seventies in Milan there were two people that were my inspiration. The first was Claudio Abbado just appointed as chief conductor at La Scala at the time when my father was artistic director there. Abbado was a daily inspiration; a great conductor and a great interpreter for me to follow. Prior to that I was studying conducting at the Milan Conservatorio and maestro Franco Caracciolo was the teacher of conducting at the time of the RAI Symphony Orchestra. These two people: Caracciolo a teacher and the other Abbado were the inspiration for me to be a conductor. They were the starting engines that moved my soul in the direction of becoming a conductor.
MC: What were your main duties as assistant conductor to Claudio Abbado at La Scala?
RC: Well rehearsing the orchestra for him at La Scala and for other guest orchestras too. The position allowed me to attend Abbado's rehearsals which was the greatest schooling ever and also the rehearsals of world famous conductors who were there at La Scala in the early seventies. I can still remember the rehearsal of Sir John Barbirolli conducting Mahler's Fifth Symphony. It was one of the highpoints of my youth and it was only a few months before he died. Barbirolli was one of the greatest Mahler interpreters. Don't forget at that time Abbado was bringing Mahler to Italy for the very first time on a regular basis. In those years Abbado wanted to have all the ten Mahler symphonies performed in Milan and he invited other conductors. Sir John Barbirolli with the Fifth Symphony, Bernstein and the Vienna Philharmonic with the Ninth and Seiji Ozawa, who was very young at the time, conducting the monumental Eighth Symphony.
MC: Which of your appointments has been the most satisfying?
RC: Don't forget I started conducting so young. The first concert that I conducted I was aged thirteen. It was unforgettable not as a trauma; it felt like a voyage of discovery for me. A new landscape. But in retrospect I was probably exposed too early to major positions. If you think that I stayed sixteen years at the Concertgebouw, one of the top five orchestras in the world – –  that was a demanding time for me being young. The pressure was like hell. It was as if the shadows of the predecessors of the Concertgebouw were banging on your head daily – the feeling of pressures for the circumstances and the responsibility for the future. They were fascinating times but not always just pleasurable. Yes I spent sixteen years there. It was too early really. Staying fifteen or sixteen years as a chief conductor is probably the maximum time. But no I don't believe that that would happen today. If I do feel a type of comfort for being in a place at the right age it is today during my Gewandhaus years at Leipzig. I hope also to feel the same in Milan at La Scala in two years time. As well as opera there are also the La Scala symphonic concerts for the whole season. I'll be doing both.
MC: If you were conducting a concert played by an acknowledged elite orchestra followed by a concert by a rather lesser regarded orchestra what differences would you expect to find?
RC: Well my conducting style will not change no matter which orchestra I am to conduct. The biggest changes are twofold. The first is the expectation on my part in terms of working together. With a top orchestra there are never barriers about expectations and the more that you dig in with your interpretation the more you will get out, there is no limit. With a lesser regarded orchestra there is an end, with its own culture of playing there is the end of its limited technical capacity and its habits of playing a standard performance of a certain range and not surpassing that. These I think are important factors.
MC:Do you need less rehearsal time with the finest orchestras?
RC: Well that depends on the country. The fastest orchestras in the world are the British followed by the European orchestras, such as in Germany, the French, the Italians and the Spanish orchestras they are good orchestras but are not as trained for such fast first sight reading. The London orchestras are amongst the fastest in the world; they are unbelievable at this. The difficulty is the greater the orchestra is, the faster the orchestra is, how far do you have time to dig into the interpretation or just to take for granted the quality of such good playing, such good reading, such a good understanding at first sight of a piece. The LSO is majestic in that. I hardly know an orchestra that can read better at first sight. But then of course you have to take into account that if you get there so quickly then you have to be able to bring them to your own soul of the interpretation. That is sometimes not so easy. Oh yes, there are differences between orchestras. I love to work in Germany. Obviously, they do not have such speed for sight reading as the English orchestras but they have a progressiveness in understanding and deepening the meaning which is very impressive, I like that. You need more time to work with an orchestra in this country than in England, you need more rehearsal time. But I like that for it is never for one second routine, it's a search for the soul of the interpretation. I love to work here in Leipzig as German orchestras, in general, are very highly qualified, technically speaking, so it is up to the conductor to bring them to their best. But the players have no boundaries, no limits to their technical capacity. If they sound light it's because the conductor has not been able to master them. The fault would be on the conductor not the orchestra which is a very important point to avoid any misunderstanding.
MC: A few days ago I heard the HR-Sinfonieorchester from Frankfurt play at the Dresden Music Festival. In truth it is not an orchestra that I come across too often these days. Under Paavo Järvi it played Bruckner's Third Symphony and its playing was wonderful.
RC: Oh, wow. Yes, this is proving exactly the point I am making about the standard of playing from German orchestras being so high throughout the country. I'm not surprised hearing an orchestra like the HR-Sinfonieorchester playing repertoire which they hold so close like Bruckner. After all you cannot ignore that in Frankfurt in the late seventies and eighties it went through a very important time with Eliahu Inbal who had unearthed the original versions of the Bruckner symphonies. Now we have all these early versions of the Bruckner scores available and tangibly easy to obtain which took Bruckner playing in a completely different direction. And yes the HR-Sinfonieorchester from Frankfurt play very beautifully.
MC: On a lighter note. Have you had any incidents with soloists that you can tell me about?
RC: Well I ensure that we always prepare well and fortunately things have gone smoothly and it has been only a pleasure working with soloists. Tomorrow we will play Strauss's Don Quixote, Till Eulenspiegel and some orchestra lieder with Matthias Goerner which will be a joy from first note to the last. We did the Maria Joes Pires with the Schumann concerto a couple of weeks ago and also Radu Lupu with the Mozart Concerto in B flat Major, K595 which was just dream like. [MC: Does he still have the mop of hair and the bushy beard?] Yes he does but instead of being black everything has gone white now [laughs], just like me… With regard to unfortunate incidents just two times in my life I had to stop the orchestra. The first was in a small German city during a Mozart piano concerto when I was a very young conductor. You see the pianist had a memory blackout and we had to stop and then start the concerto again. We got to the same point and again a blackout and then we started for the third time. That was an unforgettable experience. One time in Switzerland in Geneva I was conducting a solo violinist who was playing from memory and I had to stop because he had a memory lapse. There was no chance to go on as he had forgotten his part, so we stopped. Then we went back stage and he came back with the music and we started again from the beginning and the concert went on without any problems. So really there have been only two traumatic occasions when I remember things going wrong. Ah, yes, one thing that was very curious but at the same time very lovely was the only time I worked with Nikita Magaloff a very talented pianist playing the Stravinsky Capriccio in Rome. Magaloff was approaching ninety I think. He said to me "Riccardo if I forget something don't worry, keep going, I always re-adjust myself one way or another." So I thought "O shit, o my God what can I expect to happen." As a matter of fact he did miss a few notes but he was always able to catch up. He just wanted the assurance of knowing that I would keep going. So this was a joint venture between Magaloff and myself. It was just a pity he said it to me only thirty seconds or so before we went on stage [laughs] when the orchestra had tuned up and we were waiting to enter the stage. There was another time with pianist Maria João Pires that is slightly different and is widely watched on YouTube. She came to Amsterdam to play the Mozart Concerto in D minor, K466 and she only arrived at the dress rehearsal which was a public one. She can be seen at the piano putting her head in her hands as she was actually expecting to play the Concerto in E flat major, K271 the 'Jeune Homme'. She told me this whilst I was conducting the introduction and I didn't stop the orchestra. I said that I completely trusted her memory and she would be fine and I kept going. As soon as I finished the introduction she started playing perfectly, performing like a dream. She is a phenomenal master pianist and she performed marvellously.
MC: Playing with such elite soloists must really help your confidence?
RC:  Oh yes, I realise how fortunate I am to work with such excellent performers. Right from when I was very young I recorded the set of Beethoven piano concertos with no less than Alicia de Larrocha which were also very inspiring performances. Sadly Larrocha has been dead for five years now.
MC: How does your approach differ between the preparation to conduct contemporary music such as say Wolfgang Rihm and Luciano Berio to the traditional, standard repertoire?
RC: My approach is very similar because I consider contemporary music as classic too. A daily necessity so I don't approach it with any particular intellectual or different style of thinking. I treat Berio and Rihm like I would Brahms. That means first of all the same amount of rehearsal time, the same attitude to reach the deepest meaning of the music by rehearsing thoroughly with the orchestra. This orchestra is very open to modern music, very willing to know and understand modern music. Like all great orchestras in the world the Gewandhaus has this incredible perception, like antennae, after five minutes or so it understands if it is facing a great contemporary composition or a regular or not even mediocre contemporary work. In that is my role as chief conductor the person responsible to provide only good and rewarding contemporary music. There is a lot of contemporary music being written and as a chief conductor you have to be very selective. You are not God to be always right, but you have to feel the responsibility, to limit the possibility that poor quality music will be played. Just one month ago at La Scala I conducted the world premiere of a Rihm commission entitled Transitus and it was very well received. I consider modern music a must in the daily work of a conductor. That makes the point that we are not merely looking backwards, just reporting or regarding music as only from the past. I believe it's so important to play contemporary music. I have to make my selections of contemporary music very severely. I often get scores of modern music sent to me. I don't pretend to be the law but I know my own taste very well. What I like and what I don't like is completely instinctive. Opening the first page and looking to the last page of a score I will immediately get a sensation, a response that goes under the skin either pro or contra. It almost seems irrational; to me at least. Then rationality is the second step forward which is important in making it work. I always believe in my instinctive attraction first of all, which makes you feel that you would like to do that work. It is quite important for a musician to have an instinctive reaction.
MC: If you were conducting as a guest with an orchestra how does the rehearsal time work?
RC: Normally internationally speaking you would get four rehearsals plus a dress rehearsal, five in total. This is a standard amount of time that I feel very comfortable with. When I do something that is particularly demanding like the Mahler Eighth Symphony or the Schoenberg Gürrelieder then I ask for two or three extra rehearsals. If the orchestra management cannot provide it I think we should either abandon the idea of collaboration or abandon the programme and move into a more standard one. I know my own mind in this area from experience. The same goes for playing opera. I can never conduct opera without adequate rehearsal time; that is something I cannot compromise on.
MC: When conducting opera, how do you start preparing?
RC: With opera I start right at the beginning with the performers much before the orchestral rehearsal. I begin with a repetiteur as I am not as proficient at the piano as I would like to be. I'm there with the repetiteur so I can concentrate on the vocal part and we do days and days which add up to weeks playing together only the vocal parts. For me this is the only way I do opera, otherwise I'm not interested. You know the old Maestro Tullio Serrafin, the legendary assistant to Toscanini, wrote a book in two volumes about the interpretation of Italian opera. He talks about this thorough way of rehearsing, that you cannot consider yourself an opera conductor if you think of escaping or jumping over this type of opera preparation; if so you are merely a beater of time, which is a completely different conception.
MC: What about your associations with stage directors?
RC: Sometimes I do fight with directors and this is unpleasant because if you arrive at the point of fighting it means or proves that there has been no faith placed on what was discussed months or years earlier. – a faith from the production point of view that did not uphold what was promised to be. Then if it is too late to change things the tendency is to start fighting and having conflict which is very disagreeable. If a director changes something that has been agreed you either accept it against your nature or you have to leave; so it's stay or leave. You have to make the choice. This is a bad situation something that I have had the experience of in my career. I'm very careful about the opera projects that I accept.
MC: How important is the relationship between yourself as conductor and an orchestra management?
RC: Well, in La Scala now I will have Alexander Pereira as the new director general who is a very capable man, very well prepared, very much up to the job. We have had a lot of talks, sometimes discussions about directors because we are not always thinking in the same way. This means mediation between wishes and prejudices and other things. It is not an easy position. But we have an open way to discuss issues mutually. Sometimes he suggests directors that I don't know, so he arranges meetings with them to discuss our projects. This is the only way, I think, to see if we can get along. There is no written guarantee that we can get along and work. We will have a meeting with the director one year or so before a production and at our meeting see if we understand each other; if we do then we move forward. Just taking care of the music only does not interest me. If I have to face that prospect I would prefer to retire from the profession. Retirement can be very noble: very elegant in avoiding disasters. [laughs]
MC: Do you have to be mindful of maximising your audience when planning a concert programme for a season?
RC: In a way. The Gewandhaus in Leipzig is the oldest European orchestra with more than two hundred and thirty years of existence so the traditions of the past are rooted very strong here in his orchestra. You have to respect that tradition. Indeed you cannot ignore it. But at the same time you have to renew. So you have to renew your way of interpreting the great classics of the repertoire, if you are able to,. For example, the great Austro-German masters – Beethoven, Brahms, Bruckner, Richard Strauss – all this great line that the orchestra has followed. But always we must have a new, fresh attitude to the core repertoire of Bach, Mendelssohn, Schubert and Schumann. You have to find your own way but at the same time you have to bring in new music. It is very important and this is what we are doing with careful management.
MC: Rather than have a whole evening of new music do you prefer to place a new work in a programme alongside the security of repertoire staples?
RC: Oh, I think so, yes. When we come to the BBC Proms in London this September we bring the Ninth Symphony of Beethoven and will start with a short piece lasting around fifteen minutes by a composer called Friedrich Cerha. It was Cerha who completed Berg's opera Lulu. The piece is a commission called Parapharase on the opening of Beethoven's Ninth Symphony written in Cerha's own contemporary language. It's short but it's a great piece and for me – an example of combining classical repertoire with contemporary music. The paraphrase means that Cerha has incorporated elements of Beethoven's Ninth into the new work. I like this idea of using connected works together. I did this with five different Beethoven symphonies when we played them in 2011 in London, Vienna and Paris with commissions from five different composers from five different countries: Italy, England, Germany, Austria and France. It was a very interesting experience for me too. To commission the five composers to write a piece that they knew would be played prior to the Beethoven symphony.
MC: If you were to have a season concentrating on a single composer who would it be?
RC: I have used this concept in centenary years where I did not play for the whole year but did play a good deal of one composer. One was with Rossini and what might have looked excessive actually turned out to be pure joy, because Rossini is a genius so I never tire of his music. I played many pieces: the overtures, the Stabat Mater and the Petite messe solennelle in Rossini's arrangement for large orchestra. I played these over one season and I was very pleased with it and never tired of it. The same when we did the Mahler Festival here in 2011. Mahler is a composer who can be obsessive but he never overloads you. You always have space to work with the genius of Mahler. A short time ago we concentrated on Verdi's music who is another genius. You never get weary of hearing his music also. And now, specifically tomorrow, is the one hundred and fiftieth anniversary of the birth of Richard Strauss. I've been playing Strauss a lot over the last month and he deserves much more recognition and a position next to Mahler. I see Richard Strauss and Mahler as central to early twentieth-century music, together with Puccini. You see to me Puccini is the third great genius who belongs to the time of Strauss and Mahler. Each of these three geniuses has their own individual sound identity. You hear two bars of Strauss and it cannot be anyone else. Mahler is the same and Puccini the same too. Yes, for me they are the three masters of early twentieth-century music and are unbeatable. Then come the composers of the Second Viennese School: Berg, Webern and Schoenberg – but that is another story, far more complicated with intellectual ideas. From the spontaneity of the language and their own individual way of composing Richard Strauss, Mahler and Puccini are a far more magnificent trio and an outstanding combination.
MC: With it being his anniversary year owing to my reporting duties I have heard much Richard Strauss already this year including three concerts of the Alpine Symphony and several performances of Don Juan, Ein Heldenleben, Don Quixote and Till Eulenspiegel. In truth I was a touch fearful that Strauss fatigue would set in but I've loved every note.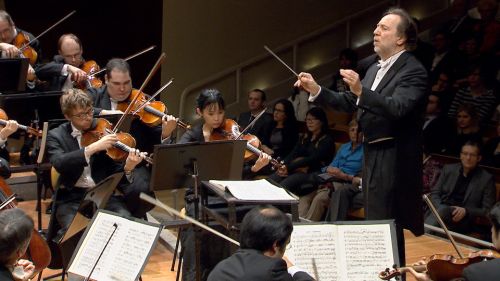 RC: You were at our Gewandhaus concert in Dresden yesterday and we played Strauss's Till Eulenspiegel. We tried to play it with emphasis on the way Strauss wrote it which means in tempo unico. There are no changes of tempo apart from only one, in the middle marked gemächlich, which means slightly slower and there is the theme of the viola, a wonderful kind of street song melody. [Maestro Chailly sings the viola theme] Other than that it is written in one tempo. We played it this way and proved that Till Eulenspiegel, like the Rite of Spring, is one hell of a piece which will never get easy to play. It's a short piece at around fifteen minutes but so difficult and yet so beautiful at the same time.
MC: When I was sitting in the audience listening to Till Eulenspiegel it sounded so splendid. But I'm sure audiences don't realise how difficult it is to pull off.
RC: No, they don't. Till Eulenspiegelsounds so joyful but the greater the orchestra the less you feel the difficulty.
MC: I realise you are more usually associated with the Austro-German classics but I was wondering which English composers you most admire?
RC: For me there is only one English composer and that is Benjamin Britten. I don't really play any other English composers apart from Colin Matthews whom I conduct quite a lot.
MC: And of course Colin Matthews worked as an assistant to Britten for a time. What about Elgar and Vaughan Williams?
RC: Elgar no. With Elgar I have to keep control of my emotions too much. Vaughan Williams I admire as a listener yes, but I don't perform his music. He writes such beautiful symphonies too. I think that I also like Delius a lot; he is a composer who interests me. There is another English born composer who fascinates me and that is Harrison Birtwistle, the composer of Earth Dances – such a huge piece. I have studied his music and Birtwistle could be a composer for the future but it is difficult music. But for me Britten is the finest English composer. I have been playing his delightful Simple Symphony and the Sinfonia da Requiem. I have also been studying the War Requiem which is a classic of the twentieth-century. I haven't performed it yet. I've planned it twice but for one reason or another it never materialised. But it is certainly a possibility for the future.
Michael Cookson