United States  Beethoven, Fidelio: Soloists, Harry Bicket (conductor), Santa Fe Opera, Santa Fe, New Mexico. 12.7.2014 (RDA)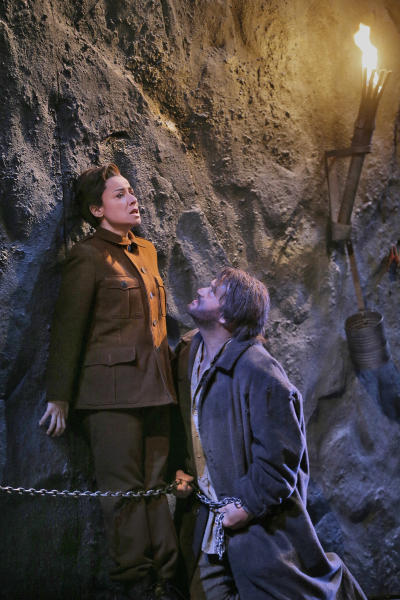 Cast:
Alex Penda (Leonore)
Paul Groves (Florestan)
Manfred Hemm (Rocco)
Greer Grimsley (Don Pizarro)
Devon Guthrie (Marzelline)
Joshua Dennis (Jacquino)
Evan Hughes (Don Fernando)
Joseph Dennis (First Prisoner)
Patrick Guetti (Second Prisoner)
Production:
Conductor: Harry Bicket
Director: Stephen Wadsworth
Scenic Design: Charlie Corcoran
Costume Design: Camille Assaf
Lighting Design: Duane Schuler
Chorus Master: Susanne Sheston
From the moment the Santa Fe Opera house lights dimmed, with a hint of sunlight still lingering above the surrounding hills, it was impossible not to be caught up in the drama of Fidelio, Beethoven's early opera. Though the final moments were impressive, with the sunburst of lighting designer Duane Schuler's stage lights bathing the stage, the performance itself served up mixed results. The fine principals and a wonderful chorus reminded me that opera is alive, well and even thriving in the hinterlands, notwithstanding the troubling news of contentious negotiations at New York's Lincoln Center.
Bulgarian soprano Alex Penda was a physically diminutive, hugely dramatic, vocally superlative Leonore, always attentive to details, completely convincing as the old jailer's apprentice boy. She was never better than in her Abscheulicher aria, which she sang with the abandon and fierceness listeners have come to expect from the great interpreters of this role. To that list her name should now be added.
A friend in Cincinnati shared his concerns over Paul Groves essaying the punishing role of Florestan. After witnessing the struggle of the ever-reliable tenor, the friend was right. In his dungeon aria, "Gott! Welch Dunkel hier!" Groves made it through the impossibly difficult final passage, and managed to his own in the encounter with Pizarro, and later, in the "O! Namelose Freude" duet.
The German basso Manfred Hemm was an affecting, effective Rocco. Devon Guthrie, as Marzelline, brought more voice than one might expect, and made a fine impression as a lovely, though conflicted young woman. Joshua Dennis (Jacquino), Evan Hughes (Don Fernando), Joseph Dennis (First Prisoner), and Patrick Guetti (Second Prisoner) were uniformly fine in their brief assignments. But it was Greer Grimsley, a world-class bass-baritone, who all but ran off with the show as a demonically coiled, tormented–-and tormenting–-Pizarro.
Chorus master Susanne Sheston prepared her group well for the stirring entrance in Act I, and later they shook the rafters in the finale of Act II. Harry Bicket led, firmly and freely, the Santa Fe Opera orchestra and singers.
The production, directed by Steven Wadsworth, was set in the final days of World War II, and did so with variable results, helped now and then by Charlie Corcoran's multi-tiered set and Camille Assaf's 1940's wartime garments. Several textual changes were made in Joseph Sonnleithner's libretto. In the resolution of the opera's final moments, a couple of Union Jacks were dropped over balcony railings and a platoon of RAF men arrested not only Pizarro but the hapless Jacquino and the ever-unlucky Marzelline, all causing unwelcome titters from the audience.
But in the end, notwithstanding directorial embellishments, Beethoven, justice, and love–plus a fine cast, chorus and orchestra–came through triumphantly.
Rafael de Acha