Germany  Bayreuth Festival 2014 (3) – Wagner, Siegfried: soloists, chorus and orchestra of the Bayreuth Festival conducted by Kirill Petrenko. Bayreuth, Germany. 30.7.2014. (JPr)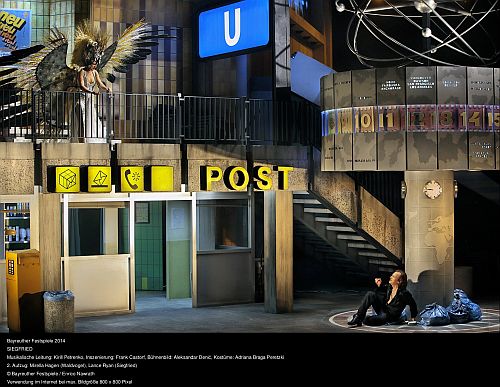 Cast
Siegfried: Lance Ryan
Mime: Burkhard Ulrich
The Wanderer: Wolfgang Koch
Alberich: Oleg Bryjak
Fafner: Sorin Coliban
Erda: Nadine Weissmann
Brünnhilde: Catherine Foster
The Woodbird: Mirella Hagen
Production
Director: Frank Castorf
Sets: Aleksandar Denić
Costumes: Adriana Braga Peretzki
Lighting: Rainer Casper
Video: Andreas Deinert & Jens Crull
When I arrived at the Festspielhaus there were so many people seemingly wanting to greet me, I couldn't believe they had all read my two earlier reviews and I was so popular. Sadly my ego was quickly deflated when I was told they were actually waiting for Angela Merkel who was making her first visit to this year's Festival. Heightened security inside the theatre, yes, but only one policewoman and one policeman to try and control the crowd outside – and Frau Merkel does not sit in a box but about a third the way back in the middle of the stalls!
After Texas and Azerbaijan we seem to have arrived in the DDR's East Germany. Siegfried lives with Mime in his Das Rheingold trailer, a large silver bullet shaped one that is beloved of Area 51 watchers in America's Nevada Desert. Again present was that gas station owner who seems to be a sort of 'Jiminy Cricket' type figure reappearing constantly in Frank Castorf's Ring. In Die Walküre he had been an oil worker and had also put himself into the cage where the turkeys had been. Now he came on almost immediately as Siegfried's pet 'bear' human – actually he goes on to be more bare-chested than bear! He is there helping and hindering throughout Act I. He seems to have a love of books, has a penchant for climbing in and out of the trailer windows despite being tethered by a rope all the time and mimics bellows and the hammer for Siegfried's 'forging'.
Siegfried and Mime live under an East German version of the Mount Rushmore National Memorial but instead of US presidents there are the huge heads of Marx, Lenin, Stalin and Mao … given Castorf's perversity I am surprised it was not Groucho but Karl! Perhaps Mime and Siegfried have been carving these figures out as they both give them an occasional tap with a hammer and I expected Siegfried's sword to shear off Marx's nose at the end but it did not. There was – as could have been expected – very little actual forging going on and Siegfried brandishes at the end of Act I a sword in one hand that has appeared as if by magic and what is probably a Kalashnikov rifle in the other. Siegfried is just a big bully prone to tantrums and kicking things over, Mime suffers his indignities with good grace and plots his persecutor's downfall with little of the usual shuffling, nodding and blinking. The Wanderer wanders in and wanders off and all credit to Burkhard Ulrich as Mime for beginning his Q&A with the Wanderer from the very top of the huge set.
Truthfully, Act I was a bit of a frantic mess and I enjoyed Act II on its own terms – which are that I never expect to see anything that could be familiar from the usual Siegfried story. We start again at the trailer overlooked by the four brooding heads and for some reason Alberich is pasting newspapers on it. The confrontation is not with Fafner as a 'Wurm' or dragon but he seems like a pimp dishing out gifts for his girls that 'work' Berlin's Alexanderplatz. I could forgive everything we saw in Act II because of the finest incarnation of the Woodbird I have ever seen and the chemistry the director creates between her and Siegfried. I can ignore the use of waste packaging instead of a reed pipe to try and mimic her calls because that causes the Woodbird (brightly sung by Mirella Hagen) to fetchingly put her hands on her ears. I nearly forgot to add that she was extravagantly costumed in gold and silver with large wings and lots of ostrich feathers just as if she was from a Mardi Gras.
Near the end after Fafner had been gunned down – we had been warned about this so that Frau Merkel did not feel the need to duck down below her seat – there was some wonderful comedy as the Woodbird and Siegfried keep missing each other before their final coupling at the end of the Act. At one point we see a large lumbering crocodile (the obviously fake sort that Johnny Weissmuller's Tarzan used to dispatch) and I cannot begin to explain the reason for this but if we can have rats in a Bayreuth Lohengrin why not crocs in Siegfried? Overall I found what I had seen in Act II was dramatically engaging and I could not understand why booing began with a vengeance as the curtains closed. I suspect people who had kept quiet before were showing off because Angela Merkel was in the audience since Frank Castorf's ironic view of Wagner was not any different than it had been before.
In Act III Wotan seems destitute (he will soon be seen to have no money to pay his drinks bill) and Erda is now a prostitute working Alexanderplatz. After having stormed off at Wotan's news she returns to proffer him some oral satisfaction shown in close-up on video (otherwise underemployed in this opera) and which is interrupted by Siegfried's approach. The ubiquitous non-singing character has been fussing about serving numerous bottles of wine and a bowl of spaghetti to the 'happy couple'. Once again there is much praise for Lance Ryan (Siegfried) and Wolfgang Koch (the Wanderer) who not only have their music to contend with but for their pivotal confrontation they are high up on top of the monument to communism. Siegfried breaks the spear with his hands, there is never a sword seen after Act I and he is more useful with a rifle or a dagger. Brünnhilde wakes up under what looks like a pile of refuse and Siegfried uses some discarded antlers for the 'Dass ist kein Mann!' moment. She never strays far from the front of the stage with very little clambering for her it seems and the opening of the climatic duet is played out fairly straightforwardly against a large projection of an outline drawing of the four historical figures.
Things now take a turn for the worse as we return to Alexanderplatz and Brünnhilde seems to lose the plot when she surprises Siegfried in an elaborate white wedding dress and they are menaced by a family of crocodiles waddling around them. One of the crocs temporarily devours the Woodbird who comes on stage shorn of her plumage but she is rescued by Siegfried much to Brünnhilde's consternation after having been deserted by him at the height of her passion. And so Siegfried ends in a competition between the boo-ers and bravo-ers before the singers (and 'Jiminy Cricket') and Kirill Petrenko appear to virtually unanimous acclamation.
Lance Ryan's hyper-active Siegfried begins fearless and fairly witless and isn't given the opportunity to gain much-needed enlightenment. The long part involves a great deal of upper-range, impetuous, heroic singing and Mr Ryan does not seem to have the biggest of voices; he shouts a lot when power is needed but mostly his singing was clean and honest and he took some opportunities to sing certain phrases more lyrically, as when Siegfried is alone in Alexanderplatz and wonders what his mother was like and who his father was. To his credit he is the first Siegfried I can remember who sounded fresher at the end than his Brünnhilde who has, of course, only come late into the opera.
There is always something endearing about Mime if he is as well sung as Burkhard Ulrich does here. We know he can only be the loser in the feisty exchanges with Siegfried or Alberich but despite being only marginally as clever as he thinks he is, Mime is captivatingly hapless whilst still being very dangerous.
Wolfgang Koch's Wanderer – whether tormenting Mime, ranting, brooding or challenging Siegfried – was sung with visceral emotion, chilling intensity and a continuous exemplary care for the words he was singing. Wolfgang Koch was especially gripping when he confronted his two nemeses, the wily Alberich, the stentorian Oleg Bryjak and weary 'goddess' Erda sung with resonant pathos in stilettos by the dark-sounding Nadine Weissmann.
In the last scene Siegfried finally learns fear, not from a monstrous dragon (because there wasn't one) or a crocodile … but from a mere (sorry!) woman, Brünnhilde, whom he wakes from the sleep her father, Wotan, placed her under in Die Walküre. Catherine Foster sang with a warm, penetrating sound but there seemed to be some choppy phrasing and I am not sure everything she sang came across as well as it might have. She brought across poignantly some of Brünnhilde's confusion as she copes with the loss of her divine status and realises nothing can protect her from Siegfried's love that she just about wins here.
The orchestra were as glorious as ever and Kirill Petrenko oversaw a fast and often furious account of Wagner's score that eschewed any heavy-handed interpretive agenda. This Siegfried clearly did sound like the scherzo in a four-part Ring symphony as the evening (ignoring Bayreuth's long intervals of course) flew by and because of a lack of nuance the music provided a perfect soundtrack to the vibrant – if often confusing – action on stage: I wonder what the German Chancellor thought of it all?
Jim Pritchard
Jim Pritchard will continue to review the Ring, as well as, Lohengrin in coming days from the 2014 Bayreuth Festival.