Stars in the Making 2: Michel de Souza (Baritone) interviewed by Margarida Mota Bull
MMB: Michel, first of all, as you come from Brazil and I from Portugal, do you prefer to do the interview in English or in Portuguese?
MS: Oh! Well, since you are Portuguese, let's speak it [he smiles widely]. Let's get cracking in Portuguese*.
 MMB: Very well. So Brazil doesn't strike me as a country with a great love for opera or operatic tradition, so what brought you to opera and why?
MS: I had a different education. I went to a Catholic school, which had a boys' choir and so my passion for music started there. We sang a varied repertoire in mass every Sunday: Palestrina, Victoria, Mozart, Schubert, Haydn and so my passion for the so-called erudite music was awakened there. It was also there that my passion for opera began when I did Carmen as part of the boys' choir. From then on, my musical life took flight. Later, I went to University but they didn't offer singing at first; so I studied organ and conducting. Singing happened at University because of my piano teacher who, at the time, used to say: "You have a good voice. You should be singing." So he introduced me to a singing teacher and that is how I started to study singing. One day, in the Faculty of Opera, they needed a baritone and I was the one. That was it! [He laughs]. The bug bit me and from then on, opera and singing took over my life and…Well, I turned opera singer.
 MMB: Have you had any influences in your life, meaning family or friends that led you to singing or was it really just your education?
MS: I think it was more my education. Having said that, my father liked music very much. He sang in amateur choirs but I think that the biggest influence was definitely the education I received at the Catholic school.
MMB: Is there a great baritone (past or present) that you look up to as an example of what you aspire to be or a source of inspiration?
MS: [He smiles]. Many! Working here at the Royal Opera House, we get the opportunity of rubbing shoulders with those great names. I would list a few though: Certainly, Piero Cappuccilli and then from the most recent: Dmitri Hvorostovsky with whom I had the pleasure of working with in La traviata; Simon Keenlyside, bass-baritone Bryn Terfel…Wow! So many!
MMB: The Jette Parker Young Artists Programme is one of the most prestigious in the world. What did it mean to you to enter the JPYA programme and what do you think it will do for your career?
MS: For me…it was…[He pauses; then smiles widely]. Well, in the first instance, I didn't believe it! For me, it was already quite an achievement…I mean, it already meant a lot when I went through to the final. So I talked to myself and said: "Well, I'm not going to put my hopes up because getting to the final it's already something big, something great and wonderful." But then I got it! And the programme has brought me the opportunity of working with the greatest in the world. That's the main thing it has given me. I've just finished doing Tosca with Plácido Domingo, Bryn Terfel and Roberto Alagna. I never dreamed when I left Brazil, coming from my background, that I would be able to achieve this level of excellence. Besides all these chances of working with the greatest artists on the planet, I have been on stage non-stop ever since I entered the Royal Opera House in 2012, which gave me an incredible vision and a fabulous opportunity of improving myself in all aspects of opera and its programme [the JPYA's programme]… – judging from some colleagues who have been to other programmes, like the Metropolitan Opera's and others – I think this is most definitely one of the best in the world because of all the support we receive, all the opera disciplines and not only singing, I'm talking about movement, theatre, languages – there's a lot of emphasis on all the languages here at the Royal Opera House – and all that continuous support from people like Antonio Pappano, Plácido Domingo and other great operatic names who come here as guests and we have the opportunity of working with them.
MMB: You were the cover for Mariusz Kwiecień in the title role of Mozart's Don Giovanni. Did you actually get to replace him on any night?
MS: Unfortunately, no! But I was on stand-by twice because he was not a hundred percent but in the end, he is very strong, he's a very strong singer with great health, which is very good! But, anyway, it was still a great pleasure because I did the first week of rehearsals as Mariusz had a problem and couldn't come. It was just after New Year. I was in Germany; I went there for Christmas and received a phone call: "You must return earlier because Mariusz is not coming for the first week of Don Giovanni rehearsals." So I returned and for me, it was a fantastic experience. It was a new production, I worked with the first cast and I had the opportunity of experiencing the role, which was great.
MMB: What did you think of the role and its acting and singing demands?
MS: It is a very difficult role. It's very challenging because if you're not careful, you will generally play it one-sided. But Don Giovanni is not just one side. He is not only the conqueror of women, the philanderer, the self-confident, self-centred man, he is also a human being; he's a complete human being and so you have to explore all those aspects of Don Giovanni. I'm talking about his vulnerability because he is also vulnerable; all this must be shown at the right moments. If you're not careful, he becomes very one-dimensional. It's that thing: muscles, masculinity, testosterone! But he is not just that. A human being has many sides; a human being is complex so, from the point of view of the character, it makes it difficult to portray. From a musical perspective, it's extremely challenging, very demanding because it is the leading role but in the three arias that Don Giovanni sings he's never Don Giovanni as such. When he sings the arias, he's always disguised as somebody else and so it becomes more complicated to express what he is. It is definitely a very complex role.
MMB: So did you like it?
MS: [He smiles]. Oh! Yes! Yes because it's a challenge but it's like this, it hasn't finished. What I mean is that it was just my first contact with the role. I believe that as my career develops, I'll do several Don Giovannis and other things will be added, ideas, concepts will change and that what's enchanting about my profession, about being an opera singer. Even when always playing the same parts, we always have the opportunity of changing, changing our ideas, of making mistakes and of trying to be right again.
MMB: You performed in Francis Poulenc's Dialogues des Carmélites on 7th June. I mention this particular date because I was in the audience. You had a small role as Second Commissary but what did it mean to you to be involved in such a powerful piece?
MS: It was the experience; a new experience again which is always a fantastic thing to happen. Then working with Sir Simon Rattle [he smiles] who has been my idol since I was a teenager. I still remember the day when I bought his recordings of Beethoven's Symphonies. So, on the first day of rehearsal, when I walked in and saw Sir Simon Rattle in front of me, I went: "Oh! Gosh! Wow! It's really him!" [He laughs]. But actually, it was very easy to work with him because he is a fantastic person. He is a marvellous musician and a wonderful human being and so it was easy and lovely to work with him. To work in Les Carmelites…well, it was quite something. It is a very special production. I got the DVD of the production and watched it. It is a production full of small details, very profound. The opera…the story is very philosophical and to be a part of it was very important for me because, as I've mentioned before, just being on stage with people like Thomas Allen, Sophie Koch, you learn; sharing the scenes with such people, observing them is so enriching and they are all extremely generous as colleagues. Even if you have a small role, like mine, I never felt that I was a small role because those people made a point in embracing me and making me a part of the cast. I never felt that they were snubbing me…because, you know, he's just doing a small part. No, never. And especially the great names are very, very generous and always go to great lengths to include you, to make you feel that you are a peer, one of them too.
MMB: Some people say that baritone roles are less specific than tenor roles and therefore a baritone can spread himself much more across the range of composers. What do you think? Especially bearing in mind baritone roles in Mozart, bel canto of the 1st half of 19th Century and then Verdi, Puccini, Verismo?
MS: I think that, in the first place, it depends on the size of the house where one's singing; then the taste of the casting director and then the other members of the cast. For example, sometimes I hear someone singing Puccini and I think that he doesn't have the colour to sing Puccini but it's a subjective matter. I think that I am lucky on the one hand because I have a lot of flexibility in my voice and I can sing many different composers and parts but, on the other hand, it makes it very difficult for me to decide what to offer in an audition for example. So, at the moment, I am learning what my strengths are and therefore, what is best for me to present in an audition. Having that palette of possibilities is sometimes a disadvantage because you can lose yourself. I was talking to another baritone, older than me, already in his forties, the other day, and he said the same thing. He said: "I got myself lost many times. I couldn't obtain certain parts via an audition because I offered a wide variety of features. I wasn't specific." The lack of specialisation can be a positive aspect for a baritone for example if you are going for a Fest Contract, the house interested in hiring you will think, ok, he can sing Verdi but he will also be able to sing Mozart and bel canto, so then the flexibility in the voice and the lack of specialisation are good. But, on the other hand, it may happen that, during an audition, people will be unable to place you somewhere. So, yes, it may be truer for baritones that we need to be very careful in the way we present ourselves and what we can do best. So, at the moment, I am trying to find out what would be the best repertoire for me and to then attempt to stick to it.
MMB: At this year's JPYA Summer Performance, which I will be reviewing, you are going to sing the role of Guglielmo in Mozart's Così fan tutte. What challenges do you face with Mozart in general and the role of Guglielmo in particular?
MS: Oh! Look, I must confess that Così fan tutte is not my favourite Mozart opera. I always had a blockage regarding Così because I think the story is…is…
MMB: Stupid?
MS: Yes, totally! That's it. [He laughs]. So the story has always made me stay away from the opera but when I was offered Guglielmo, I first started by studying the score and the music is absolutely brilliant. So my first step to prepare for Guglielmo was musically, to listen to the music without thinking about the text; without thinking about what was happening and so I just fell in love with the music. The text…well, it was very interesting because at first I completely and decidedly resisted it, telling myself: "I don't believe it! What a ridiculous scene!" And so on but after a session that I had with Kasper Holten, he gave me another vision of Guglielmo. "Look, Michel," he said, "you can't take the scenes literally. Così's story is not literal." And so we explored the character of Guglielmo and left his innocent side behind. I realised that I was being one-dimensional and looking at Guglielmo in a single-sided manner like people often do with Don Giovanni, as I said earlier. So Guglielmo is not only that silly guy, he has a darker side. He could be a future Don Giovanni, a young Don Giovanni, which made the character a lot more "savoury", colourful. So that was my first challenge: To build a convincing character – And I hope I did it [he smiles] – and so understand him better and not only looking at the plot as a cheap comedy but as something with more depth. Musically, Mozart is very transparent. For example, if you're singing Puccini, the orchestrations are so big, there are so many colours that if you don't sing so well or miss a note, you'll probably be able to get away with it. But with Mozart it either is or is not! Either you sing it very well or you don't! So as it is very transparent, I think Mozart is extremely difficult to sing; very challenging technically, vocally because his music is so transparent and any layman can notice if you are not well prepared. If Mozart is not being sung perfectly, a person doesn't need to know anything about opera to perceive that something is wrong with your singing but the music is simply genius.
MMB: I couldn't agree more.
MS: [He laughs]. Good.
MMB: How long have you been with the Jette Parker Programme, just as a matter of curiosity?
MS: Two years. The Summer Performance on 20th July will be my last one.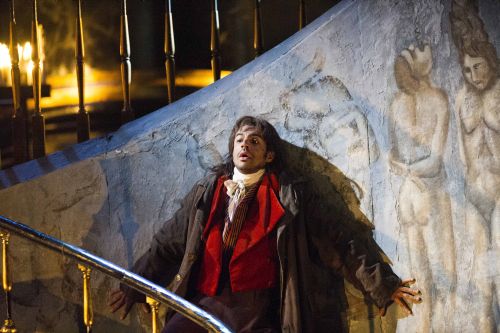 MMB: I looked at the information about you on the ROH website and I must say that for such a young artist, your curriculum is already very impressive. Then I checked your own website and I found out that before joining the Jette Parker Young Artists Programme, you were a member of the Emerging Artists Programme at Scottish Opera, where you sang roles like Escamillo in Carmen, Forester in The Cunning Little Vixen; Prince Andrei in War and Peace and Count Almaviva in Le nozze di Figaro. Looking, for example, at Escamillo, which has to be one of the sexiest baritone roles in opera, what did it mean to you to sing such a role and then perform another great role in singing terms but portraying a character, who is really not very nice, meaning Count Almaviva in Le nozze di Figaro? What were the challenges of both roles and how did you prepare for them?
MS: [He laughs]. Well, to start with, I like to play those "not so nice" characters. They are a different kind of challenge; they demand much more and intense research. To start with, they demand a physical research and by this I mean…For example, here at the Royal Opera House we have a movement coach and she is fantastic; so the first thing I tend to do – and for that the movement coach is essential – is to find out how such characters, such villains walk and move. I was very inspired by Bryn Terfel when he sang Scarpia here [at the ROH]. I think it was about three years ago or so that I watched Tosca on TV with him and I noticed that he didn't do much physically but there was something that grabbed me and I couldn't explain it. It got me thinking, what is it? What is it that grabs my attention in that manner? So I found out that it was the way in which he walked and when he simply stood. He doesn't do much but it's the form in which he stands there, like he is planted on the ground, the energy, the weight of his physical presence. And so this type of character, they are first a physical challenge. I'm thin and so I don't have the gravitas that very tall, muscled people have. So then I must search for this centre, I mean I must learn how to be grounded, planted on the floor. But on the other hand, there is a lot more to it than that, like for example, Count Almaviva is also suave, seductive. So there has to be a balance between that powerful physical presence and that light seduction aspect. Because, you see, I believe that many psychopaths are extremely charming, seductive because otherwise they would not manage to seduce their victims. If they were just strange, weird, monstrous beings then people would immediately notice and stay away. So for me those villains, those despicable characters are also very seductive and so fascinating to play. That's the way I see the devil in Faust, for example, he's not that creature with two horns, no, he is a man, a very handsome, well-dressed, perfumed man who seduces and so grabs the victims. It is that side of the "not so nice" characters; that sophisticated side which is a challenge and that fascinates me. When you have the right professionals all around you to help you build up such a character, then it is the most fascinating, charming work you can imagine.
MMB: You have sung German Lieder, French chansons and Brazilian songs. Technically, what do you think is more difficult? Opera or Lieder or chansons?  
MS: Well, I think that for me, singing Lieder or chansons is more difficult than opera.
MMB: Why?
MS: Because then I don't have a costume or make-up, I don't have lighting, a conductor, a director and other colleagues to share the performance with me. I always say that performing chamber music, Lieder, chansons is like being naked on stage. It feels completely vulnerable because it's just you, a pianist and the audience. I wouldn't say that the research has to be more profound or greater than in opera but the communication is much more profound because if one is telling a story, one doesn't have all the other elements that an opera has to help you tell that story. So for me, it is much more difficult than to tell a story with the help of settings, lighting, costume, orchestra and so on. Vocally and technically, the colours are just found between you and the pianist. It's frightening. I must confess that I get much more anxious before a recital of Lieder or chansons than I do before an opera. It's a big challenge. There's a lot of text; there's also the understanding of all that text; it's the musical work with a pianist, which is a very intimate type of work; there's the exchange and discussion of ideas. All that is very challenging. For example, I don't believe that a pianist of Lieder is just an accompanist of the singer, no, it's two soloists who share the same stage. So you cannot have the attitude of the opera singer in inverted commas, you know the divo, who just says to the pianist: "You go with me; you accompany me." No, no, no, it cannot be like that. It's chamber music so it's to divide, to share; it's the same as if it was a string quartet or a piano and a cello or a violin. It is not accompaniment. The two – the singer and the pianist – are equally important. When you do Schumann, Schubert it's like that; it's two soloists and sometimes, the singer turns into a bit of an accompanist as well in certain songs. So I think it's an enormous challenge, first to understand the poetry of the 19th Century, which for us is totally out of touch with reality and so you have to try and think with a head from that time; then there's the language, German. I find German extremely difficult. With French, Italian it's still Latin so we as Portuguese speakers have a certain connection to it. German is very difficult and not just the language; it's a completely different type of culture and a totally different musical tradition. So to understand the verses in Lieder is, for me, an enormous challenge and always the most terribly difficult thing to do.
MMB: What about the Brazilian songs?
MS: The Brazilian songs…[he smiles], well, there's first the natural instinct because that's what I grew up with, especially the songs inspired by the Brazilian folklore. Unfortunately, in Brazil, we don't have a very strong tradition of Brazilian "art song". We have the popular Brazilian music, which naturally influences our "art songs". I do have a project, which I hope to be able to carry out, with Brazilian songs to reveal them a little, especially here in Britain but also in Brazil because, unfortunately, the Brazilian art song is a much neglected repertoire. Here, it is obviously the fact that Portuguese is a more exotic language but in Brazil it should not be neglected. So I want to try and use the momentum of the Football World Cup and the Olympic Games, which put Brazil on the map, and make something that will interest that generation of young people in my country, alongside the sporting events. I want to promote, both in Brazil and outside, this art, which is so much influenced by Brazil's folklore and popular music so that people can see another side to the country, which is not just samba or Carnival. Brazil is huge. We have songs from the Brazilian Northeast, from the South, etc., which have totally different influences from the ones of the samba from São Paulo or Rio de Janeiro. So I think it would be very interesting if I could present a little bit of the Brazilian song treasure in this country.
MMB: Following from that and as a Portuguese speaker, have you ever thought about singing typical Portuguese songs, from Portugal, like the fado from Coimbra, for example?
MS: It's interesting that you mention that. You know, I have lots of Portuguese friends here in London. I only have two Brazilian friends and most of the others are all Portuguese and then, you know, I adore Portugal. Last summer, I spent three weeks in Portugal and it was like going home but with just a two-hour flight, which is great [he smiles and speaks Portuguese with a Portuguese rather than his natural Brazilian accent]. So, yes, without a doubt, I would like to sing those fados. I would have to call my Portuguese friends because they say that I don't speak proper Portuguese [he laughs] so that I could learn the Portuguese from Portugal.
MMB: No, you speak very proper Portuguese, just with a Brazilian accent, which is actually quite pleasant to the ear, also for the Portuguese people.
MS: [He smiles]. Thank you.
MMB: There's something that I noticed when I heard you sing in Dialogues des Carmélites and on some video clips in the internet both in French and Italian. You have an excellent diction when singing. It is very clear and your pronunciation very correct. Is this something you concentrated on during your studies or is it just natural to you?
MS: It was always something that I concentrated on. When I was a child, I was very shy and so I spoke too fast and in a very low tone, almost a whisper because I didn't like people to notice me. Also I have or had an extremely strong accent from Rio de Janeiro, which doesn't help much for singing. The "Rs" scratch your throat, they're all in the French style, and the vowels are not pure, they're sort of chewed and so I needed to work hard on it and then, of course, there's the continuous language challenge. As foreigners living in another country, we need to make an effort to speak the language correctly and when you're singing you really have to try to get rid of your accent whatever it might be. You must try and sing accent free. I'm very privileged here at the Royal Opera House because we have some of the best linguistic coaches in the world. So the work is very hard and continuous. To pronounce French words correctly, for example, you really must learn how the muscles move. Italian is easier because of the similarities with the Portuguese but exactly because of those similarities, there's a danger that you relax too much. You understand the text and then suddenly, there it is, you're using Portuguese rather than Italian and so it becomes a challenge. But, with German…Oh! German is really challenging because of the moving of the muscles when pronouncing a lot of consonants; then there's Russian, which has totally different vowels. So it's a lot of work and it's a daily work but I think it's like an athlete exercising their muscles, meaning that your muscles must get used to those very different sounds because they are muscles which in Portuguese we probably do not have to use. So to develop all that is hard work. It's like going to the gym.
MMB: Some people say that opera has no future and that it is an old-fashioned, irrelevant art form. What do you think? What would you say to them?
MS: I think that's a completely wrong idea. I think there is a big prejudice against opera. In the first place, the preconception that opera is for rich people. That is just baloney! Total nonsense! That doesn't exist! I think that people don't go to opera often because they do not have access to it; because they don't understand what is happening and there are some people who think that opera should be elitist but I don't think so. In Brazil, I had the opportunity of working with children. I had a choir with about eighty adolescents from all social backgrounds and many of them came from the outskirts of São Paulo, so from very poor areas; some of them didn't even have enough money to pay the bus to come and rehearse. Sometimes, we took our own money and gave it to them so that they could come and rehearse with us. But it was extraordinary to see how they all loved what they were doing. And why? Because they all participated in operas, in symphonic concerts and they brought their families and it was a new world. I think that what's missing are projects that bring those people to opera and explain what it is, how it is and all that. Here [in Britain] is different. Here, there are a lot of great things and at the ROH, there's a fantastic education department with school matinées where they develop the audience of tomorrow, so to say. Scottish Opera also has a very interesting education programme. It's the two companies that I've worked closest with and I could see that. So what I think is missing is such projects that bring people in and explain to them what is an opera, how does an opera function. An opera is no longer that image of the fat singer, with a Viking helmet or something, screaming for three hours on stage. That's a thing of the past. That's all gone. Today, the demand on us is big, also physically because you cannot be huge and fat. You must look the part. You must fit the character. If you are a bad actor and don't look the part, people don't buy it anymore. Opera is in the cinema, the cameras are here, close to you! Your face gets this big [and he makes a gesture with his arms and hands] on a cinema screen. People need to be told this. Many people don't know, so the prejudice remains. I think that from the moment that people start understanding what opera is and have more access to it, things will change and besides, the music…Well, the music touches you. The music just speaks for itself, I believe.
MMB: So finally, [he laughs as I say this] two questions: Where do you see your career go next; do you have any plans for the future? And how do you relax in your free time?
MS: Well, as soon as I've finished the Summer Performance, I will be going to Geneva, to the Grand Théâtre de Genève. I have a one-year contract with them and I will be dividing my time between Geneva and London. Then, later in the summer, I will return to England to work with Grange Park Opera where I will be doing Samson et Dalila and various concerts. Then there's the CD project, if it happens, it's not certain yet. It's just on paper but I hope it will come to be. So that's all I have for the next season: Geneva, Grange Park Opera and concerts. In Geneva, I will be doing Rigoletto, Eugene Onegin, La Grande Duchesse de Gerolstein and Iphigénie en Tauride.
Now, how I relax? Well, it's difficult because it's like this: Since I've been with the Royal Opera House, it's just crazy! Running from production to production but I really like listening to music – it's a way of relaxing – and reading. So when I have some free time, I try to read, to listen to music, to swim, weather permitting, of course, and then the cinemas and the parks and the cultural options of London. I'm talking about the museums, especially, those free museums, like the Victoria and Albert for example, which when I have a brief hour, I always visit. London has a lot of options and I would like to have more spare time to enjoy all of those options but I am not moaning. I think that to be an opera singer, especially a young opera singer, who can say that he is busy all the time, it is an excellent sign.
MMB: Indeed, it is. I agree. Well, we've reached the end of my questions. It was a real pleasure talking to you.
MS: It was my pleasure too. Thank you for interviewing me.
MMB: As I said, it was very enjoyable. Thank you for agreeing to do this.
Margarida Mota-Bull.
*The conversation with Michel de Souza was carried out in Portuguese and faithfully translated into English by Margarida Mota-Bull.