Spain Dallapicola: Il Prigioniero; Puccini: Suor Angelica, Liceu Symphony Orchestra, Edmon Colomer (conductor), Gran Theatre del Liceu, Barcelona, 27.6.2014 (JMI)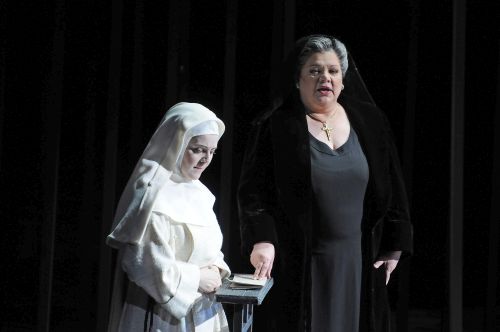 Coproduction: Barcelona's Liceu and Madrid's Teatro Real
Casts: 
Il Prigioniero
Prigioniero: Evgueny Nikitin
Mother: Jeanne-Michèle Charbonnet
Jailer/Inquisitor: Robert Brubaker

Suor Angelica
Suor Angelica: Maria Agresta
Aunt Princesse: Dolora Zajick
The Abess: Gemma Coma-Alabert
Sister Genevieve: Auxiliadora Toledano
The Monitress: Marina Rodríguez-Cusí
The Mistress of Novices: Itxaro Mentxaka

Production:
Direction: Lluis Pascual
Sets: Paco Azorín
Costunes: Isidro Prunés
Lighting: Pascal Mérat
The opera season in Barcelona has come to an end with this double bill consisting of Il Prigioniero and Suor Angelica. It is a coproduction with Madrid's Teatro Real,  where both works were performed less than two years ago.
Il Prigioniero is rarely performed. It's not of great importance to many musicologists, nor is it particularly appreciated by the average opera goer. On the other hand, it does seem appropriate that the opera has finally reached Barcelona, where it has never before been done.
 The production by Lluis Pasqual uses the same set for both operas: a rotating stage in the form of a prison with bars and stairs. The action moves to modern times, and the prisoner's form of execution is changed to a lethal injection. In fact, the setting works very well for both operas since the convent is also a form of prison for Suor Angelica, who has been forced into taking the veil. Mr. Pasqual's direction was very efficient, and I think it was a good idea to place the chorus of angels on the first floor of the theatre.
 The musical direction was entrusted to Edmon Colomer; he replaced Josep Pons, who was originally announced. Colomer is not a frequent conductor in opera houses, and his work was uneven. On more than one occasion there was excess volume from the pit, and his reading of Puccini was rather short of emotion. The Liceu Orchestra gave a fine performance.
Il Prigioniero was sung by baritone Evgueny Nikitin. He was good in the role, although he had more problems than usual projecting his voice to reach the audience. I remember him as a more powerful baritone, but the volume from the pit didn't help.
 Jeanne-Michèle Charbonnet was well-suited to the role of Mother. Her biggest problem often lies in the upper part of the tessitura, but here there were no such issues since Mother is written for a mezzo-soprano.
 Robert Brubaker was a luxury comprimario in the characters of Jailer and Inquisitor.
As for Suor Angelica, we had an excellent interpreter of the character: soprano Maria Agresta, who is among the most exciting singers of today. Her voice is very beautiful  ̶  she is one of the best full lyric sopranos around.
 Dolora Zajick was a real treat in the voice of La Zia Principessa. In terms of volume and intention, her performance serves as a reference for other interpreters.
José Mª Irurzun