United KingdomGilbert & Sullivan, The House of Murgatroyd or Ruddigore Revisited: The New York Light Opera Ensemble,Harrogate G&S Festival, The Crown Hotel, Harrogate, 11.8.2014 (RJW)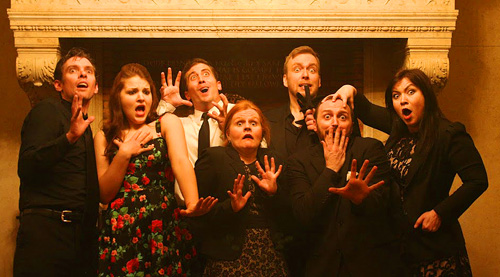 Cast:
Rose Maybud / Rascal … Jessica Wagner
Mad Margaret, / Rascal … Cáitlin Burke
Dame Hannah / Rascal … Bridget Harvey
Robin Oakapple / Rascal … David Macaluso
Richard Dauntless / Rascal … Carter Lynch
Sir Despard Murgatroyd / Rascal … Daniel J. O'Brien
Sir Roderic Murgatroyd / Rascal … Matthew Wages[break]
Production:
Director … Ken Urso
Musical Director … Vince Carr
Once in a while we come across a theatre presentation out of the ordinary and only a Festival is able to expose it. Full marks then for the Harrogate G&S Festival for having provided the facility to stage this extraordinary event.
The Light Opera of New York Ensemble are a seven strong troupe who need to be congratulated for having provided one of the most original and zany production of Ruddigore since Halas & Batchelor produced their 1964 cartoon.
This 'gothic horror' presentation might be likened by some to a meeting of the Addams family with Kenny Everett: all good fun and delivered 'in the best possible taste' . It was funny, fast moving and condensed the dialogue to only those scenes that advanced the plot, and Ken Urso has to be congratulated for his inventive production. Most of Sullivan's music was retained, yet two numbers with fitting lyrics from Gilbert's first folio of plays were added and set to new music by Vince Carr in the style of Sullivan which fitted well. The performance was slick, the interpretation fresh and the amusing situations were visually clever.
The action opens with spooky sound effects and a scene of backstage clutter of costume baskets, make-up tables, open picture frames and a loosely hung backcloth (which doubles as a sail for an on-board scene on Richard's boat, the HMS Tom Tit). A pair of property ladders are moved around to mark boundaries of the stage acting areas and at one point provide the bow of Richard's boat on which he meets Robin Oakapple.
All performers are excellent singers; David Macaluso a velvety rich baritone,  Matthew Wages a resonant bass, and Jessica Wagner entrancing with her 'If somebody there chanced to be'. Jim Becker's exacting choreography was meaningful and carried out with well-rehearsed precision. To have utilized the properties to provide imaginary yet convincing settings for Reddering, on board boat, a graveyard and a haunted picture gallery was theatre art at its best.
It was a pity that the Crown Hotel's stage was somewhat limiting since despite having a proscenium arch. The lighting could have helped provide an atmosphere had there been provision for saturated blue circuits and an odd gobo or two. There was much to admire and soak up in the fleeting moments of exposure to comic gestures and asides. The use of large moonlike heads and clumsy hands on sticks (behind black cloaks) was superb. It mocked the Victorian melodrama, but greatly enhanced the enjoyment of this production.
The quality of singing with Vince Carr's vivacious accompaniment, made this a show to remember. The part singing of the madrigal was particularly well balanced, and Mad Margaret's eccentric acting brought extra touches of comedy. Seeing another Ruddigore will never be the same again.
Raymond J Walker