United Kingdom Cole Porter, Anything Goes: Maria Friedman, Jenna Russell, Graham Bickley,  Clive Rowe, the Royal Philharmonic Concert Orchestra, Royal Academy of Music Musical Theatre Company Chorus / Richard Balcombe (musical director). Cadogan Hall, London 20.8.2014. (JPr)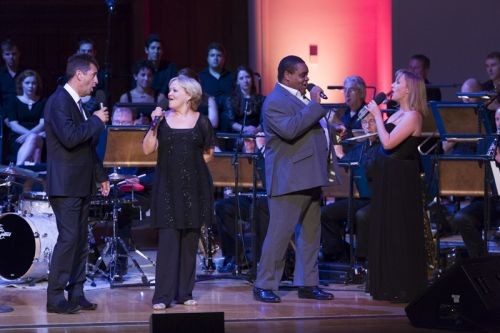 Cole Porter was America's quintessential twentieth-century sophisticated songsmith and as his biography in the printed programme began, 'A gifted composer and lyricist, Cole Porter created songs like "Night and Day", and the music for Broadway shows such as Anything Goes and Kiss Me, Kate, and movies including High Society.' As musical director, Richard Balcombe, announced it is mostly only these musicals he is remembered by. Thankfully, many other wonderful songs have had a life of their own over the years and become evergreen standards even though the shows that spurned them are long forgotten, such as, 'Miss Otis Regrets', 'I've Got You Under My Skin' and 'Every Time We Say Goodbye'.
Let us consider that last song in particular remembering how Porter famously said writing lyrics 'is like doing a crossword puzzle'. Here a small number of internal rhymes ('I die', 'I wonder why', 'in the know', 'allow you to go', 'no love song finer', 'from major to minor') help to lift the mood of a sentimental lyric that otherwise might be too downbeat. With 'Every Time', Porter produced a song redolent of with the emotional ups and downs of everyday life and – as Maria Friedman did nearly perfectly – the singer needs to create the right mood and avoid bathos.
Cole Porter not only had to match improbable rhymes with catchy melodies in a single song but also conjure up several shows' worth of them over four decades. The 23 songs we heard exemplified Porter's talent and were a testament to his longevity in musical history and a reasonably fitting tribute as we near the 50th anniversary of death in October. The lyrics and music had all the effervescent wit and innate charm, humour, sophistication (the word most frequently used to describe a Porter song), rhythmic and key changes you would expect. Perhaps hearing so many of them together what they perhaps do lack – despite several obvious subtexts – is sufficient emotional depth at times; though this was probably because he had to pander to an audience who wanted to leave the theatre whistling feel-good tunes.
We did hear Cole Porter's most wryly poignant song 'Miss Otis Regrets' that reveals his true genius because it was written after he was challenged at lunch to write lyrics from the next words he heard … and it was those that are its first line. As recounted by her servant; after being seduced and then abandoned, Miss Otis hunts and shoots the man responsible before being arrested and taken from the jail by a mob and lynched. It was given a beautiful, bittersweet performance by Jenna Russell (soon to return to the West End in the musical Urinetown). This was eloquently accompanied by the Royal Philharmonic Concert Orchestra and featured some lyrical pianism from Andy Vinter who excelled here and elsewhere during the show.
Sadly no one told the mainly elderly audience the anecdote about 'Miss Otis Regrets' or any of the other stories about Cole Porter and the songs we were hearing. What we got was a pleasant reminder of why Cole Porter is remembered as a colossus of American musical theatre but presented in the style of a cruise-ship cabaret. Not that there is a lot wrong with that but it lacked the 'sophistication' that Cole Porter's songs have in spades. There was too much – occasionally confused because this was the first performance – toing and froing for the singers when all they needed were armchairs at either side of the platform to retire to when not involved. Also there was the garish lighting and over-amplification that seems obligatory for such events. Did the volume need to be cranked up so much – especially at the start – considering the relatively small size of the venue and the orchestra playing in such super 'Big Band' style with rampant percussion and flamboyant brass under Richard Balcombe's experienced direction.
The Royal Academy of Music Musical Theatre Company Chorus were by their very nature the youngest people in the Cadogan Hall and were drowned during the opening 'Another Openin' Another Show'from Kiss Me, Kate but excelled later in their own 'solo' 'Be A Clown'as well as occasionally backing some of the other songs such as Graham Bickley's refined 'Night And Day'. This was his best moment and although he did nothing particularly wrong I found him a little too bland for those songs needing a sense of character such as 'Where Is the Life I Led?', 'Well Did You Evah?' and 'Brush Up Your Shakespeare' when he was overshadowed by the irrepressible Clive Rowe. For me he was the star vocalist from a wonderfully jazzy version of 'Too Darn Hot' to a swinging 'I've Got You under My Skin' and a joyous 'You're The Top' duet with Maria Friedman. Jenna Russell seemed to be given the more reflective songs to sing and impressed as much with another lament 'Down In The Depths' as she had with 'Miss Otis Regrets' but seemed to enjoy being more exuberant when given the chance, such as, in her uplifting duet 'Friendship' with Clive Rowe.
Maria Friedman is – as explained in the programme – 'one of our most successful leading ladies'. My problem was that I still cannot get out of my head the wonderful Mrs Lovett she sang in 2007 at the Royal Festival Hall  and she is peerless with any song involving personal drama. Perhaps it is just that Cole Porter does not give her the opportunities to do what she is best at. Wonderful as she was in a languorous 'Begin the Beguine', a tender 'Love for Sale' (originally banned because of its subject matter), a stomping 'Blow Gabriel Blow' and a happy 'Let's Do It' with Graham Bickley; Maria Friedman sang with obvious joy in her heart but also an uncluttered dispassion.
Jim Pritchard
Anything Goes continues until Saturday 23rd August 2014. For more information about events at the Cadogan Hall visit www.cadoganhall.com.