Germany  Bayreuth Festival 2014 (6) – Wagner, Götterdämmerung: Soloists, Chorus and Orchestra of the Bayreuth Festival / Kirill Petrenko. (conductor), Bayreuth, Germany. 30.4.2014.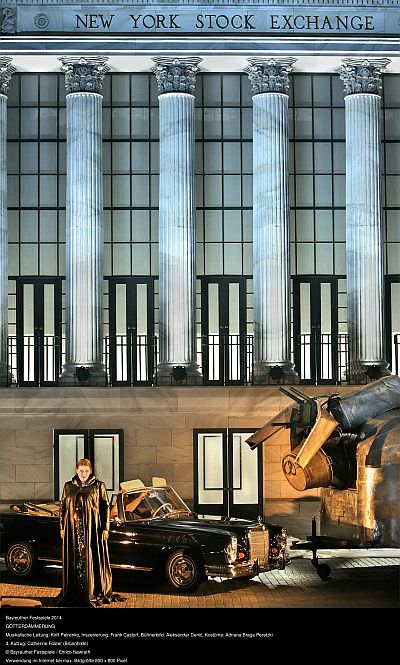 Cast:
Siegfried: Lance Ryan
Gunther: Alejandro Marco-Buhrmester
Alberich: Oleg Bryjak
Hagen: Attila Jun
Brünnhilde: Catherine Foster
Gutrune: Allison Oakes
Waltraute: Claudia Mahnke
First Norn: Okka von der Damerau
Second Norn: Claudia Mahnke
Third Norn: Christiane Kohl
Woglinde: Mirella Hagen
Wellgunde: Julia Rutigliano
Flosshilde: Okka von der Damerau
Production:
Director: Frank Castorf
Sets: Aleksandar Denić
Costumes: Adriana Braga Peretzki
Lighting: Rainer Casper
Video: Andreas Deinert & Jens Crull
Chorus director: Eberhard Friedrich
Two questions were important at the opening of the final evening of Frank Castorf's Ring – where were we and what will that non-singing character – who has appeared on and off during the rest of what we have been seeing – get up to now? Well, I was torn between whether we were still in the DDR or a unified Germany just after the fall of the Berlin Wall. What we saw because of all the leather, flag waving students, cars and pretty dresses (especially for Gutrune) reminded me increasingly as the evening wore of a German touring version of the musical Grease. There is some clue from a huge sign for an East German chemical company 'Plaste und Elaste aus Schkopau' advertising the 'Buna-Werke' in Saalekreis in Saxony-Anhalt to the side of a huge flight of steps. On another part of Aleksandar Denić's revolving set there was a kebab outlet ('Döner Box') as part of a derelict building on several levels where people seemed to be living linked by some metal staircases. It appears in former times it might have been a warehouse for 'Obst und Gemüse' (fruit and vegetables) and the final part of what we were shown was huge and initially covered up, yet down below again was the silver trailer where Brünnhilde was living.
The person I have described in my Siegfried review as 'Jiminy Cricket', because he seems to be the conscience of this Ring, has subsequently been 'outed' as Castorf's assistant Patric Seibert. Act I meandered on and I waited and waited and he only appeared briefly during the final scene change between the 'Gibichung Hall' and Brünnhilde's 'rock' when he fell down the big stairs but recovered to wave some red cloth. (Please forgive the occasional overuse of parentheses but in neither case was a genuine Wagner ever apparent.) This was a reference I did not recognise, unlike later in the opera when wearing a veil Patric Seibert tumbled down the same steps with a pram racing ahead in front of him that was familiar from Eisenstein's film Battleship Potemkin – but here it contained potatoes not a baby! (Earlier in my reviews I had suggested the Soviet Russian film director Sergei Eisenstein as an influence on Castorf and his team.)
The Norns first appear covered in what looks like refuse or carrier bags and seeming to be setting up a shrine and smearing something about that I first thought was paint but was probably supposed to be blood. There are a number of allusions to voodoo as this Götterdämmerung proceeds. When they finish they say 'hinab' ('down') so of course go up. Hagen has a Mohican hairstyle and there is all that leather. Siegfried's 'Ross' ('horse') is in fact the trailer that he brings along with him after abandoning Brünnhilde. It had gained some metal attached to its front that made it look more like a bull – or even a big pig – and it has magically therefore gained the ability to be in two places at once! There continues to be a lot of sex in this Ring and little of it consensual. Almost as soon as Siegfried sets eyes on Gutrune he forces himself on her and only then asks her name … which is typical! Gutrune retreats to a Messerschmitt (I suspect) bubble car to comfort-eat during his absence. The Siegfried and Brünnhilde opening, the 'debate' about blood-brotherhood, the encounter between to the two Valkyrie sisters and the final one with (Siegfried as) Gunther and Brünnhilde are mainly left alone by Castorf – apart from the latter being overshadowed by a video involving a doll being messed about with. As the curtains closed there were only a few boos but that section of the audience would be more vocal later.
As Act II began there is clearly a shine for some alternative religion on the lowest floor of the disused building that Alberich and Hagen are roaming near, and with Alberich's 'Sei treu' he is another to go up the stairs and soon he is propositioned. All is well with the world as Castorf's assistant is now behind the counter of the kebab hut, carving döner meat and then badly cutting his hand. Hagen's men seem to be students involved in some revolutionary activities or mass protest as they plaster the slogan 'Hunger' on the walls. Gutrune drives in and is not happy with the arrival of Brünnhilde who is in a flattering – and very glittery – gold evening gown for the rest of the opera. Hagen eventually finds a spear for the oath swearing and the pivotal Brünnhilde, Gunther and Hagen scene is undermined by Gunther staggering down the stairs with a barrel of Agip oil as the prelude to that prams with its potatoes!
Of course I realise Castorf views Wagner's Ring as the metaphor of the global demand for new supplies of oil and gas … and for maintaining those there already are. Why has Zimbabwe never been 'liberated'? Of course because they have no importance for our future energy supplies. Oil has spawned oppressive regimes, war, corporate greed, pollution and other environmental devastation. Some of this was on the Bayreuth stage – and even if I suspect there is no one answer – everything ends with a whimper not a bang. It was a little difficult to make him out but after Brünnhilde handed the ring back to the Rhinemaidens it looked as if Alberich was left gazing into a brazier as we saw a film of Hagen floating away. What was covered up was revealed as the façade of the New York Stock Exchange and – if this all was to reach an obvious conclusion as an anti-capitalist Ring – I expected it to be blown up at the end of the evening … but this did not happen. It was as though Castorf and his set designer thought we have been given the money to build this set so why not? – even though we don't know what to do with it!
I certainly enjoyed Siegfried's encounter with the Rhinemaidens in what was their black pimpmobile. The gas station owner/ oil worker/ bear/waiter/kebab seller has been beaten up and is now dead and unceremoniously dumped into the boot of the limousine. Siegfried always seem 'up' for sex and is happy to participate in a foursome on the car seats. Hagen will later dispatch him with a baseball bat while we see so more voodoo on a screen high up. Brünnhilde continues to remain more of a peripheral figure than usual and Castorf appears to have no real interest in her character.
Again there was much I found intriguing in this Götterdämmerung and I was willing to give Castorf the benefit out the doubt right until the time when he and his collaborators – including a blood-spattered Patric Seibert – took a curtain call and appeared to revel in some vociferous booing. Their gestures and obvious amusement was an insult to the very many in the audience standing and cheering. It was the same with Lance Ryan who perhaps suffered from the Marlon Brando 'anti-hero' angry young man … the delinquent, the tough and the rebel persona Castorf gives him. He clearly does not have many more Rings in his voice and while capable of some nuanced, reflective vocalism on occasions, coasts too often elsewhere and often just shouts and shouts. At his curtain call – though he was no better or worse than in Siegfried when he was cheered – he was booed mercilessly. In opera houses throughout the world I heard booing directed at singers and nearly always they show some humility and take it with good grace. Not so Mr Ryan who had the smirk on his face of 'I've been paid my fee and it's probably more than most of you have earned today!'
Catherine Foster is another in a long line of important British Wagnerian sopranos and she is becoming more like Jane Eaglen or Rita Hunter than Gwyneth Jones or Anne Evans (all of course I have seen as Brünnhilde). There is an appealing warmth to her sound and she gets the notes. For me her voice is slightly small for Bayreuth; also I wasn't entirely convinced by all her phrasing and whether I heard every word (as I recognise them) orrectly or clearly. Despite all her obvious experience it still seems like work-in-progress but I am pleased for her that she is so popular in Bayreuth. So who am I to argue?
I mentioned in an earlier review how the singing seemed a throwback to a better generation and this high standard was – by and large – maintained till the end of this Ring. I enjoyed Attila Jun's brutal, stony-faced Hagen; in different ways Alejandro Marco-Buhrmester and Allison Oakes (another British singer doing well in Bayreuth) brought some pathos to Gunther and Gutrune, Oleg Bryjak repeated his powerful Alberich and there were strong trios of Norns and Rhinemaidens. Claudia Mahnke as Waltraute commanded attention during her monologue with Brünnhilde.
This will not live long in my memory as the Castorf-Ring but it will hang around a bit longer as the Kirill Petrenko-Ring. Perhaps in the end his account may have lacked sufficient light and shade but it was tautly-controlled and perfectly paced for what we saw on stage. Although there was plenty of emotion and passion it wasn't what Wagner was representing in his music as what Castorf gave us involved dereliction, meaningless sex, avarice and brutality so we had no right to expect what we heard to offer us any respite. Continuously it was magnificently played by the Bayreuth Festival Orchestra with just with a few momentary lapses from the horns particularly in this Götterdämmerung.
Jim Pritchard