United Kingdom Gilbert & Sullivan, The Yeomen of the Guard: Plymouth Gilbert & Sullivan Fellowship, National Festival Orchestra / Jane Warwick (conductor), Harrogate Royal Hall, West Yorkshire. 4.8.2014 (RJW)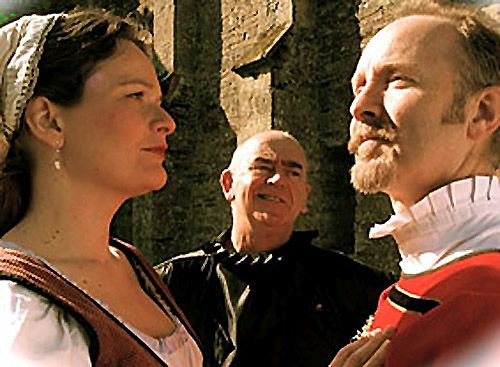 Cast:
Steve Borwn … Sir Richard Cholmondeley
Gordon Wearne… Lord Fairfax
Gareth Davies … Sergeant Meryll
Gareth Williams … Leonard Meryll
Richard Haighton … Jack Point
Peter Clement … Shadbolt
Bianca Phillips … Elsie
Helen Haviland … Phoebe
Gill Regan… Dame Carruthers
Danielle Barter … Kate
Director:  Alan Spencer
This was the opening performance of the new Harrogate adjudicated Festival and it set a high standard for the other visiting societies to follow during the next three weeks. The society's Chairman, Kim Willcocks, whose family was steeped in G&S before her, told me that society is 90 years old and is probably one of the oldest amateur societies that had been paying Rupert D'Oyly Carte royalties since 1924. On this occasion the Plymouth society presented an excellent traditional performance, sensitively directed by Alan Spencer. The three numbers normally excluded from performance were reinstated as well as the uncut Act I finale 'Did'st thou not, oh, Leonard Meryll' for Yeomen 3 & 4.
The opening picture was a delight where Phoebe is accompanied by a static and appealing tableau of warders and citizens in picturesque attitude. They come to life by degrees in 'Tower Warders'. This unusual beginning sets the mood of the piece ideally. From the outset one is aware of the quality of excellent costumes, an excellent team and a well-drilled chorus. A well-painted backcloth shows a corner of the White Tower with characteristic corner tower, thus making sure you know where you are. This is a far cry from Phoebe's usual isolated appearance within non-descript grey walls that are found in the old D'Oyly Carte Goffin setting.
Of the soloists, Elsie, Phoebe, Meryll, Dame Carruthers stand out with their excellent singing. Elsie soared in her 'Tis done! I am a bride' and played her part sensitively. The acting of Shadbolt and Point was energetic and brought good character to their parts once they had settled into Act II. In Act I Shadbolt's delivery was initially rushed and his delivery did not carry well within the rather long auditorium, but this was made up for by the character he brought to the part. Point's finale was convincingly played through to the final curtain. Both brought surprising acrobatics to their 'Tell a tale of Cock & Bull' that much amused the audience. Point applied a 'musical' singing technique where the singer half speaks through his song which is unfortunate as he had a good voice and could pitch the notes well. Fairfax acted with confidence in the difficult Act II scene with Elsie and although he had a strong tenor voice, a more relaxed vibrato could have added to its appeal. Point's rejection by Fairfax and Elsie was well handled in Spencer's direction. The show was nicely and evenly lit with some good effects provided by colour contrast. Perhaps the rostrum front acting area could have been offered more intensity since much of the action tended to be focused there.
The orchestra under conductor, Jane Warwick, played excellently and I had no need to be concerned by the unusual auditorium depth. The acoustics were fine. However, the overture, though majestic, was rather slow for some of Sullivan's themes it contained. This said the music to Act I was taken at a conventional pace and all was well. I had, however, hoped for a much faster pace to 'A man who would woo a fair maid' since the skipping rhythm was lost as well as the contrast to the following number 'When a wooer goes a wooing' which Sullivan intends.
The production was well rehearsed and acted and well sung. It delighted with those endearing qualities that has allowed The Yeomen to remain in theatre repertoire for over 120 years.
Raymond J Walker