Argentina Haydn, Hasse, Handel, Bellini, Rossini, Santoliquido: Joyce DiDonato (mezzosoprano) with David Zobel (piano), Mozarteum Argentino at Teatro Colón, Buenos Aires. 18.8.2014. (JSJ)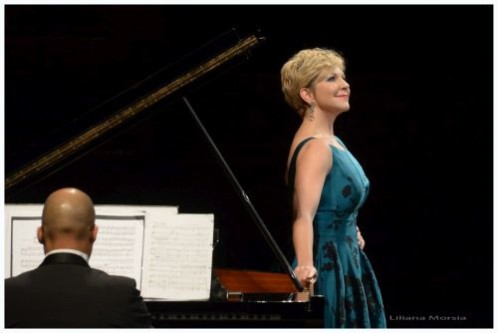 Almost two years to the day – and on the tail end of a long weekend, presumably accounting for the many empty seats – Joyce DiDonato was once again in Buenos Aires, and again presenting a pair of concerts for Mozarteum Argentino.
But this time the program was rather different from before, with the exception of one item – "Dopo notte" from Handel's Ariodante, which formed one of the three Drama Queens items.
But to start at the beginning and Haydn's late cantata Arianna a Naxos, exquisitely sung – the long opening recitativ, Arianna's lament to Teseo, and two arias with a shorter recitativ in between with their changing moods, showing off the many vocal shades and colours.
In a mixture of Spanish, English and Italian Ms DiDonato then introduced the next section of three arias that appear on her Drama Queens recording. These were the two Cleopatra's – Hasse's from Marc'Antonio & Cleopatra with the aria "Morte col fiero aspetto" and Handel's from Giulio Cesare in Egitto with the aria "E pur cosi in un giorno…Piangerò la sorte mia" – and the aforementioned "Dopo notte".
The second half following the interval was also broadly divided into two sections, starting with Nelly's aria "Dopo l'oscuro nembo" from Bellini's Adelson e Salvini, and the two songs "Beltà crudele" and "La danza" by Rossini. Then the four songs "I canti della sera" (Songs of the late afternoon) by the little known Italian Francesco Santoliquido – which again in Italian Ms DiDonato explained that she had discovered in a quest to seek out unknown works and to sing engendered a feeling of Puccini's Mimi. And to end, in a contrast of wonderful coloratura, the final aria of one of her best known roles, "Nacqui all'affanno… Non piú mesta" from La Cenerentola.
Almost – as for encores we were given a taste of the forthcoming Stella di Napoli CD (the second, as "Dopo l'oscuro nembo" is on it) with "Riedi al soglio" from Rossini's Zelmira, and finally de Falla's "Nana" with its quiet calm bringing the evening full circle to a perfect end.
From Baroque to bel canto to impressionist, and with the accomplished hand of long time accompanist David Zobel at the piano, Ms DiDonato had her audience spellbound, with her musicality faultless and delivery seemingly effortless. Now if only she could come on the Teatro Colón stage in a full opera…
Jonathan Spencer Jones