United Kingdom Solo for Two – Natalia Osipova and Ivan Vasiliev: Choreography by Sidi Larbi Cherkaoui, Ohad Naharin and Arthur Pita. London Coliseum, London, 6.8.2014. (JPr)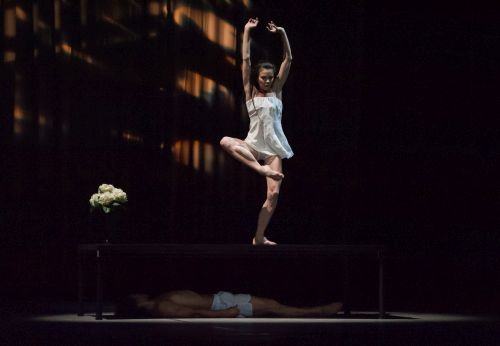 Sidi Larbi Cherkaoui's Mercy, music by Heinrich Schütz and Johann Hermann Schein, from members of L'Ensemble Akadêmia from France, conducted by Françoise Lasserre
Ohad Naharin's Passo, music by British electronic music duo Autechre with English traditional folk music
Arthur Pita's Facada, music by Frank Moon and Portuguese traditional fado played live by Frank Moon
In the promotional material for Solo for Two, the first programme like this from two of this generation's dance superstars, Natalia Osipova and Ivan Vasiliev, they are shown photoshopped together in variants of grand allegro jumps destined for a near-miss, at best, or a collision in mid-air, at worst! Previously ballet's 'dream couple' because of a personal, as well as, professional relationship … it is now strictly professional only it seems. To be truthful that promo-shot is about the only time they appear as equals because on stage in this triple bill Osipova outshines her partner in the ease of her loose-limbed undulations and her general airy movement and rhythmic flexibility, fully embracing the differing demands of modern dance and announcing herself as the new Sylvie Guillem (who incidentally had graced the same stage a few days before).
Perhaps the clearly more muscular and 'classical' Vasiliev owed her a favour – or they agreed this was better than seeking counselling after their breakup – but everything seemed weighted against Vasiliev. He begins as an abuser, later he looks rather foolish doing what I can only best described as 'bunny hops' and finally is a screaming runaway groom. Naturally there are some redemptive and deeply romantic interludes but our sympathy throughout is clearly supposed to be with Osipova's deeply dignified persona who appears to have the man's fate in her hands.
Commissioned by Ardani Artists and the Segerstrom Center for the Arts in Costa Mesa, California, Solo for Two brings together choreography by the Belgian Sidi Larbi Cherkaoui, Ohad Naharin of Batsheva Dance Company in Tel Aviv, and the South African-born Arthur Pita, a former dancer with Matthew Bourne. All three works are listed as premières, but some brief programme notes suggest both Cherkaoui and Pita have revised previous choreography to make these creations.
Cherkaoui's Mercy was the first of the duets and featured the bare-chested Vasiliev as a violent man who eventually appears to get some mental repose due to the forgiving nature of his partner, Osipova. The music featured seventh-century chorale music by Heinrich Schütz and Johann Hermann Schein and was played live by members of the French L'Ensemble Akadêmia, conducted by Françoise Lasserre, and at the end there was the Hindustani Raga Bageshri sung by Arun Dravid that I understand is a song of compassion and anticipated love. This work was danced en pointe in Tim Van Steenbergen's costumes that looked very much like dancers' rehearsal clothes. Osipova retained her poise during the graphic opening – and with both employing mimed robotic movement – we see her being slapped and hit in the midriff. As this escalates there is a chilling moment when Vasiliev carries her upstage in a chokehold before aiming a head-butt at her. This first section ends with Osipova's outstretched hand preventing a final – possibly fatal – blow and Vasiliev slumps to the floor. His virtuosic solo that follows allows him some of his trademark leaps (even if the landings were surprisingly a touch heavy) but is deliberately so off-kilter that we are not expected to cheer for the bully. Osipova returned and seemed to get her own back on him with her feet, yet the power play seemed to continue and with the final mesmeric 'shanti' ('peace') section it is as though she is hypnotized and he can still manipulate her – Svengali-like – with his hands until they seem to declare an exhausted truce.
Ohad Naharin's Passo was less 'revealing' and here Osipova was in control and began alone on stage and is allowed some of the balances she is so wonderful at during some moments that seemed inspired by Tai Chi. Vasiliev seems to be in part shadowing her steps during something of a mating ritual but finally he gets a chance to 'display' but Osipova is not impressed and just walks off. This is played out against the background of an electronic hum but then we hear 'Greensleeves' and there is much inelegant squatting and body-clapping for them both that still suited Osipova much more than Vasiliev. It all ended entertainingly with them both jigging about comically and Osipova struggling to free herself from Vasiliev's grasp, yet for me, Passo did little to celebrate or illuminate their partnership. I suspect it wasn't meant to, but overall it just seems like a sequence of 'keep fit' routines.
After two short works each lasting less than 20 minutes there was something a little more substantial from Pita's witty mini-melodrama Facada that I could quite easily see – as the choreographer suggested – as 'the back story for Myrtha (Queen of the Willis) in a modern setting, with a Portuguese flavour. Giselle might forgive but Myrtha certainly does not.' In a wedding dress she will later burn Osipova is the bride jilted at the altar as Vasiliev screams and disappears into one of the boxes on the side of the stage. There is then a long sequence when she is inconsolable and sheds (literally) bucket loads of tears that a sombrely dressed character (Elizabeth McGorian as her mother?) – employing several wonderful knowing looks to the audience – uses to water some plants! Vasiliev returns and strips off the formal attire he is wearing, Osipova enters and utters the words 'In Portuguese a knife is called a faca' – and I suggest you read into that sentence whatever you want to! There is an extended duet to 'Love Me Tender' when the bride tries to rekindle their romance but this might be more her dream than reality as their relationship has dissembled to such a point that in fact – to the thud of a drum – the bride throttles the groom. Osipova/bride releases more of her frustration by (literally again) dancing on his grave before being handed a knife. We are left with the suspicion that she will use it to kill herself and it is her spirit we see wandering to the rear of the stage.
This ends the evening on a high: nevertheless despite the bravery of exploring such new territory this couple could have brought us so much more. If Vasiliev was really happy to play 'second fiddle' then on its own terms this triple bill is a success even though we probably suspected how multi-talented Natalia Osipova is anyway. My feeling is that it really was just an exercise in giving them something to do before even greater challenges follow in the seasons ahead for them both – whether individually or together.
 Jim Pritchard
For forthcoming dance events at the London Coliseum visit http://www.eno.org.