United Kingdom PROM 21 – Cole Porter, Kiss Me, Kate: – Soloists, John Wilson Orchestra, John Wilson (conductor), Royal Albert Hall, London, 2.8.2014. (MMB)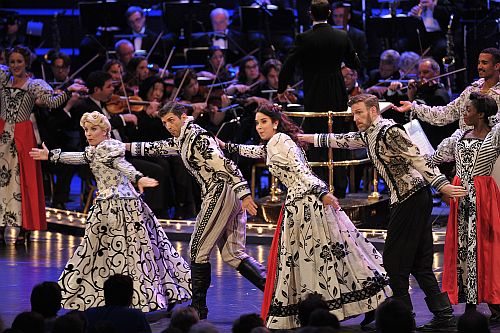 Cole Porter: Kiss me, Kate – semi-staged production
Music & lyrics by Cole Porter
Book by Samuel and Bella Spewack, based on Shakespeare's The Taming of the Shrew
 
Artists:
Ben Davis – Fred Graham / Petruchio
Alexandra Silber – Lilli Vanessi / Katherine
Tony Yazbeck – Bill Calhoun / Lucentio
Louise Dearman – Lois Lane / Bianca
James Doherty – First Man / Gunman
Michael Jibson – Second Man / Gunman
Ian Talbot – Harry Trevor / Baptista
Louise Marshall – Hattie
Jason Pennycooke – Paul
Alex Bourne – Harrison Howell
Christopher Howell – Ralph (The Stage Manager)
Michael Pickering – Gremio
Gary Watson – Hortensio
"Kiss me, Kate" Ensemble

Production
Stage direction by Shaun Kerrison
Choreography by Alistair David
Cole Porter's musical Kiss me, Kate from 1948 represented his resounding come-back, after a string of failures during the 1940s, and to me, it is his masterpiece. It was the first so-called integrated musical that Porter composed and it is in the style that Rogers and Hammerstein's made popular with Oklahoma! and Carousel from 1943 and 1945 respectively. In other words, it is integrated because music and lyrics are firmly linked with the script, which was not the norm before the shows mentioned above.
Kiss me, Kate is based on Shakespeare's comedy The Taming of the Shrew. The musical is a show within a show. It deals with the production of a musical version of Shakespeare's play and the conflict on- and off-stage between Fred Graham, the show's director, producer and star, and his leading lady, his ex-wife Lilli Vanessi. A secondary love story happens between Lois Lane, the actress playing Bianca, and her gambler boyfriend, Bill, who gets in trouble with some gangsters. Both the score and the lyrics effectively support the double action backstage and on stage. As also mentioned in the programme notes, Porter gave different colours to the music for the Shakespeare numbers as opposed to the backstage scenes and in two numbers – Petruchio's I've Come to Wive It Wealthily in Padua and Katherine's I Am Ashamed That Women Are So Simple – he uses words very close to Shakespeare's own, which further enhances the effectiveness of the concept of the show within the show.
Porter's Kiss me, Kate was a crowd pleaser from the word go: It has many memorable numbers, which are melodic, as well as others that are catchy and witty, and it is genuinely funny. Porter included in the lyrics many direct and indirect references to contemporary situations, during the 1940s, like in the wonderfully sarcastic piece sung by Katherine, I hate men, as well as directly naming celebrities of the time, such as Clark Gable, in Lois Lane's sassy and funny Always True to You in My Fashion. It is songs such as these or also Too Darn Hot – sung by Paul at the beginning of Act 2 – and the famous Brush Up Your Shakespeare – performed by the two gangsters – that, to me, make the show truly memorable. These witty numbers remain long in the memory after one has forgotten about the ballads or the more romantic pieces. Kiss me, Kate is still fresh and relevant in many details, which, alongside the exceptional quality of the music, always make it a success whenever there is a revival. For me, as a modern woman, there's only one down side: Katherine's closing piece, preaching that women should be submissive to their husbands and that they are: "…bound to serve, love and obey." On the other hand, if we think about Shakespeare's era and the time when Cole Porter wrote the musical in the late 1940s, it is acceptable because women's place in society was then a passive, submissive one.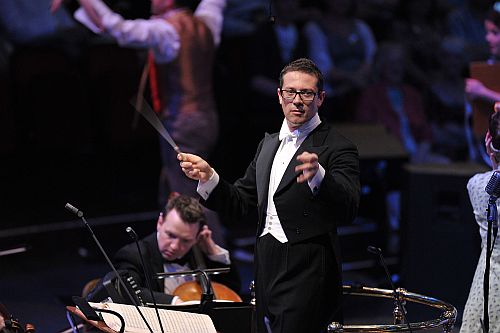 The cast of Kiss me, Kate that performed last night at the Royal Albert Hall was generally excellent and very effective. The work seemed better acted than sung but it's possibly just my opinion due to the operatic upbringing always present at the back of my mind. The best singer was undoubtedly Ben Davis who played Fred Graham/Petruchio. He displayed an assured technique, projected his voice well and knew how to control it under the use of a microphone. He has a pleasantly warm baritone voice, cuts an attractive figure on stage and was very convincing both as Graham and Petruchio. Alexandra Silber, as his leading lady and ex-wife Lilli Vanessi and as Katherine, demonstrated excellent acting skills but I was not so impressed with her singing. She holds the notes well and her delivery of I hate men was spirited and gutsy. However, there is a noticeable wobble in her voice through what appeared to me excessive use of vibrato, which was fine to start with but became a little irritating as the show progressed. Louise Dearman as Lois Lane/Bianca made the most of her double role, performing all her numbers exceptionally well, particularly the wonderfully witty Always True to You in My Fashion which she delivered in a sassy, good-humoured style. James Doherty and Michael Jibson as the First Man and the Second Man (the two gangsters) were excellent in their roles and received one of the greatest ovations of the night for their subtle but funny delivery of the marvellous Brush Up Your Shakespeare. The rest of the cast were exceptionally effective and contributed to an excellent cohesive ensemble feeling. Of the smaller roles, it was Jason Pennycooke as Paul who stood out. His dancing and singing in Too Darn Hot were simply outstanding. Stage director Shaun Kerrison and choreographer Alistair David made the most of the Royal Albert Hall's restricted stage and managed a convincing staging with only a few props and the actors in costume. It is not an easy job and I have seen other semi-staged musical works fail at the Royal Albert Hall because of the stage restrictions. The enthusiastic applause that they both received at the end, acknowledging their effort, was truly deserved.
Leaving the best for last, I must now speak about John Wilson and his orchestra who, to me, were the real stars of the show. I have seldom seen an orchestra so much in tune with their conductor and the score. It was obvious from the start that John Wilson loved what he was doing. His continuous smile and the way his whole body moved to the rhythm of the music were fascinating to watch. He is a vibrant, energetic conductor whose enthusiasm for the music was patent throughout the piece but, at the same time, he manages an exceptionally well-balanced performance. He is never exuberant or flamboyant; he is subtle and the music always takes centre stage. The musicians simply follow him wherever he takes them, demonstrating an incredible degree of trust that is difficult to achieve between conductor and orchestra. This semi-staging of Cole Porter's Kiss me, Kate would not have been so brilliant and effective if not performed by an outstanding orchestra with a great conductor. In Wilson's hands, the orchestra flourished and Porter's music positively shone. John Wilson and his orchestra received a well-deserved standing ovation at the end.
Overall, it was a very enjoyable, feel-good Prom and people left the hall humming some of the catchier bits or with a smile on their faces. It was filmed but the BBC will not be broadcasting it until December. By then, no doubt, we will all need some sugar and brightness to make us feel good! So, brush up your Shakespeare to then delight in this performance of Porter's masterpiece when it shows on BBC 2 at the dark of winter.
Margarida Mota-Bull