Spain Puccini: La Bohème, Euskadi Symphony Orchestra, Andra Mari Chorus, José Ramón Encinar (conductor), Kursaal Centre, San Sebastián, Spain, 17.8.2014 (JMI)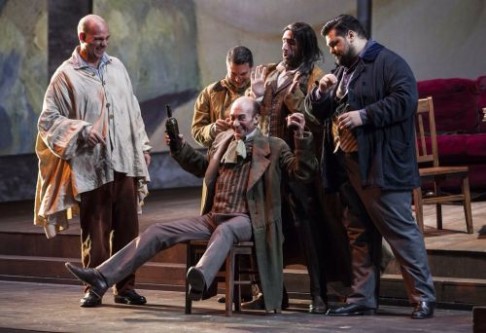 Cast:
Mimí: Gal James
Rodolfo: Giordano Lucà
Marcello: Juan Jesús Rodríguez
Musetta: Elena de la Merced
Schaunard: David Menéndez
Colline: Francis Tójar
Benoît/Alcindoro: Fernando Latorre
Co-production: Opera Philadelphia and Palau de Les Arts Reina Sofía, Valencia
Director: Davide Livermore
Sets and lighting: Davide Livermore
Video projections: Paolo Gep Cucco
 Traditionally in the program of the Donostiarra-San Sebastián Musical Fortnight, the  opera has been but a complement to an excellent symphonic offering. In this case, in celebration of the Festival's 75th anniversary, there was a very interesting concert version of La Damnation de Faust conducted by Tugan Sokhiev, which I could not attend, and La Bohème, which has been plagued by cancellations.
This Bohème is a co-production of the Palau de Les Arts and Opera Philadelphia, where it was premiered in September 2012, three months before its performance in Valencia. Davide Livermore stages it as a kind of tribute to 19th-century paintings, with plenty of projections of Impressionist works and others, contributed by the Philadelphia Museum of Art. These projections seem to have no other reason for being there than the fact that Marcello is a painter. In the first act the continous visuals are a little tiring, but it works much better in Act III with a beautiful snowy landscape. The stage direction is quite traditional, and all in all it's an attractive production.
The musical direction was entrusted to José Ramón Encinar, whose reading was no more than correct. There was a remarkable coordination between stage and pit, but La Bohème needs a fundamental ingredient, emotion, and this was hardly present at Kursaal. The orchestra and chorus were good.
Mimi was sung by Gal James, after the cancellation of Ainhoa Arteta. Ms. James's interpretation was rather short of emotion. Her soprano is attractive, but she is a little monotonous in her singing.
Teodor Ilincai also cancelled and Rodolfo was played by the little-known tenor Giordano Lucà. His voice has a certain appeal,  although it is somewhat smaller than required, and he is not yet a lyric tenor. Moreover, his inexperience makes him very flat on stage and quite unexpressive in his singing.
Juan Jesus Rodriguez offered the most important voice of the cast in the character of Marcello. His baritone is true Verdian and therefore less lyrical than what we are used to in this part.
Elena de la Merced was a rather modest Musetta. This character requires a more important middle voice than hers. David Menéndez was an excellent Schaunard, while Francis Tójar was not up to the task of singing Colline's aria.
José Mª Irurzun