Germany Leonard Bernstein, Candide (comic operetta in 2 acts): Staatsopernchor, Staatskapelle Berlin/Wayne Marshall (conductor), Schiller Theater, Berlin, Sunday 21st September 2014 (MC)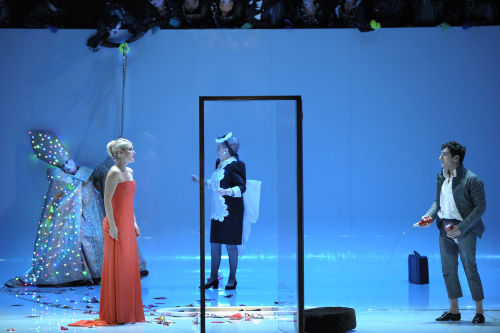 Cast:
Candide: Leonardo Capalbo
Cunegonde: Elin Rombo
Pangloss / Martin / Señor II: Graham F. Valentine
Maximilian / Inquisitor II / Judge II / Captain / King Hermann Augustus: Arttu Kataja
Paquette: Annika Schlicht
The Old Lady: Anja Silja
Governor / Señor I / Vanderdendur / Sultan Achmet / Crook: Wolfgang Schwaninger
Inquisitor I / Judge I / Prince Charles Edward / Ragotski: Stephen Chambers
Inquisitor III / Judge III / Tsar Ivan: Grigory Shkarupa
King Stanislaus: Dominik Engel
Hosi Bohgs: Kurt Varges
Production:
Director: Vincent Boussard
Set design: Vincent Lemaire
Costume design: Christian Lacroix
Lighting: Guido Levi
Choreography: Helge Letonja
Choir trainer: Martin Wright
Dramaturgie: Katharina Winkler
It was Leonard Bernstein and dramatist Lillian Hellman who shaped Voltaire's picturesque novella Candide into a comic operetta. Over the years a number of hands have been involved with the text namely Richard Wilbur, Stephen Sondheim, John LaTouche, Lillian Hellman, Dorothy Parker and Leonard Bernstein himself while Bernstein's wife Felicia Montealegre had involvement in the lyrics to 'I Am Easily Assimilated'. It seems that Hershy Kay was responsible for most of the orchestration apart from the famous overture which Bernstein completed himself. When Candide first opened on Broadway in 1956 it was a box office disaster and ran for just two months. After a series of revivals it is now undoubtedly becoming recognised as a jewel  – albeit with imperfections.
The fairy-tale scenario of Candide mixed with pungent satire basically follows the globe-trotting adventures of Candide, the illegitimate nephew of a German baron. Candide grows up in a castle, under the guidance of scholar Dr. Pangloss, falls head over heels for the baron's daughter Cunegonde and the baron throws him out. This incident sparks an extraordinary series of calamities, often of an 'adult' variety, for the characters. Candide and Cunegonde are at long last united and in the grand finale 'Make Our Garden Grow' they dream of settling down on a small farm for a chocolate-box ending.
This stunningly colourful Staatsoper production of 'Candide' directed by Vincent Boussard uses the 1989 concert version in the revised 1993 edition for narrator, vocal soloists, chorus and orchestra. Boussard was clearly in his element with this inventive and fast moving scenario containing many cleverly entertaining incidents and the time just flew by. Set designer Vincent Lemaire successfully devised what could be described as an oversized cut away kitchen sink that changed colour with the activity taking place in the base and the chorus looking over the rim of the sink. Most of the action took place on or around a free-standing door frame, complete with a perspex door, requiring at least two of the cast, Candide with a suitcase and Paquette in high heels, to clasp it, climb it and rather precariously recline or sit on it. I did wonder if these potentially hazardous feats warranted danger money. The popular trend in comedies towards using vivid colours had been followed profitably by costume designer Christian Lacroix. Numerous other effects stick in the memory such as Pangloss, appearing as a beggar and owing to syphilis having grown a dark green extremely elongated nose. Amusing or shocking depending on one's point of view was the portrayal of the Roman Catholic Archbishop in a silver robe and mitre sequined with tawdry fairy lights and the wealthy bearded Jew wearing a long dark coat with an oversized shtreimel the traditional fur headwear.
Quite rightly the majority of the accolades went to Leonardo Capalbo for a highly satisfying performance in the demanding title role of the hero Candide. Charmingly vulnerable as Candide the youthful looking Italian/American lyric tenor was assured with a natural acting ability. Capalbo's attractive and fluid vocal with a dark tinged timbre at the bottom of his range produced some moving moments especially in 'Candide's Lament'. In the role of the capricious heroine Cunegonde the Swedish soprano Elin Rombo looked the part and acted well. Although reasonably powerful Rombo's voice generally lacked real impact and she particularly struggled with her coloratura. Her big aria 'Glitter and Be Gay' was untidy and failed to shimmer.
Decked out in an array of cheap looking outfits Anja Silja as The Old Woman was not in the best of shape struggling greatly all evening with a hoarse voice that was especially evident in the Old Lady's Tango 'I Am Easily Assimilated'. I had been told the previous day by her representative she wasn't feeling too well. With hindsight maybe it would have been better had the popular soprano withdrawn. In the comic character role of Pangloss, Graham F. Valentine a Scot acted his way splendidly and amusingly through the important role. The supporting cast did well too without being able to single anyone out for special praise.
Compared to its marvellous performance the previous evening in 'La traviata' the singing of the Staatsopernchor seemed unusually uneven. I don't suppose it helped having to lean all evening over the rim of a giant kitchen sink. With the orchestral playing a touch clumpy on occasions and at other times seemingly in a race to get to the end I couldn't say the Staatskapelle Berlin was on its optimum form. I wondered if Bernstein's swinging rhythms were unsuited to the players and if some of the more tender moments could have been emphasised further. But the performance was more than adequate and a beaming Wayne Marshall seemed delighted when called to the stage by Elin Rombo for his bow. One of the few production faults on the night was the recurring swamping of the narrator's voice by the orchestra. I guess this wouldn't have worried the majority of the audience too much who as German speakers had their surtitles always visible.
Candide has a reputation for being admired by young people and this was borne out by seeing a much younger than average audience at the Schiller Theater. I absolutely revelled in the irresistible, non-stop entertainment in Bernstein's flawed masterpiece as did my fellow audience members.
Michael Cookson