United Kingdom    Shabalala, Ladysmith Black Mambazo, Spira, INALA (a Zulu Ballet):  Sisters Grimm, Sadler's Wells, London, 18.9.2014 (J.O'D)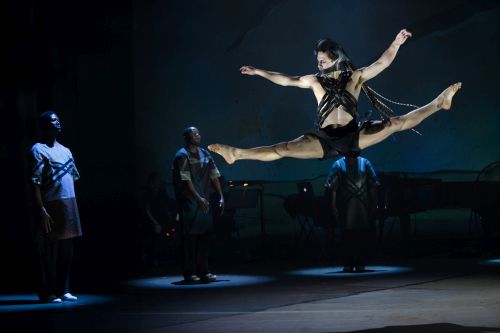 Voices:
Ladysmith Black Mambazo: Sibongiseni Lucas Shabalala, Thulani Fredrick Shabalala, Thamsanqa Shabalala, Msizi Innocent Shabalala, Babuyile Shabalala, Albert Mazibuko, Abednego Mazibuko, Ngani (Mfanafuthi) Dlamini, Pius Hlanganani Shezi
Dancers:
Dane Hurst, Mbuleo Ndabeni, Camille Bracher, Che Milani, Sophie Apollonia, Simone Muller-Lotz, Adelene Stanley, Ashleigh Wilson, James Butcher, Mark James Biocca, Jack Thomson, Pietra Mello-Pittman
Musicians:Rob Barron, Shelley Britton, Rachel Steadman, Sarah Westley, Laura Moody, Adam Kovacs, Oli Blake
Composers:Joseph Shabalala, other members of Ladysmith Black Mambazo and Ella Spira
Choreographer: Mark Baldwin
Assistant Choreographer: Deborah Galloway
Costume Designer: G0eorg Meyer-Wiel
Set Designer: Temple Clark
Lighting Designer: Ben Cracknell
Sound Designer: Adrian Rhodes
Despite having dancers from Rambert and The Royal Ballet among its cast, and choreography by Rambert Artistic Director Mark Baldwin, INALA: A Zulu Ballet is more 'concert with dance' than ballet. The South African singing group, Ladysmith Black Mambazo (founded in the 1960s and internationally famous for its collaboration with Paul Simon on the album Graceland in the 1980s), is on the stage throughout, with musicians in the background. The atmosphere is one of well-disposed co-operation as dancers, singers, and musicians interact (sometimes helping each other to arrange the props). And while the combination of contemporary dance and classical ballet is of interest, it is when both kinds of dancer engage with the nine, microphoned singers (whose movements are themselves rhythmic and graceful) that the performance comes most to life.
All the dancers give Mark Baldwin the 'cheesecake' I have heard him say that as a choreographer he wants, in return for the 'scones' he gives them. Rambert's Dane Hurst (winner of the Best Male Dancer at Critics Circle National Dance Awards 2014) seems more than ever to move parts of his body that other dancers can not access, and is complemented in a brief duet by Mbuleo Ndabeni (also from Rambert). Camille Bracher, from The Royal Ballet, makes remarkably delicate, controlled movements of her arms. A surprisingly large number of ballet steps are mixed in with the contemporary dance, though Bracher might be going a bit far with the few, hurried fouettés she throws in as if for the sake of it (and to audience whooping) at the end. Adelene Stanley and Jack Thompson are young dancers with strength and stage presence. Che Milani and Mark James Biocca are particularly impressive when they don costume designer Georg Meyer Wiel's striking, bird headdresses. Indeed, it is when each of the dancers puts on one of these that the dancing assumes a symbolic or narrative power.
The lighting on set designer Temple Clark's backdrop shifts evocatively between day and night. Adrian Rhodes provides a soundtrack of birdsong, mosquitoes, wild animals and traffic. Taken separately, all the elements of stagecraft are of a high standard. Which is why I am surprised not to have enjoyed the whole thing as much as all the people around me obviously did. For it was one of those performances to which the audience gives complete attention, from beginning to end, one that transmits its energy from stage to auditorium. It could be that INALA, a Zulu ballet that somehow remained at the level of both 'easy-listening' concert and 'easy-watching' dance, is not meant for the likes of me but for fans of Ladysmith Black Mambazo (though the microphones did seem to dull the singers' voices). I think it's more that the different elements did not really coalesce, except for those moments when the singers and dancers exchanged their interestingly different ways of moving.
John O'Dwyer